Elias Pettersson has taken another step in his development, which has pushed him into the category of elite players in the NHL. The 24-year-old Vancouver Canucks center is having a career year and would arguably be in the Hart Trophy conversation if not for Vancouver's record this season. Here is a look at his season and how he has elevated his game during the 2022-23 season.
Pettersson One of the NHL's Best at Even Strength
This season, Pettersson has kicked his game up a notch, with the biggest difference being his play at even strength. He has already set new career highs in goals (23), assists (30) and points (53) while also posting a career-best 84.13 individual point percentage (IPP) which tracks what percentage of goals scored he has a point on while on the ice. As for his league rating, no forward has a higher point total at even strength this season than the young Swede, with the only skater ahead of him being Erik Karlsson with 57.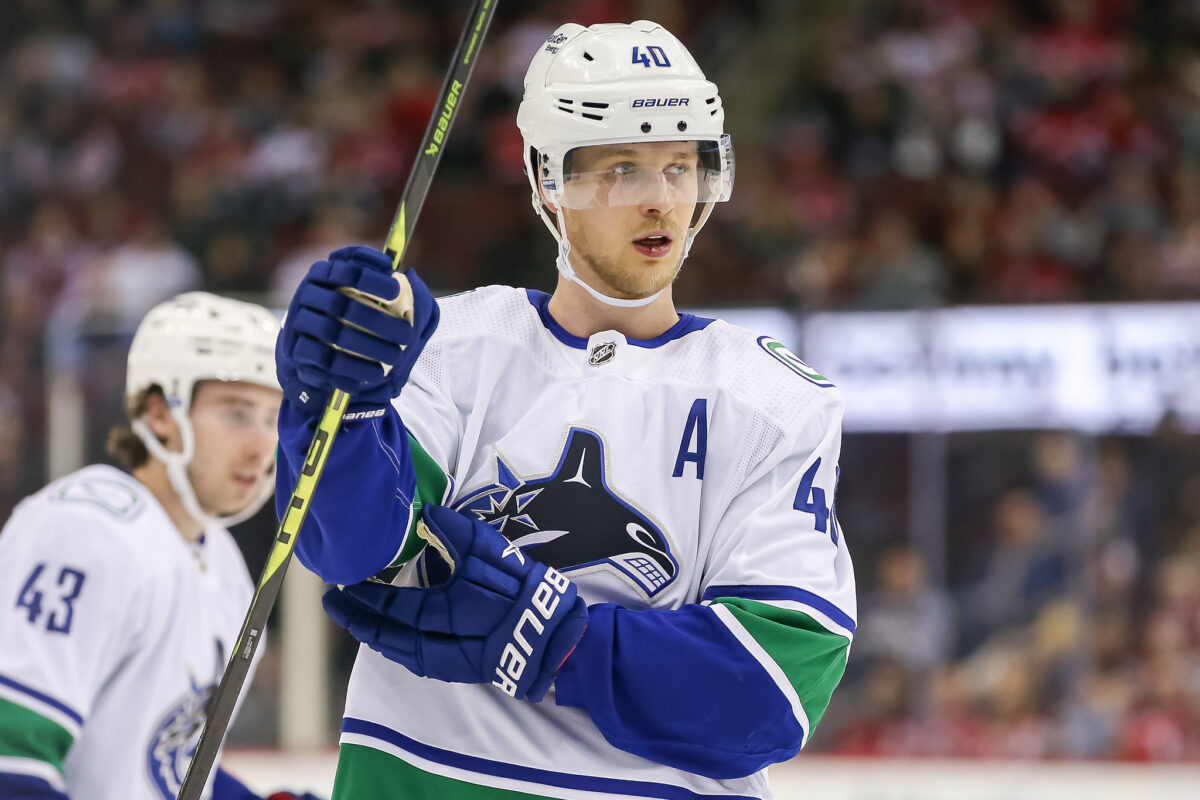 While his full-season numbers are great, the debate switches to whether he is still among the league elite since Rick Tocchett has taken over as coach. Compared to Bruce Boudreau, the new Canucks head coach deploys a more defensive style of play and is not as worried about the results but the overall process. The answer is still yes, as Pettersson sits tied for fourth in the league in even strength points with 13 since the coaching change. He has been involved in a higher percentage of the team goals he has been on the ice for, as his IPP is at 86.67%.
He is creating more individual high-danger chances and more second opportunities by generating rebounds off shots at a higher rate and even has been more physical, throwing more hits, on a per-game basis. Whether it has been adjusting to a new system or added responsibility after the departure of Bo Horvat, he continues to step up and prove he is among the league's elite when it comes to even-strength play.
Pettersson's Defensive Play Continues to Improve
While most of the spotlight will be on Pettersson's offence, his defensive game deserves some of the spotlight. His defensive game has been improving year after year, and is now at the point where he can be in the conversation surrounding the league's best two-way centers. This season, he sits sixth among forwards in blocked shots with 64 and has generated 38 takeaways.
Related: Canucks' Pettersson Destined to Be Organization's 15th Captain
---
Latest News & Highlights
---
He also sits tied for third in shorthanded points with five and is four points off from tying the Canucks record for shorthanded points in a season of nine held by Russ Courtnall and Pavel Bure. As for his overall penalty kill play, it has been decent, considering the Canucks are on pace to finish the year with a historically awful kill rate. The team has only given up 16 goals in his 90 minutes of ice time and has limited them to 48 high-danger chances. Even shorthanded, he poses a threat to the opposition as they need to be wary as he can intercept a pass and transition the puck quickly for a chance on goal.
With Vancouver's goaltending issues this season, a good way to show just how good Pettersson has been defensively is through expected goals against (XGA). Currently, he has been on the ice for 53 goals against, but only has an XGA of 40.4 while at even strength. That is lower than players like Auston Matthews, Evgeni Malkin, Tage Thompson and Nathan MacKinnon, who all have similar even-strength ice time totals. From a process perspective, he is showing that he can be strong in his own zone and has the potential to play at a Selke Trophy level.
Canucks Have Developed Yet Another Elite Swede
With Pettersson on pace for just the seventh all-time 100-point season by a Canuck in franchise history, it is safe to say he has entered elite player status. He makes everyone around him better and has shown on multiple occasions this season, he can singlehandedly win a game if needed. Despite having only played just over 300 games in the NHL, it is safe to say he is one of the best and most exciting Swedish players Vancouver has had in franchise history.