The Montreal Canadiens are expected to be sellers ahead of next Friday's trade deadline. Their most recent move, however, was to add a veteran forward to the lineup when they claimed Chris Tierney off waivers from the Florida Panthers.
Related: Canadiens Still Poised For Big 2023 Draft Despite Wins
Claiming a veteran who will play a depth role is not a significant transaction, but it is the opposite of what we should expect from the team right now. At a time when they are desperately trying to move out veterans like Jonathan Drouin and Evgeni Dadonov for something of value in return, the team went out and acquired a 28-year-old center.
It begs the question, why did a clear seller go shopping in the bargain bin? One possibility is they plan on trading away a couple of veteran centers before the deadline, but that doesn't seem likely. The more realistic possibility is the Canadiens need a little insurance down the middle due to injuries.
Canadiens Medical Updates Appear to Be Guesswork
The Canadiens' medical reports have become quite mysterious in recent weeks. That is especially true for centers Sean Monahan and Kirby Dach. Initial reports on their injuries said one thing, while further updates said something completely different.
---
Latest News & Highlights
---
Monahan has been injured since Dec. 5th. On Dec. 13, it was announced he would be placed on injured reserve with a lower-body injury and was expected to be out for three weeks. That would have had him returning just after the calendar flipped to 2023. Once it did, the team gave an update on Jan. 6, that said Monahan was still two weeks away from returning to the ice.
On Jan. 17th, the team placed Monahan on long-term injured reserve. No update was given, but since Monahan had been out of the lineup for more than 30 days, he could be activated at any time. An LTIR placement just gave the team more cap flexibility. Then, on Jan. 30th, Eric Engels of Sportsnet reported that an update on Monahan's status would be coming from the team before the end of the week.
The Canadiens say they intend to provide an update on Sean Monahan's status before the end of the week. No update as of right now.

— Eric Engels (@EricEngels) January 30, 2023
We are still waiting for the update on Monahan's status. What was initially announced as a three-week injury has turned into a 12-week absence. It is unlikely that Monahan will be traded after missing so much time. Even if the team announces he is expected back shortly, will another team believe the injury reports coming out of Montreal right now? Or want to roll the dice on someone who missed so much time?
The mystery surrounding Monahan only deepens with the acquisition of Tierney. Does this mean Monahan is out for the season? With Nick Suzuki, Christian Dvorak and Dach on the roster, the Canadiens don't need another center if Monahan will be back soon.
Of course, Dach is dealing with a mysterious injury of his own. The 22-year-old center was ruled out of a game on Feb. 16th with a non-covid illness. He missed the team's next game two nights later for the same reason. The team provided a medical update on a number of players on Feb. 23rd and changed Dach's status from illness to lower-body injury. This raised many eyebrows in Montreal as it is difficult to explain how an illness suddenly became a lower-body injury.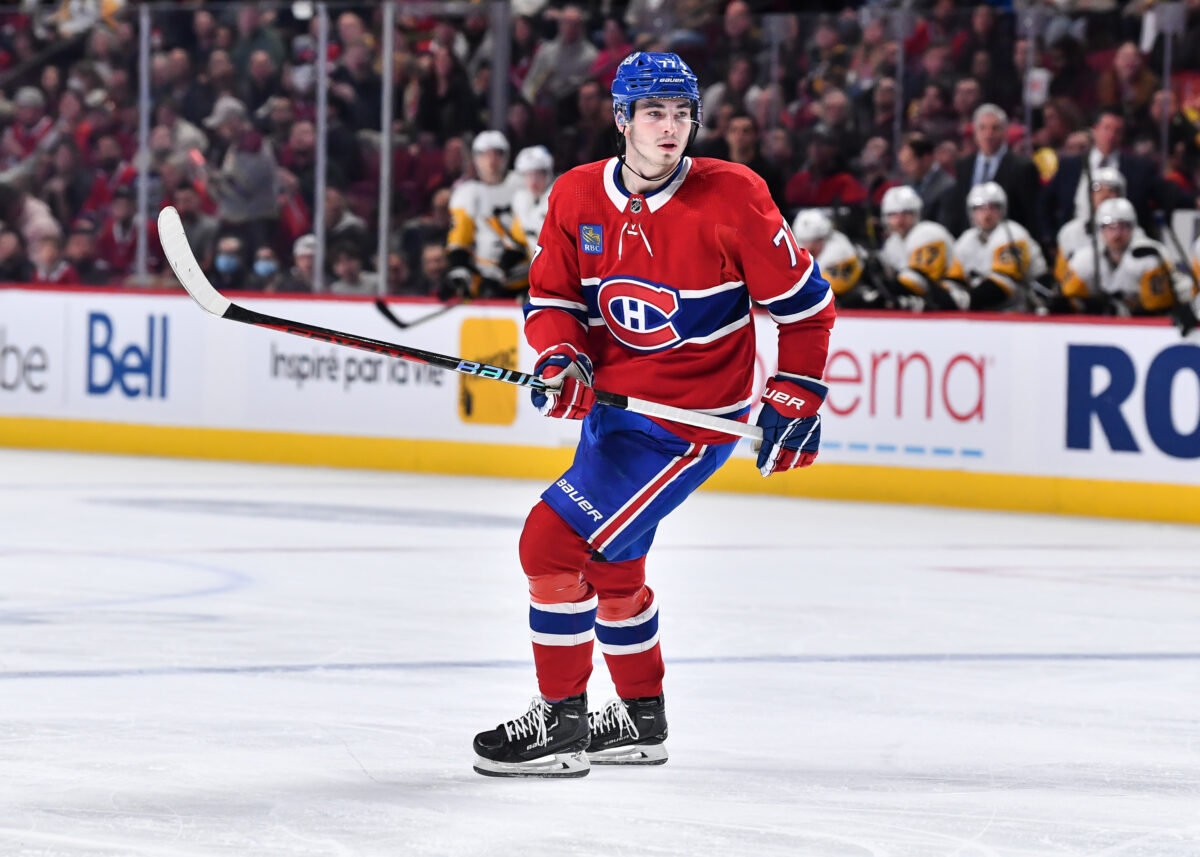 Also, notably absent from the team's medical update was Monahan. Head coach Martin St. Louis commented that Monahan had been getting better and then hit a plateau. He began skating, then stopped, then returned to the ice in a non-contact jersey before missing practice again. The lack of communication from the team leads to speculation, but it sure seems like Monahan's return is not coming soon.
Even if Monahan is out long-term, it sounds like Dach should be back soon to join Suzuki, Dvorak and either Jonathan Drouin or Alex Belzile down the middle. Of course, we can only expect Dach back soon if we trust the injury updates coming from the team, and that does not seem wise at this point. If he is due back soon, why does the team need Tierney?
One thing is for sure, the Canadiens did not need to claim Tierney if they expect Monahan and Dach to both be healthy soon. Hopefully, Dach, who is having a breakout season with 35 points in 54 games, does not land in Narnia as Monahan has over the past three months.
A complete lack of transparency has resulted in fans not knowing when these players will return from injury. Monahan has suffered from a setback. Has Dach as well? We will have to keep an eye on updates to see when he returns to practice, but the addition of Tierney to the lineup only makes sense if Dach is going to be out long-term.