The St. Louis Blues suffered their worst loss of the season on Thursday night to the Vancouver Canucks. They allowed the Canucks to tie the game with 29 seconds left in regulation. In overtime, the Canucks scored with 15 seconds left. It summed up all the issues that the Blues have had this season.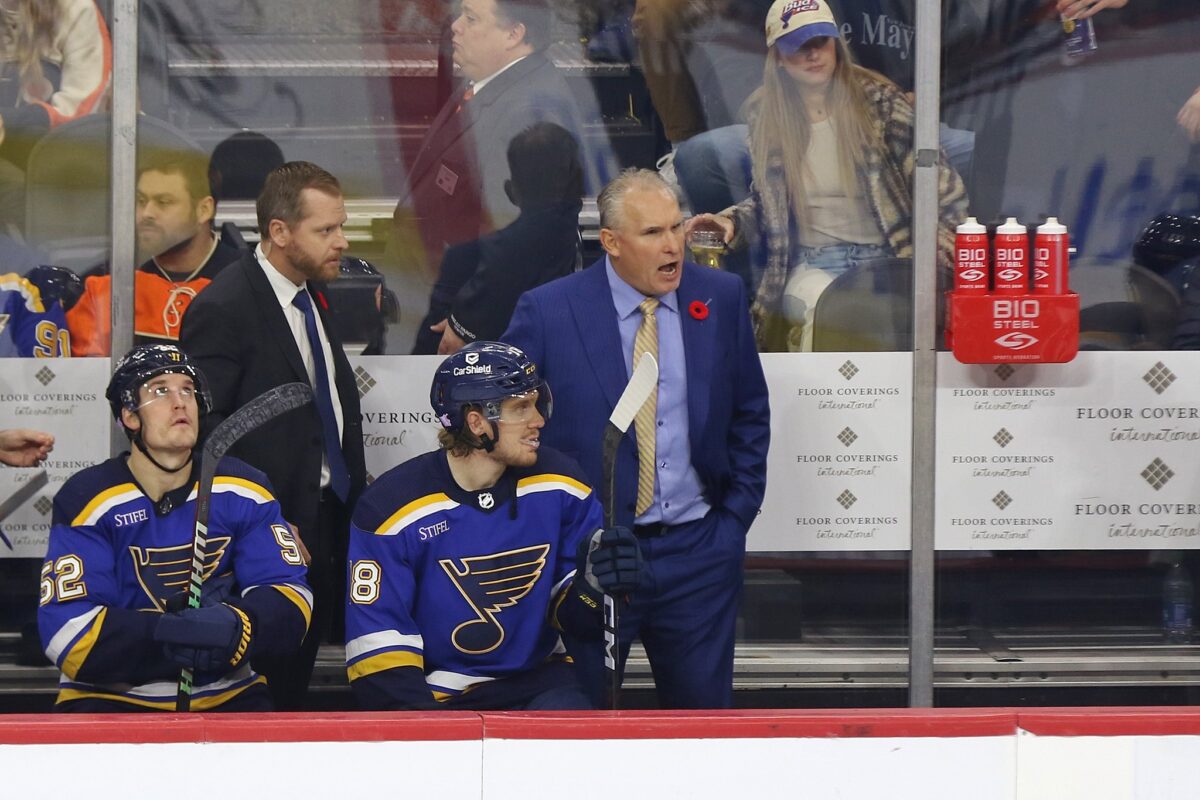 Losing in that fashion is terrible, but it's even worse against a bad Canucks team. The Blues have so many issues to work through before next season, and most of that is on the ice. It's safe to say that head coach Craig Berube is fed up with how his team played in this game and all season long.
Berube's Comments Aren't Wrong
The Berube quotes are about as candid as an NHL coach will get nowadays. It's an indictment on this team, but it's understandable to hear him say it after a loss like that. Given the style of Berube, which is old school, it's not a surprise to hear him say these things after a tough game.
There's a lot to dissect with this quote. It seems like a reference to Robert Thomas, Jordan Kyrou, Pavel Buchnevich, and some of the highest-paid defensemen. I also think he is referencing most of the team as well. There has been a lot of nonchalant play by some of the Blues' best players this season. Even players like Vladimir Tarasenko had issues with that when he was with the Blues this season. They don't play the winning style that they played when they won the Stanley Cup in 2019. There's a lot of laziness in the way this team plays. This quote will dominate the headlines, and I think Berube knew that would happen. He's also trying to light a fire under his team, so comments like this can do that.
Alexey Toropchenko also had things to say about the game. As the quote hints, there seems to be a lot of giving up within the Blues locker room. It's understandable with the way this season has gone, given the expectations, but that doesn't mean it can't be criticized by anybody. Toropchenko is also the exact type of player that Berube likes. He's got a 6-foot-6 frame, skates well, and finishes his checks. He's given Blues fans another reason to love him after these quotes. He's established himself as a small part of the leadership group, at least in the bottom six. Thomas took his comments in a different direction.
It's understandable to see Thomas stand up for his teammates, but that doesn't change some of what Berube said was true. This can't become a Berube versus Thomas thing, though. If that is the case, I don't think Berube makes it out of this roster retool with a job in St. Louis. As much as Blues fans still approve of Berube as the head coach, he can't have a legitimate feud with the team's number-one center. I think they will figure it out behind closed doors as men, but the public part of it has to stop there. The Blues need more leaders to step up with veterans like Ryan O'Reilly and Noel Acciari traded already.
Blues Leadership Moving Forward
I've always thought that the post-O'Reilly era would mean Thomas and Brayden Schenn are the biggest leaders in the locker room. But after hearing Toropchenko's comments, he deserves to have some responsibilities as a leader within the bottom of the forward group at least. Despite the veterans on the blue line, they seem to have no leader either. I'm not sure there is enough accountability in that unit for how poor they've been this season.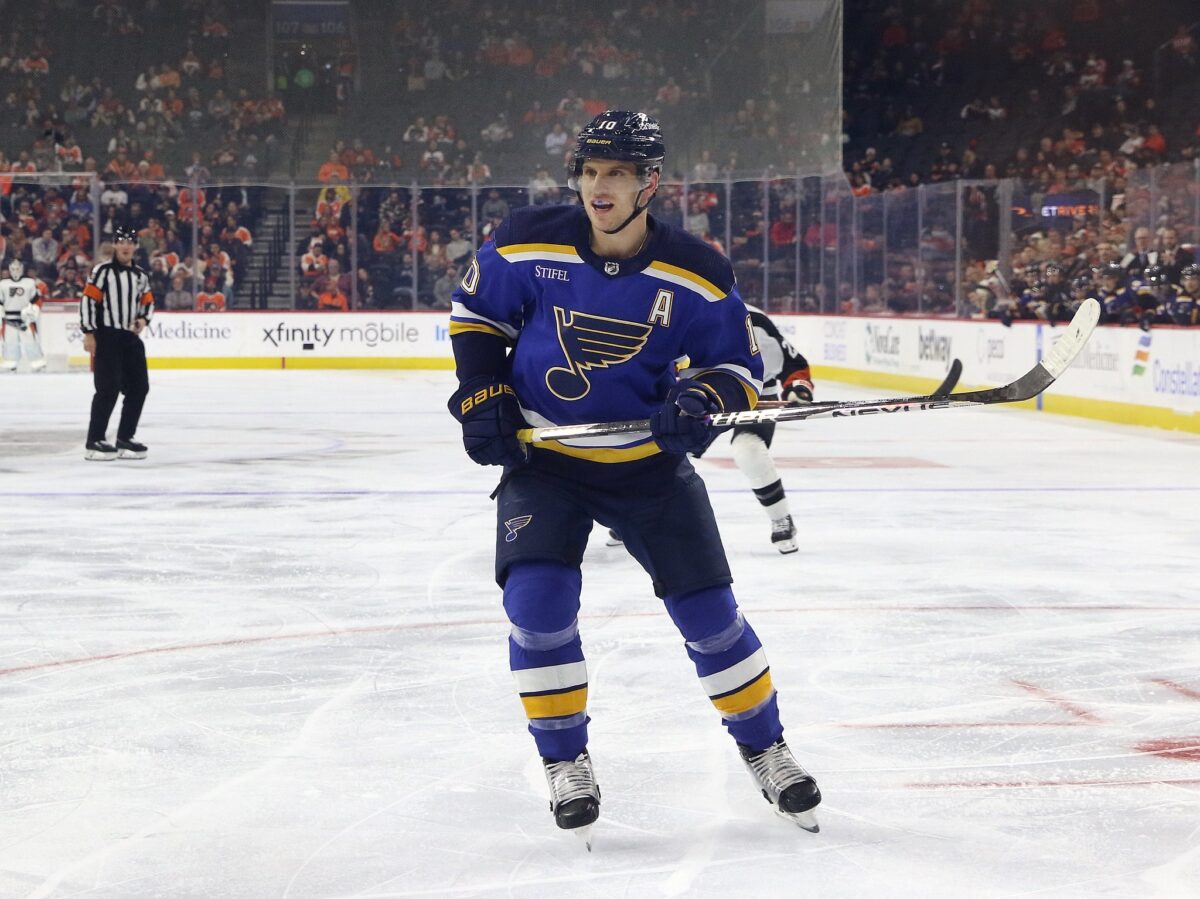 Schenn can lead from the front. He's proven it both on and off the ice. He should be named the next captain after this season. He also doesn't need to publicly respond to Berube's comments either. He can let his play on the ice speak for itself in the next game. Whether it's sticking up for his teammates or getting into the corners to make a play, Schenn has been willing to do both throughout his career. I don't want to question Thomas as a possible leader, but it'll be interesting to see how he plays in the next game as well.
Related: The Blues Must Fix Their Defense This Summer
---
Latest News & Highlights
---
It's a tumultuous time, as the Blues have already traded four players from their lineup. Three of those players are veterans, and two of them are supposed to be leaders of the team. It's hard to expect certain players to suddenly step up as leaders, but it has to happen. NHL teams must be led by both the coaches and players. This team has failed to do that in every way this season. All of the frustration that has built up over this season came out on both sides after the loss to the Canucks. Berube doesn't regret his comments, nor should he. However, it's not a good look for the organization to have all of this disconnect in the eye of the public. As I said earlier, this can't become a Berube versus players situation, or he won't last long. They must figure this out behind closed doors.
As far as what general manager Doug Armstrong had to say about this issue, it was an interesting way to discuss it, "we've made some radical changes to this group over the last couple of weeks. Emotions are raw right now. And really what we need to do is come to grips with where we're at as an organization and start to build."
It's clear that Blues management blames a lot of the roster shuffling for this issue, but I think it's deeper than that. They need to figure this out behind closed doors and make it through this season without a huge organizational blow-up.
---
---