In this edition of Vancouver Canucks News & Rumors, I'll share news about prospects Vasili Podkolzin and Nils Hoglander. I'll report the sad news that Micheal Ferland's concussion issues will keep him out of the Canucks line up if the NHL's 2020-21 regular season started in the next few weeks.
Related: Vancouver Canucks News & Rumors: Demko, Podkolzin & Hoglander
I'll also report that attempts to move Loui Eriksson have been unsuccessful and, finally, that Thatcher Demko's great 2020 playoff performance has boosted both his own confidence and the team's confidence in him as their goalie.
Item One: The Canucks Plan to Sign Prospect Vasili Podkolzin After KHL Season's End
The Canucks' young Russian prospect Vasili Podkolzin has come under fire recently with his play in the KHL; however, that doesn't mean that Vancouver is hesitant in any way to sign him and bring him to the NHL as soon as possible. In fact, as Brendan Batchelor (the Voice of the Canucks) tweeted this week, the Canucks hope to sign the youngster immediately after his KHL season has been completed. 
Canucks general manager Jim Benning admitted on Thursday that "We'd like to get Podkolzin signed after his season. He's a big body guy that takes the puck to the net and can make plays and goes and gets the puck to make plays."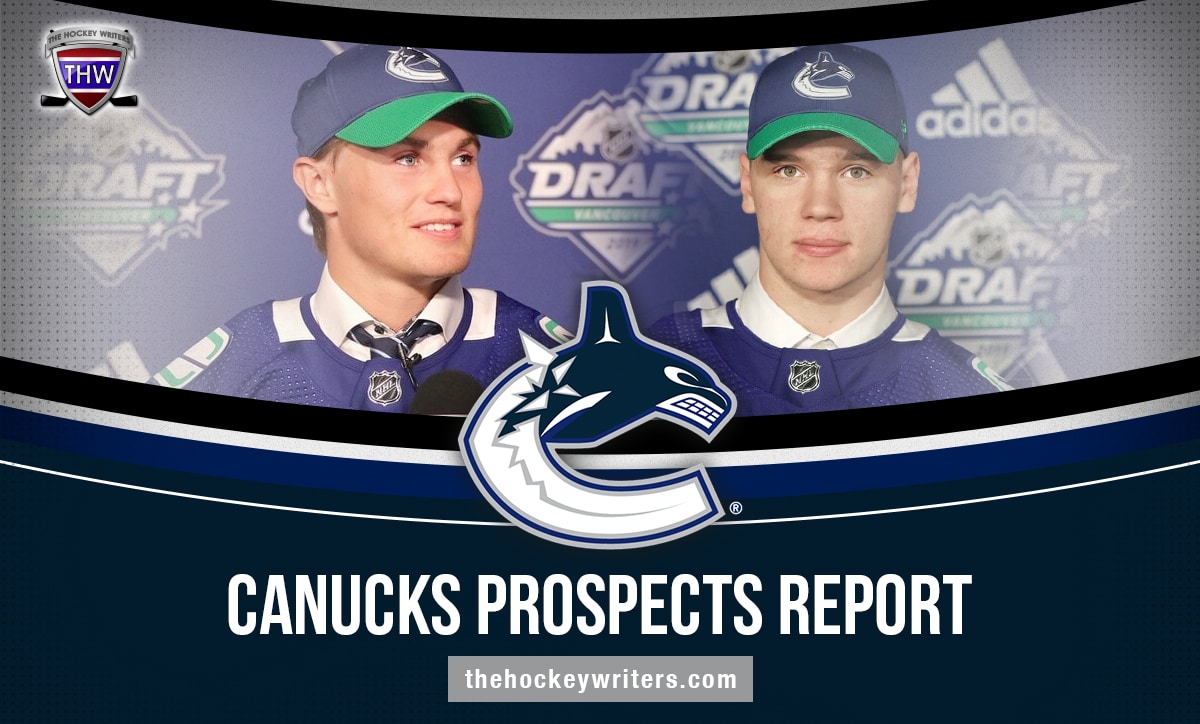 As noted, Podkolzin hasn't had the best KHL season – at least according to some Russian writers. He's only scored two goals and six points in 24 games this season with SKA St. Petersburg. For Cancucks' fans who want to see Podkolzin play, you should be able to see him skate for Team Russia in the upcoming World Junior Championship that begins on Christmas Day in Edmonton. 
Item Two: Micheal Ferland's Still Injured: Isn't Ready for 2020-21 Season
It some bad news, the report is that, if the 2020-21 season were to start immediately, Micheal Ferland wouldn't be ready to play.
During the same Thursday interview on Sportsnet 650, Benning covered a number of different topics. Micheal Ferland's status was one of them. Since Ferland left Edmonton's playoff bubble because of a postseason injury (he was injured during Game 2 against the Minnesota Wild), there hasn't been much written about him.
Related: Martin St. Louis, the Little Big Man
As a result, this last word was sad for Canucks' fans who really believed Ferland could bring some toughness the team didn't have. Personally, as a fan you also have to feel sad for Ferland. What a tough season for the physical winger: he only played in 14 regular-season games because of concussion issues. 
Item Three: Nils Hoglander Expected to Compete for a Roster Spot in 2020-21
Benning also weighed in on young Swedish prospect Nils Hoglander. He clearly has high hopes that Hoglander will compete for a roster spot on the team during the Canucks training camp. Hoglander had been loaned to Rogle BK of the Swedish Hockey League in late July as a way to help him gain playing experience when the NHL was dormant.
The Canucks picked 19-year-old winger during the second round of the 2019 NHL Entry Draft (40th overall). During his time this season in Sweden, Hoglander has produced three goals and 10 points in 16 games.
Item Four: The Canucks Tried to Move Loui Eriksson – Without Any Luck
Benning spoke quite candidly about his desire and attempts to move Loui Eriksson this offseason. As he admitted, these attempts were unsuccessful. 
Benning noted, "We tried to get Eriksson a new team, that didn't happen. As of right now, Loui's under contract with us. He can still kill penalties for us, and he's a good defensive player."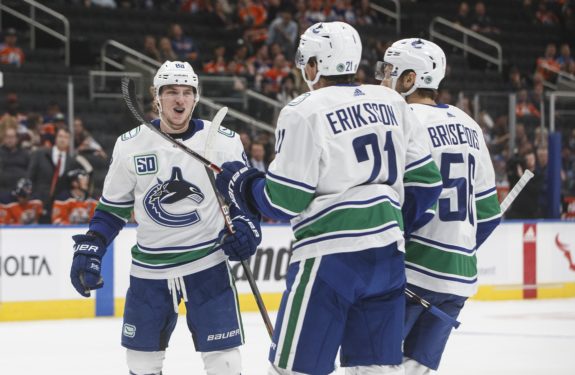 Obviously, the elephant in the dressing room is that Eriksson can't score and still has two more seasons remaining on his contract, which erodes a whopping $6 million from the organization's salary-cap. Benning's right that Eriksson isn't without value, and there were times I thought he played with energy and some success. However, the 35-year-old forward was signed to be a scorer, and he only had six goals and 13 points in 49 games during the 2019-20 regular season. 
Item Five: Thatcher Demko's Been Able to Consider His Stellar Playoffs
There seems to be a great deal of appreciation by general manager Benning for his young goalie Thatcher Demko. In a report last week, Benning noted how important Demko's performance against the Vegas Golden Knights was both at the time but also for the team's self-image and potential moving forward.
Related: Today in Hockey History: Dec. 6
Benning lavished Demko's play, suggesting that it "showed not only me, but it showed his teammates and coaches, our fans and the media, that he is the guy we thought he could turn out to be. We believed that's what he was capable of, but to actually see it for three games and for everybody else to see it, I think it was fantastic."
Obviously, listening to the soon-to-be 25-year-old Demko speak (Dec. 8 is his birthday), the experience was a confidence boost.
He reported that he's "been able to reflect a ton on it. You can look back and watch the film, which I was able to do. But I think the biggest thing I take away from that was just the mental step that I took. That's the thing that's probably the biggest adjustment going through your career, having that mentality, creating that confidence and sustaining that confidence. For me, it was kind of like the stars aligned."
Demko also hinted that it hasn't always been easy, "I'd had some opportunities that maybe didn't go great, and I was able to learn from those. … Obviously I wanted to win Game 7. But now that some time has passed, I'm able to look back and really enjoy how fun that was for me. Just having that confidence and kind of proving to myself that I can do it, three games in four nights, yeah, it was definitely a big step."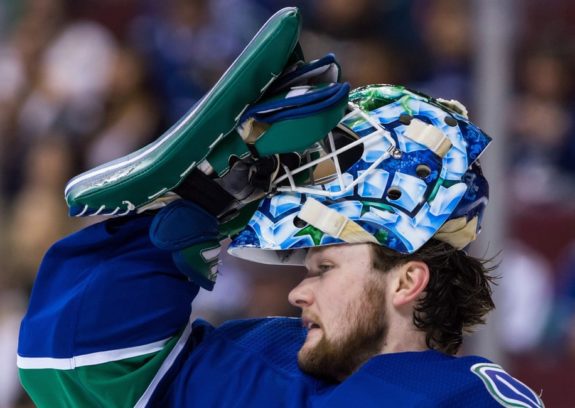 Demko wants to prove he's the Canucks' number one goaltender. He's clear about his goal. "I want to be in Vancouver as long as I can. I want to be the guy."
What's Next for the Canucks?
One amazingly interesting story out of Vancouver is that the team fired its long-time anthem singer Mark Donnelly over his plan to sign at a COVID-19 anti-mask rally on Friday of last week.
Related: Canucks News & Rumors: Demko, Naslund, Edler & Pettersson
The speed and impact of that move suggest how important the Canucks as an organization feel about its importance of providing a good example within the broader Vancouver community.
---
---