Nearly six years ago, much to the dismay of their fans, the Edmonton Oilers decided that it was time to part ways with longtime defender Jeff Petry, sending him to the Montreal Canadiens.
Only getting back a second- and a fourth-round pick for the promising young defenseman, fans immediately lamented the trade as a loss. The perception of the trade has only grown worse in the following years as Petry has developed into one of the best right-handed defencemen in the NHL and a cornerstone of the Canadiens' defence.
Montreal Got Themselves A Premier Defender
Montreal only added one piece in the deal, but in this case, quality is greater than quantity. In each of his past three seasons, Petry has amassed 40 or more points, with his 179 points since the trade making him the 31st highest-scoring defenceman over that span.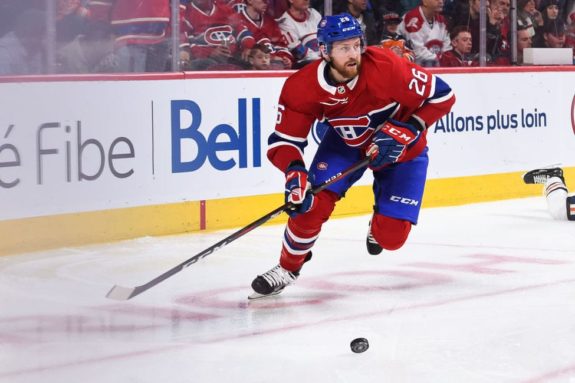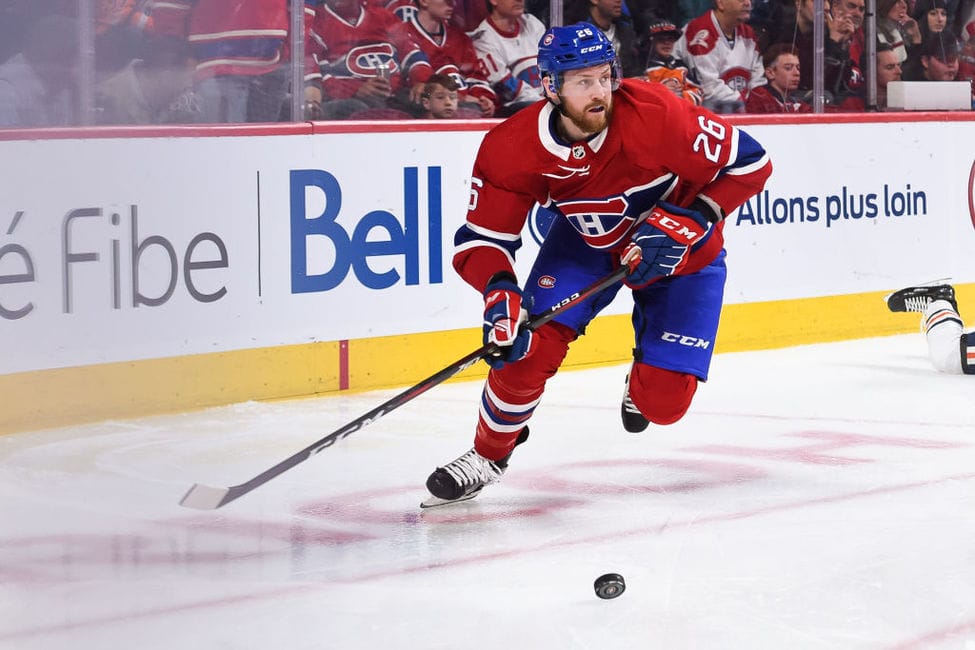 Not only has Petry become a legitimate threat to chip in offensively, but he has also developed into one of the most defensively sound blueliners in the league. Petry proved himself to be among the best in the league at five-on-five play, finishing top 10 among defencemen in possession metrics such as Corsi for percentage (CF%), Fenwick for percentage (FF%), and expected goals for percentage (xGF%), showing his acumen for driving and controlling play at both ends of the ice.
Petry also showcased his knack for showing up when his team needs him most, finishing last season in the top 10 for game-winning goals by a defender, and scoring two of the three game-winners in the play-in round against the Pittsburgh Penguins, helping to propel Montreal into the playoffs.
Why Did Edmonton Part Ways With Petry?
The end of Petry's tenure with the Oilers was very much a "wrong place, wrong time" scenario. At the time of the trade, the Oilers were in the midst of a long rebuild and with a once in a lifetime opportunity to get a generation talent like Connor McDavid in the 2015 Draft, the Oilers sold off impact players to help their chances at the first-overall pick. During the 2014-15 season, the team traded away a handful of roster mainstays including Ales Hemsky, David Perron, and Petry himself, getting back mostly futures in return.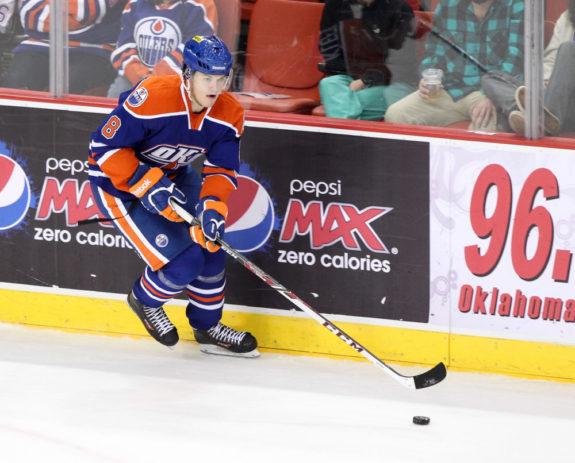 Petry was in an interesting position going into the 2014-15 season and his situation made him an obvious trade candidate. While he was a young and promising home-grown defenceman that had come up through the Oilers' system, he was also on an expiring contract and was valued as a trade target by multiple teams around the league.
With the Oilers having recently committed to defencemen Nikita Nikitin, Mark Fayne, and Andrew Ference, as well as having promising defensive prospects Darnell Nurse and Martin Marincin waiting for their chance, Petry became somewhat of an odd man out. His standing in the franchise's depth chart, as well as the Oilers' desire to amass futures and take a shot at McDavid were the driving forces that led to his exit from Edmonton.
What the Oilers Got Back in the Petry Deal
Coming back to Edmonton from Montreal in exchange for Petry was a pair of 2015 draft picks in the second and fourth rounds. The Oilers never used the second-round pick and sent it off to the New York Rangers along with two other draft picks (a third and a seventh) in exchange for goaltender Cam Talbot (as well a seventh-round pick that doesn't seem like it will pan out).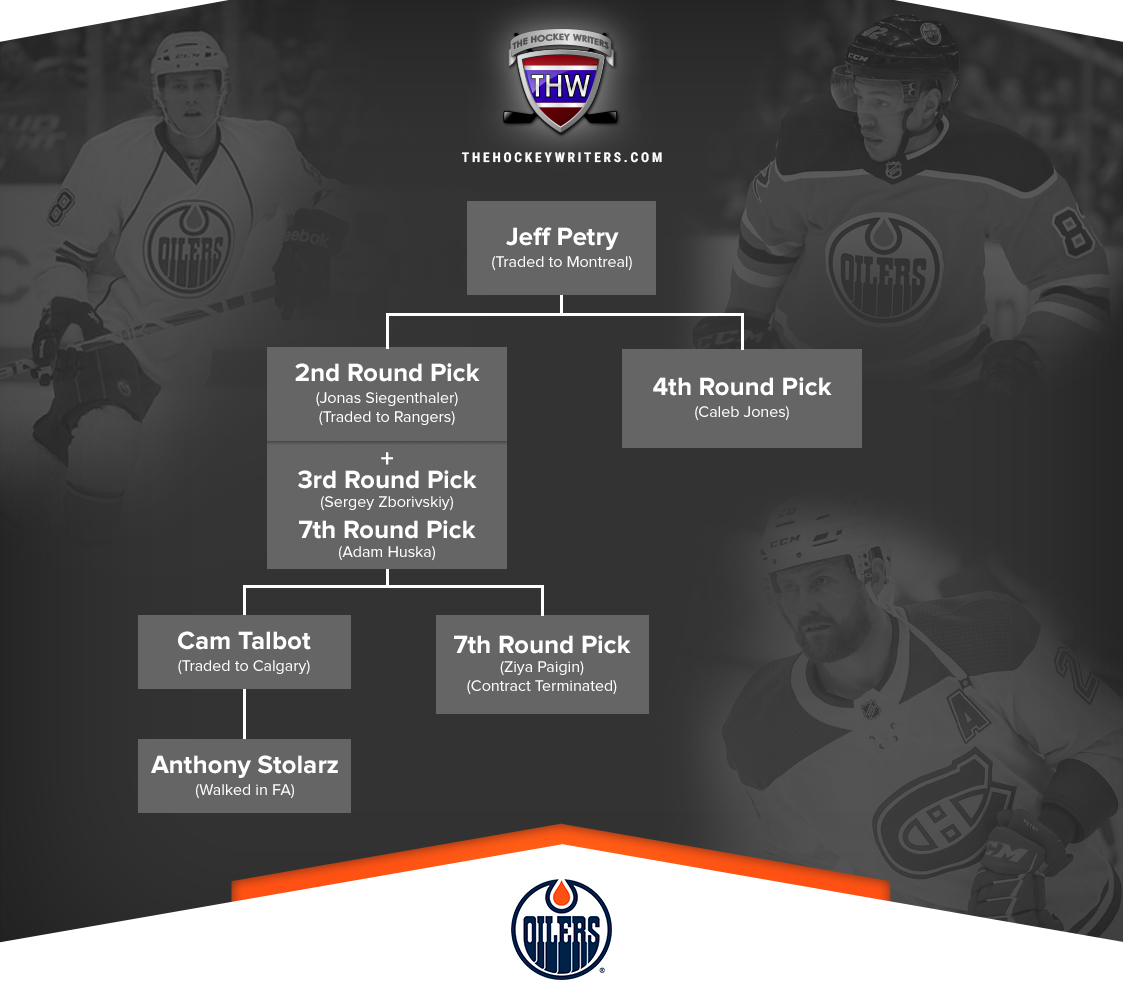 For years leading up to this trade, the Oilers had lacked a solid and consistent netminder, having a constantly spinning revolving door of below-average goaltenders. In seasons prior, Edmonton had given lengthy looks to Devan Dubnyk, Nikolai Khabibulin, Ben Scrivens, Ilya Bryzgalov, and Victor Fasth, but none of them were able to take over the role and be that rock that Edmonton needed in net.
So, the Oilers brought in Talbot to provide a sense of consistency, and that is exactly what he would provide for the Oilers following the deal. In his first season with Edmonton, Talbot started in 56 games and put up a .917 save percentage (SV%), placing him in the middle of the pack in terms of starting goalies that season, an immediate improvement over their previous options.
Talbot's second season with the Oilers is where he really shined, registering a .919 SV%, top 10 in the league among starting goalies. His numbers were all the more impressive considering that Talbot played in a whopping 73 games, winning 42 of them. Both of these totals were good for best in the NHL. Talbot was instrumental in the Oilers' playoff run to the second round that same year, the team's deepest playoff run in over a decade.
Unfortunately, Talbot only stuck with the Oilers for two more seasons after their playoff run and would see both his numbers and responsibilities decline in each season. Eventually, he was shipped out to the Philadelphia Flyers in a one-for-one deal in exchange for prospect goaltender Anthony Stolarz. Once the top goaltending prospect in the Flyers' system, he had been passed up on the depth chart by younger and more impressive goaltenders like Carter Hart, Felix Sandstrom, Matej Tomek, and Alex Lyon. Stolarz would only play in six games for the Oilers before leaving the team as a free agent.
Why the Oilers Can Still Win the Trade
Trading away a player of Petry's calibre stings more often than not, especially in the Oilers' case considering their defensive corps is sorely lacking. In the time since he's left, the Oilers are one of only five teams to not have a defenceman receive a Norris Trophy vote, the other five being the Buffalo Sabres, Detroit Red Wings, New Jersey Devils, and New York Islanders. Petry's single Norris vote in 2019 is more than the Oilers' combined total since the trade.
So, how can the Oilers still win the trade? They gave away a top-tier defenceman and got a few good seasons out of Talbot in return before sending him to Philadelphia for a prospect who didn't pan out. But maybe the outcome isn't so bleak.
The other pick that the Oilers got in return for Petry was used to select defenceman Caleb Jones, 117th overall. Jones was touted by scouts as a smart, versatile, and physical two-way defender with strong skating skills, and a good release. Despite the praise, players chosen that late in the draft are usually long shots to become NHL regulars. Jones definitely had his work cut out for him, but he worked hard and showed a lot of skill, scoring at nearly a point-per-game clip in two Western Hockey League seasons after being drafted, then putting up impressive numbers for the Oilers AHL affiliate in Bakersfield.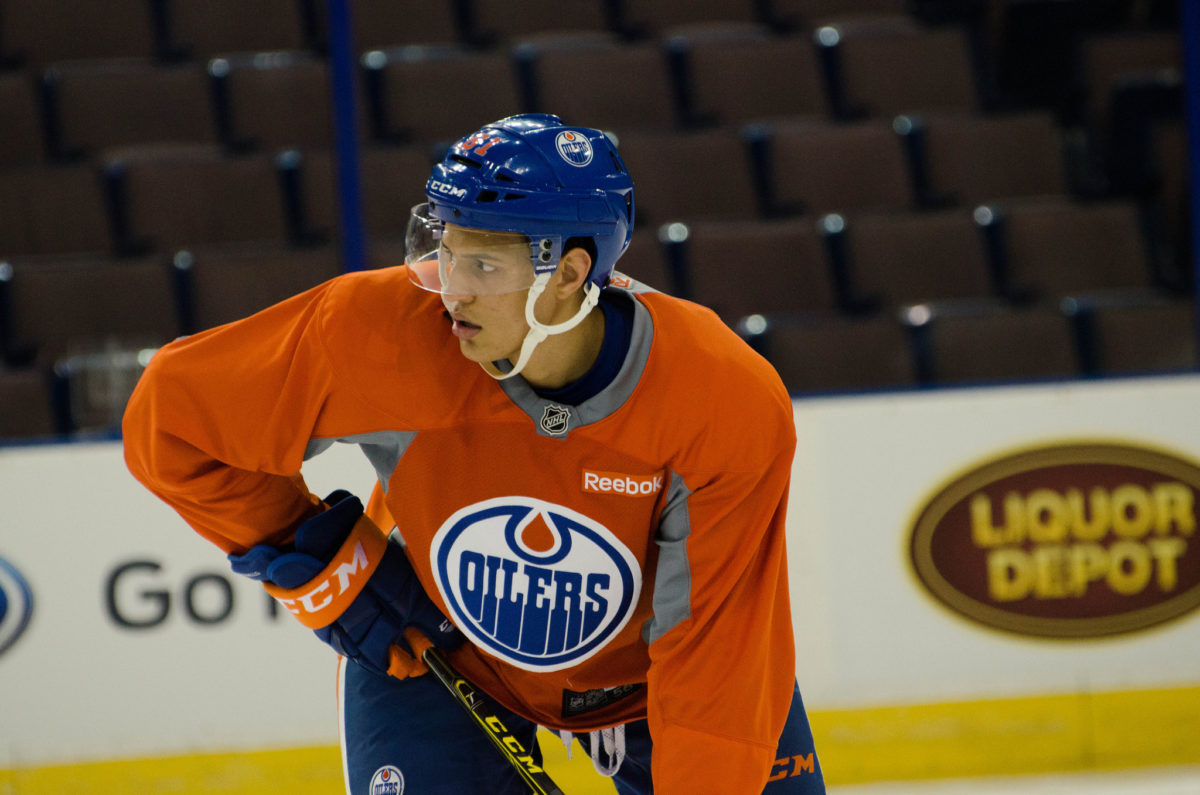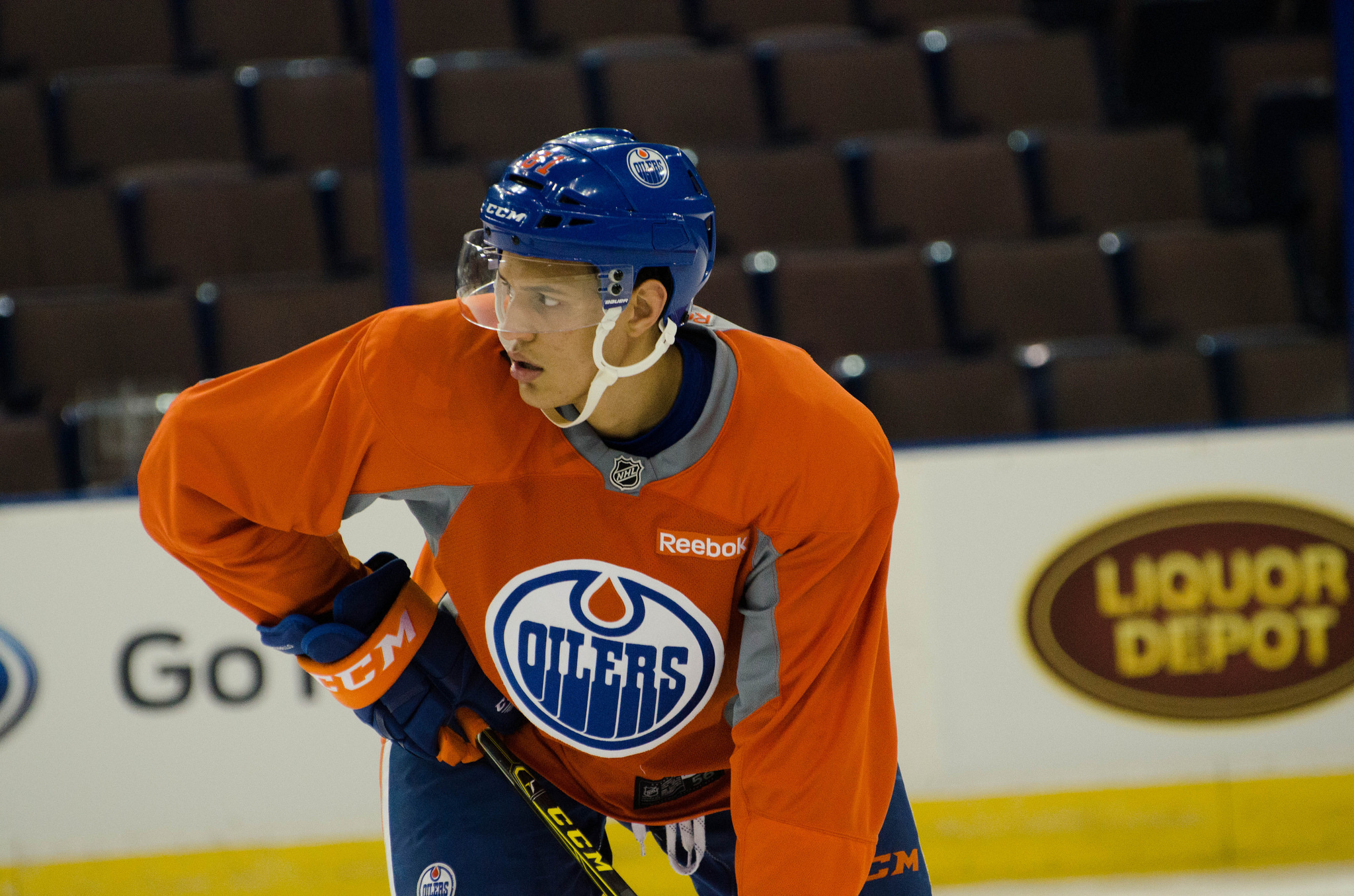 Jones finally got his shot in December of 2018, after an injury to Oscar Klefbom, playing in 17 games for the Oilers. Jones had some flashes of brilliance, like when he jumped up on the rush to score his first NHL goal, but he looked raw and it was obvious that he needed more time in the AHL before he would be ready to make the full-time jump to NHL play. After his 17-game stint, Jones was returned to Bakersfield where he would continue to improve.
He was given another shot last season with a call-up in mid-November after a hot start in the AHL, registering 11 points in his first 14 games. He would be a mainstay with the Oilers for the remainder of the season, looking much more at home in the NHL than he had in his previous run with the team, although there was still visible room for improvement.
Jones was given limited minutes with the Oilers, only playing 14:08 per game, a significant drop-off from the previous season where he'd played just under 20. Limiting his minutes seemed like it helped him to adjust to the speed of the NHL, as he improved from being one of the worst possession defensemen on the Oilers in his first season to being among the best last year, finishing first in CF% and xGF%, and second to only Matt Benning in FF%.
Going into the 2020-21 season, Jones seems like a lock to be a top-four defenceman for the Oilers. With Klefbom likely to miss the entirety of the upcoming season, there is a hole on the left side of Edmonton's second pair to fill. Jones is the logical choice to fill this hole and shoulder a bigger workload this upcoming season. With another year of experience under his belt and increased responsibilities, he could be primed to break out.
Based on what we've seen from him in the WHL and AHL, Jones seemingly has the potential to become a very solid defenceman, and if he continues his progression and helps the Oilers to playoff success, Edmonton could be viewed as the winners of the Petry trade.
---
---