Look at any top 10 list or future outlook for the Philadelphia Flyers and you'll be drowning in defensive prospects. There may be a mention of Travis Konecny, but for the most part, names like Ivan Provorov or Shayne Gostisbehere are going to jump off the page.
The one Flyers prospects pool that doesn't get a lot of love from analysts or fans is goalies, but yet it's arguably Philadelphia's second area of strength besides defense.
From the AHL to the NCAA to Europe, the Flyers have a number of goaltending prospects that do not get the attention they deserve.
Anthony Stolarz
The 2012 second-round draft pick is the one seemingly closest to an NHL spot and the elder statesmen of this group. Stolarz actually was expected to get into an NHL game or two toward the end of the season when Michal Neuvirth was injured, but instead the team rode Steve Mason.
However, the 22 year old's rookie season with the Lehigh Valley Phantoms in 2014-15 made fans wonder if he still had NHL potential after a strong career with the OHL's London Knights. Stolarz compiled a save percentage just a hair above .900 and a goals against average higher than three.
Stolarz showed this year though that he still had potential. He beat out veteran Jason LaBarbera for the starting spot after the pair were supposed to share the net while Stolarz continued his development.
Stolarz posted a .916 save percentage and a 2.60 goals against average and was named to the All-Star Team. One of Stolarz's biggest games came in a 51-save shootout win:
I tweeted this last night half jokingly. Stolarz finished w/ franchise record 51 saves & stopped all 3 in shootout. pic.twitter.com/Unx3o1qZ5R

— Tony Androckitis (@TonyAndrock) March 3, 2016
With Mason and Neuvirth signed through next season, Stolarz will spend another year with the Phantoms taking an even larger role with the team.
Alex Lyon
The newest prospect in the Flyers' system is also the one that has greatly improved the teams' prospect pool in net.
Lyon was one of the more sought-after undrafted free agents coming out of the NCAA this past spring and agreed to a two-year contract with Philly. However, the team had to burn a year off of the ELC to entice the hot commodity, this year.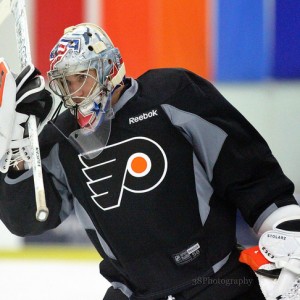 The 23 year old spent three years at Yale, playing in 93 total games and earning 50 wins. He had stellar numbers his last two seasons, but his better stats actually came during his sophomore season when he posted a 1.62 GAA and a .939 save percentage.
Elite Prospects describes Lyon as a "very technique-oriented goalie…with sound positional play." The Minnesota native was also a Hobey Baker and Mike Richter (for nation's top goaltender) finalist this past season.
With Stolarz and Lyon signed through next year, the Phantoms have their two netminders. Stolarz will probably get the lion's share of starts, especially at the beginning of the year, but Lyon could soon battle him for more playing time.
Merrick Madsen
Another goaltending prospect honing his skills in the NCAA, the Flyers selected Madsen with their sixth-round pick in the 2013 draft. So far, that pick looks like it could be a steal.
At Harvard, Madsen posted an 18-7-3 record with a 2.00 GAA and a .931 save percentage a year after the Idaho native played in one game for the Crimson. Madsen helped the team earn an at-large bid into the NCAA Tournament before Harvard lost in their opening game against Boston College.
With two goalies already in the AHL, Madsen will head back to Harvard next season. With Stolarz the only goalie signed into the 2017-18 season, Madsen will hope for an ELC then and a shot at the Phantoms' net.
Felix Sandstrom
Now looking across the pond, Sandstrom was the Flyers' third round choice in the 2015 Draft and spent this past season with Brynas of the SHL as an 18 year old. Although he shared the net with veteran Bernhard Starkbaum, making it into Sweden's top league as an 18 year old is no easy feat.
Sandstrom finished the season with a 10-14-0 record, but played only three less games than Starkbaum and earned plenty of praise along the way. The Glave, Sweden native also suited up for Sweden at the WJC where he settled for a 1-1-0 record in a backup role.
Starkbaum's contract with Brynas ended after this season giving Sandstrom an oppurtunity to take the lone starter role in 2016-17. He'll also be young enough to represent Sweden again at the WJC this upcoming winter.
While it's always tougher for a European goalie to adjust to the smaller North American rinks, the Flyers may be just fine allowing Sandstrom to develop with plenty of playing time overseas.
Ivan Fedotov
The lone Russian on this list, Fedotov is a monster at 6-foot-6 and 192 pounds. Philadelphia selected him with a seventh rounder at last year's draft.
Fedotov spent last year with Reaktor Nizhnekamsk of the MHL (the KHL's development league), but was just traded last week to Salavet Yulaev UFA. The move should be a good one for Fedotov:
#Flyers prospect Ivan Fedotov got traded to Salavat Yulaev UFA in the KHL. Salavat lost the conf. final this year. This is good for Fedotov.

— Johan Gärtner (@JohanGartner) May 4, 2016
Gartner also notes that Fedotov will now have a chance to battle Niklas Svedberg for the starting spot with the big team instead of spending another season in the MHL.
As a seventh-round pick, making it to the NHL would be difficult for anyone. The Flyers saw a prospect with size that can't be taught and took the risk. The biggest challenge will come now for Fedotov as he attempts to hold down a spot in the KHL.
Matej Tomek
The last goalie on this list is also the goalie that hasn't played a game in the longest in Philly's system. Tomek suffered an injury before North Dakota University's season started and despite reports that it was just a week to week injury, the Slovakia native never played.
Just talked to North Dakota coach Brad Berry; he said goalie Matej Tomek (PHI) is finally getting healthy, will be available down stretch

— Ryan Kennedy (@THNRyanKennedy) February 22, 2016
The Flyers drafted Tomek with a third round pick last year and obviously saw potential in him. Now, the team and player are probably just hoping that he can return to the ice at some point.
But despite Tomek's struggles, the Flyers can look at their goaltending prospect pool and compare its depth to the defensemen pool, which has to have the management smiling about the future.