The Vancouver Canucks have started the Rick Tocchet era going .500 with a 3-3-1 record. While he has only been in charge for seven games, the new Canucks head coach has been able to implement changes to the team's structure and deployment on the ice. Here is a look at seven takeaways from his first seven games in charge.
Canucks Strong Analytics Under Tocchet
Tocchet's coaching style is more geared toward the defensive side of the game, and that is evident by the way Vancouver has played over the past seven games. They have been better defensively and have lowered their shots against from 32.2 per game through the first 46 games of the season all the way down to 26.3 over the past seven games. They are doing this by being more aggressive on the puck carrier and forcing the opposition to play along the boards by clogging up the middle of the ice when forced to defend in their own zone.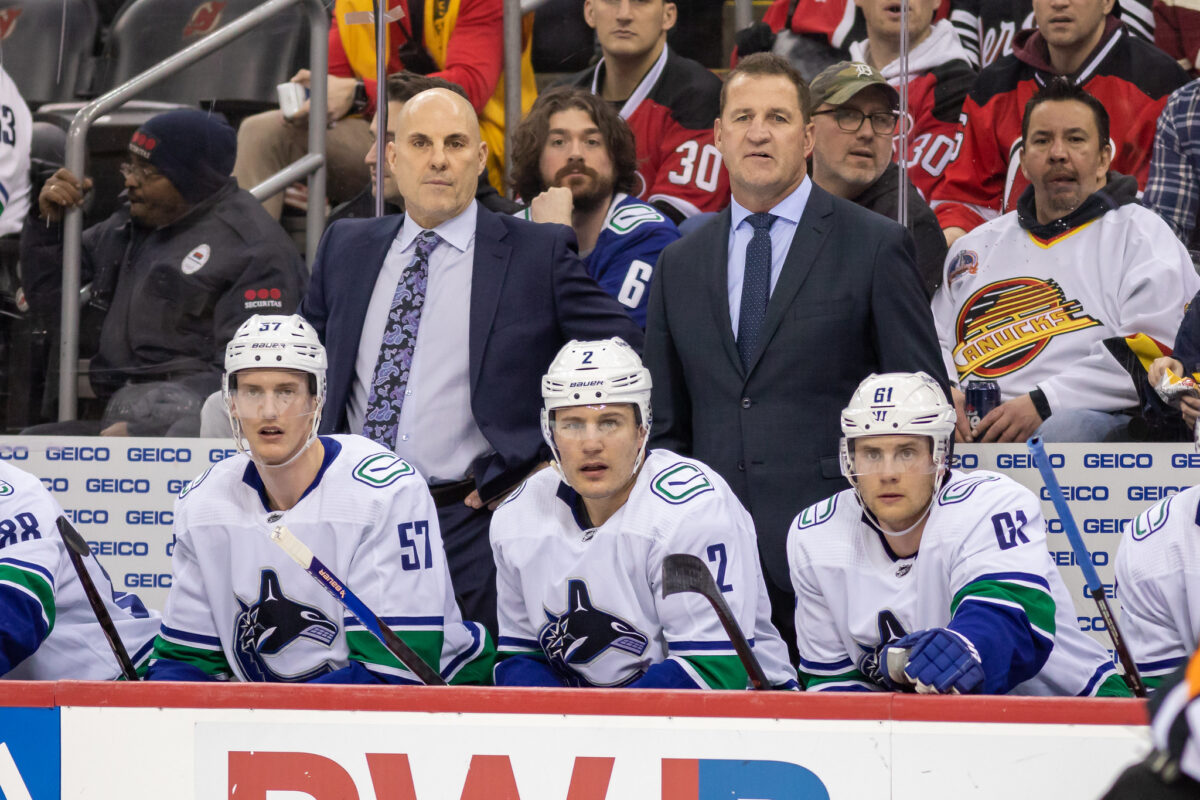 As for the Canucks playing in the offensive zone, they are generating more chances and creating more scoring opportunities under Tocchet. Their shots per game have risen from 30.5 per game to 32.1, and they are above 54% when it comes to scoring chances for and high-danger scoring chances for. From an analytics point of view, they have been a better team in both ends of the ice over the past seven games. The question now revolves around whether this is a new coach bump or whether they can continue this upwards trend into next season and beyond.
Canucks Goaltending Worse at 5-on-5
The Canucks goaltending group has struggled all season but especially since Tocchett has taken over. Under Bruce Boudreau, Vancouver had a 90.13% save percentage at five-on-five, along with an 81.20% high-danger save percentage. Since the coaching change, however, both numbers have dropped significantly, with the Canucks having an 85.71% save percentage at five-on-five with a 78.72% high-danger save percentage. Despite Vancouver playing better overall defensively and allowing fewer shots and chances against, Spencer Martin and Collin Delia's play continue to cost the Canucks on the scoresheet.
Related: Canucks' Targets in Potential Demko Trade with Penguins
---
Latest News & Highlights
---
One of the possible reasons behind the dip in play from the goaltending group could be fatigue. Delia's 13 NHL games are the most since the 2018-19 season, while Martin's 28 are more than he was projected to play all season. Both are good American Hockey League goaltenders but are showing they are at their best when they do not have to be relied upon on a nightly basis. With Thatcher Demko projected to return to the lineup soon, Vancouver's goaltending statistics should get better showing just how valuable the 27-year-old is to this team.
Less Ice Time for Hughes
While Quinn Hughes is still averaging the most ice time per game on the Canucks, he is seeing just under three minutes less per game under Tocchet. While he is playing less per game on the power play, the big difference is at even strength, where not only is he playing less than 20 minutes a night now, he now sits behind Oliver Ekman Larsson and Tyler Myers on a per-game basis. This is somewhat surprising considering his value to the team but with the Canucks essentially no longer competing for a playoff spot, less ice time may actually be a benefit as the season progresses.
Judging by Hughes's numbers, it is hard to tell he has been playing less per game, as he is averaging more points in the past seven games than he had been through the first 42 games of the season. He has also seen a jump in takeaways per 60 minutes from 1.75 to 2.30 and has a plus/minus rating of +8 compared to the +5 he carried during the Boudreau era. Overall, he has stepped up over the past seven games despite less ice time and continues to show why he is one of the best defensemen in the entire NHL.
Boeser's Game Reinvigorated
Brock Boeser has had a tough season. Thanks to injuries, he only was able to produce nine goals in 38 games under Boudreau and was not just dropped down to the team's third line but taken off the first unit power play. Now under Tochett, he has started to find his game again and looks to have regained the confidence that has been missing most of the season.
Related: Canucks News & Rumors: Demko, Boeser, Horvat & More
During the last seven games, Boeser has been able to show off not just his playmaking ability in the offensive zone but also his strong two-way game. On top of his eight points, he also has forced five turnovers and thrown nine hits. He has also been able to create chances for his teammates thanks to his forecheck and has earned a promotion to the team's top line with Elias Pettersson and Anthony Beauvillier. A very streaky player; it would be in the Canucks' best interest to keep him on the top line and power play, especially with the trade deadline just a few weeks away.
The Kuzmenko Situation
Seven games in and Andrei Kuzmenko appears to be in Tocchet's doghouse already. Not only has he been demoted down the lineup, but he has also seen less than 13 minutes of ice time in each of the past three games. During that stretch, he has also been benched for long periods of time during games begging the question of whether he and the new coach are going to be able to work together over the next few seasons.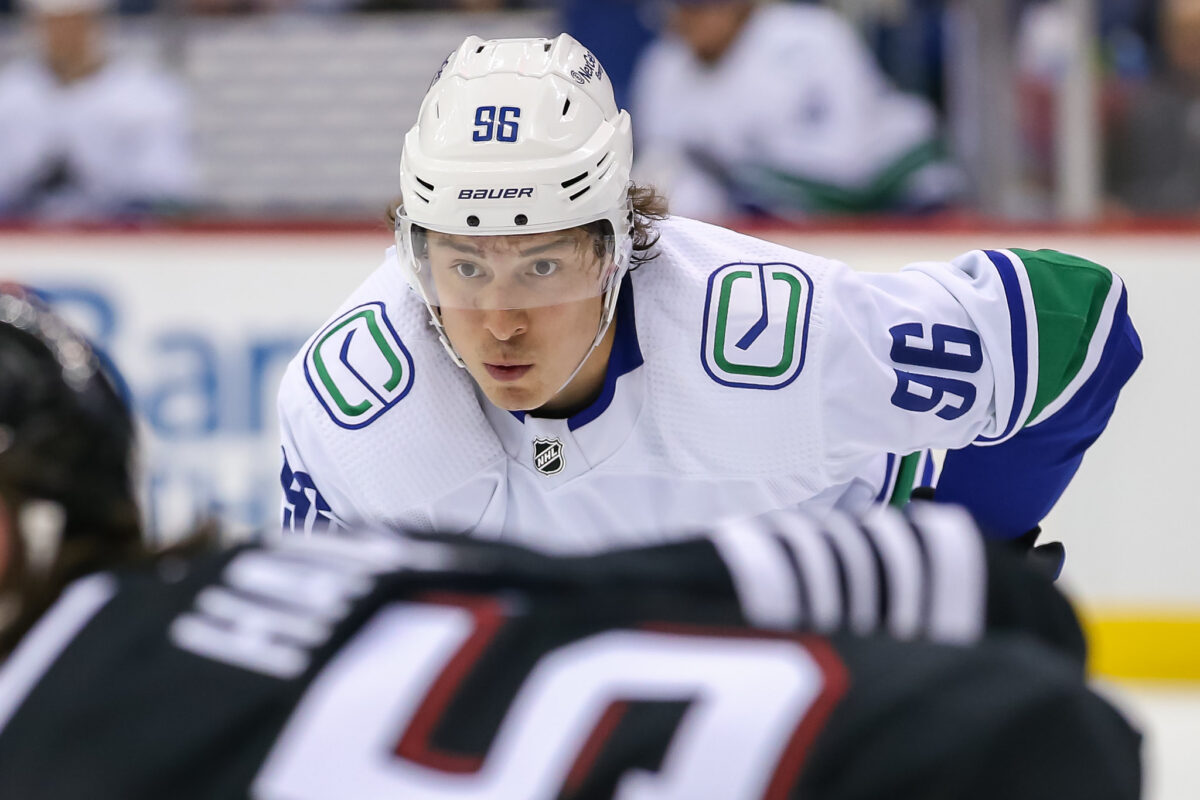 With Vancouver deciding to sign Kuzmenko to a two-year, $11 million extension a week after Tocchet took over, it does raise the question as to why the team didn't wait a little bit and see if the two would mesh well before committing to multiple years together. The Canucks wanted to get the deal done before the trade deadline, but they still had over a month at the time of signing to see how the relationship would develop. Hopefully, this is just a temporary hiccup because Vancouver cannot afford to have another problematic signing on its books moving forward.
Miller's Improved Defensive Play
After signing a massive long-term deal in the offseason, there were a lot of expectations placed on J.T. Miller coming into the 2022-23 season. So far, he hasn't been able to live up to them and has caused Canuck fans headaches with his lack of effort and overall behaviour on and off the ice. While he still drops the occasional obscenity that can be heard on the television broadcast, his play has been better under Tocchet, which should be recognized.
Related: Canucks Need to Take the "A" Away From Miller
Back playing center after the Bo Horvat trade, Miller has been good defensively and looks engaged in the play when the puck is in his own zone. He has created nine takeaways, blocked seven shots and thrown 12 hits in his last seven games showing that he can still be an effective two-way player. In the offensive zone, he is starting to look more like the 99-point player of last season with seven points while also leading the team with 23 shots on goal since the coaching change. So far, the relationship between him and Tocchet has been positive, which is something the Canucks desperately need to continue considering he carries a cap hit of $8 million per season until the summer of 2030.
Penalty Kill Still a Mess
Despite the change in coaching, one thing that remains an issue is the Canucks penalty kill. Not only is it historically bad, but it is also actually worse than during the Boudreau era by 0.4% percent. Overall, they have given up multiple goals in four of the seven games with contests against the Blackhawks and Rangers as the only instances where they have gone perfect on the penalty kill.
The fact that Vancouver's penalty kill is so bad is evident that it is more about the personnel than the overall strategy. Numerous times a game, the Canucks have opportunities to clear the puck yet can't get it out of their zone, which leads to either a goal or a scoring chance against them. If something doesn't soon change, the Canucks current kill rate of 65.8% could set the record for the worst penalty kill in NHL history beating out the L.A Kings 1979-80 team that finished with a rating of 68.2% rate.
Canucks Building for the Future
As mentioned, the last 29 games of the Canucks season are more about getting everyone on the same page for next year rather than compiling wins this season. It is also about which players Tocchet sees a future with and which he feels would be best suited to play for another organization. Expect some changes between now and the trade deadline as the management group in Vancouver continues to fix this roster so the organization can experience success in the near future.