In today's NHL rumors rundown, one insider notes that the San Jose Sharks and Edmonton Oilers have resumed trade talks regarding defenseman Erik Karlsson. What exactly does this mean and how far along are the two sides? Meanwhile, the Arizona Coyotes pulled defenseman Jakob Chychrun from the lineup for trade-related reasons.
---
---
Is it the Oilers, Toronto Maple Leafs, or Los Angeles Kings that are being active here? Or, is there another team in the mix? There is news regarding a few names coming out of Ottawa, and insiders offer the latest updates surrounding the Vancouver Canucks.

Oilers and Sharks Talking Karlsson Deal Again
TSN's Chris Johnston reported on Saturday that the Sharks and Oilers had re-engaged in trade conversations regarding Karlsson. Johnston noted in his tweet there were many hurdles to jump if this was going to get done, but said it was interesting that the Oilers were circling back on this. After his tweet, he stopped in on the Got Yer' Back podcast and reported that he believed there is more than kicking tires at this point.
Other insiders started looking into the story, including Elliotte Friedman who mentioned during the 32 Thoughts segment of Hockey Night in Canada that the Oilers' priority is to land a puck-moving defenseman but the math needs to work for this to be a reality. He notes the Oilers need Karlsson's contract to come down to around $7 million and that means San Jose has to eat about $4 -$5 million per season over the next four seasons. No one knows if San Jose will be willing to do that. Karlsson also needs to waive to go to Edmonton and Friedman joked there might have been some arm twisting going on at the All-Star game between Karlsson and Connor McDavid/Leon Draisaitl.
Daniel Nugent-Bowman of The Athletic didn't shoot down the idea completely, but he did report: "I've had a source reiterate to me that a Karlsson acquisition for the Oilers, though possible, is very unlikely."
The Oilers were a popular team in the rumor mill as links to Patrick Kane picked up again and they were also loosely linked in talks with the Detroit Red Wings about Tyler Bertuzzi.
Coyotes Pull Chychrun, Kings Likely Suitor
Jakob Chychrun was not in the lineup for the Coyotes when they faced the St. Louis Blues on Saturday. The organization's PR department released a statement saying it was for trade-related reasons. That got many thinking a deal could be imminent. Nothing went down.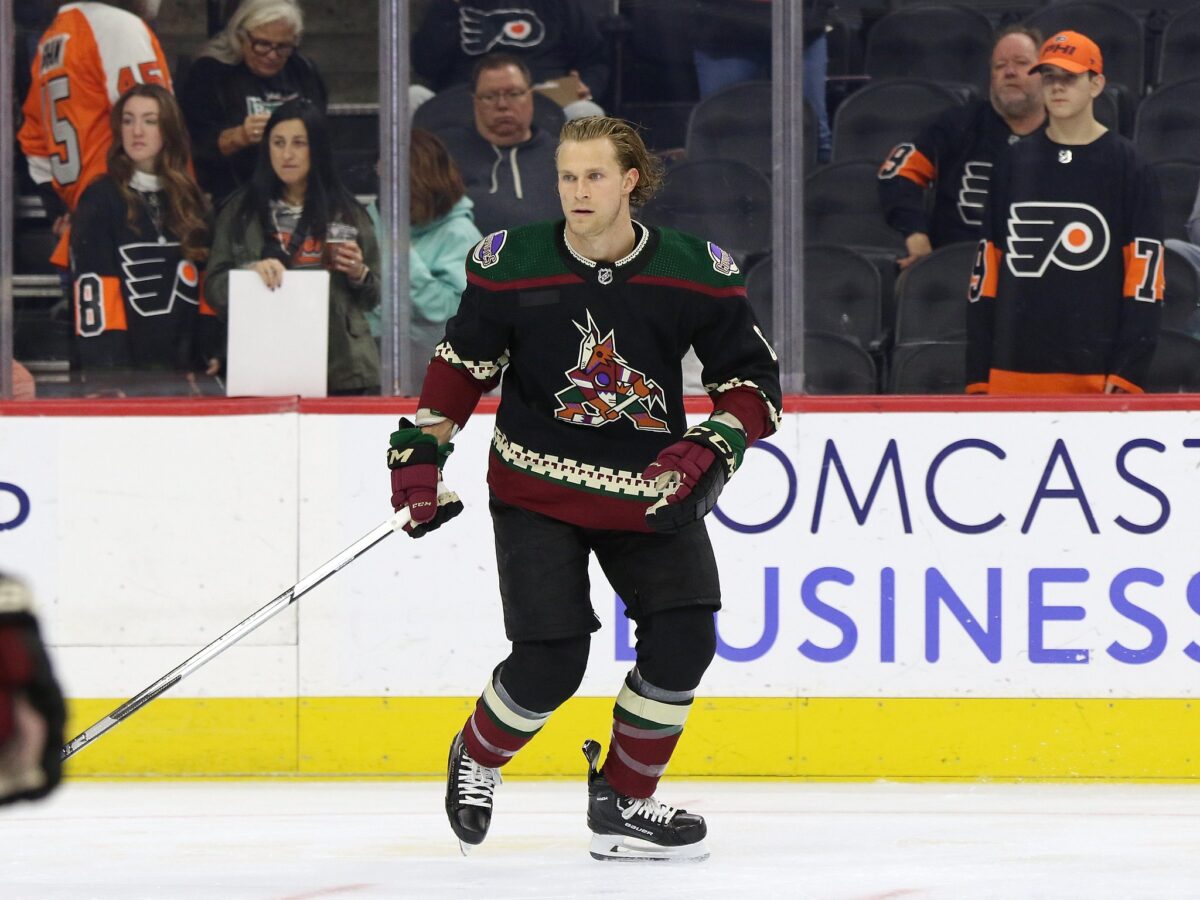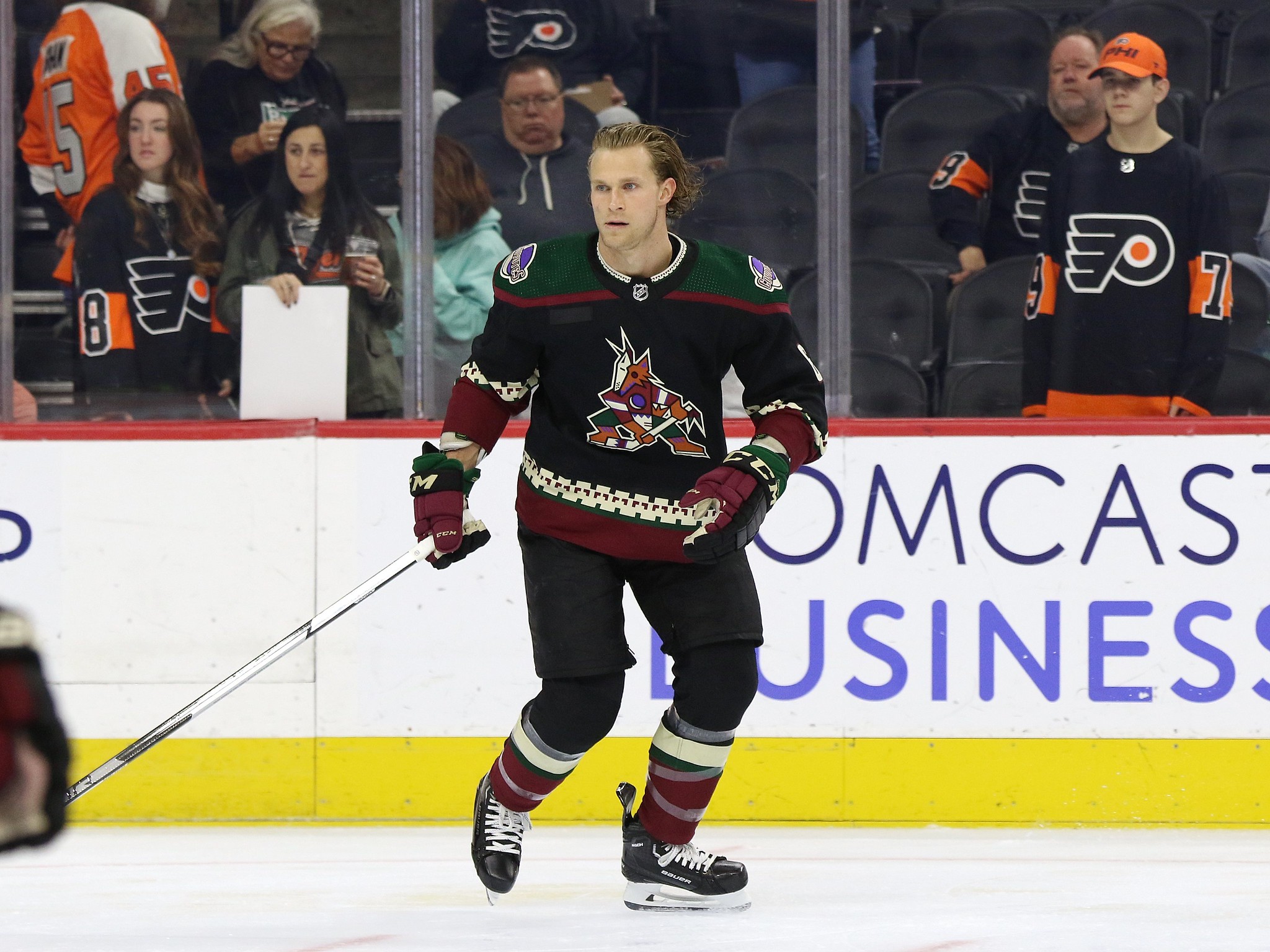 Bruce Garrioch reported the Oilers and Toronto Maple Leafs had stepped up their game to try and acquire Chychrun but Jeff Marek reported during Saturday's 32 Thoughts that both franchises denied being linked to Chycrhun sitting out. Marek also said the Los Angeles Kings threw cold water on this but some believe it could still be them and that they didn't want anything getting out during Dustin Brown night.
Greg Wyshynski of ESPN tweeted, "Told nothing immediate on the Jakob Chychrun trade front for tonight." Reports on Sunday started to suggest it was the Kings who were deep in trade conversations. Nick Kypreos is reporting, "Sounding like a Jakob Chychrun @LAKings @ArizonaCoyotes trade centered around 2021 8th overall pick Brandt Clarke."
Senators Not Willing to Trade DeBrincat
Friedman reports that the Ottawa Senators had gotten a number of calls regarding the availability of Alex DeBrincat. Despite this season not going as they had envisioned, the Senators have told teams they are not trading him at this season's deadline and will wait for new ownership to come in and take a crack at trying to sign him.
---
Latest News & Highlights
---
There is a possibility that Nikita Zaitsev is moved this season. Auston Watson is also available.
Latest on Canucks Trade Talk
Luke Schenn was held out in anticipation of a pending trade and the Calgary Flames and Boston Bruins are rumored to be interested. When it comes to Brock Boeser, it's being assumed that he might have to wait to be moved after Timo Meier is acquired by another team. Those who miss out on Meier could see Boeser as a solid Plan B.
Irfan Gaffar notes that Tyler Myers has gotten a bit of interest from the Maple Leafs.