Carolina Hurricanes forward Teuvo Teravainen had a less-than-stellar first half of the season, one reason for this could be linked to the upper-body injury that kept him out of action for 10 games earlier in the season. Teravainen just didn't look like his usual self upon returning from injury in early December. Another reason could be the realignment of the forward combinations at different times throughout the season hindering his ability to gain his confidence back as he returned to form.
However, the Finnish forward appeared to find something down the stretch before the All-Star Break. He produced seven points in the Hurricanes' final eight games before the break, putting him in a prime position for a breakout in the second half of the season.
Returning to Form
As I mentioned, one of the primary reasons for Teravainen's first-half struggles can be traced back to his trouble of quickly returning to form following the upper-body injury he suffered last November. The injury appeared to linger once he made his return and his production suffered as a result. He produced one point in his first five games back from the injury. This trend continued for much of December and January with the 28-year-old struggling to find much success on the Hurricanes' second line.
Related: Hurricanes Mailbag: All-Star Break Edition
---
Latest News & Highlights
---
Teravainen appeared to make a breakthrough prior to the All-Star Break, producing a point in eight of the final 11 games before the break. I believe this is a sign that he is on track for a strong second half and getting back to the pre-injury production levels that made him one of the key contributors to the Hurricanes' success over the past few years.
Elite Passing
Another reason to believe that Teravainen can turn things around in the second half is that despite his struggles he continued to showcase his elite passing ability throughout the first half. His goals-per-60-minutes average is currently at 0.44, which would be a career-low, but his assists-per-60-minutes average is 1.68, which is down from recent years but nowhere near a career-low mark. This leads me to believe that if he can see a few shots go through and gain some confidence he can quickly start producing at a much more prolific rate.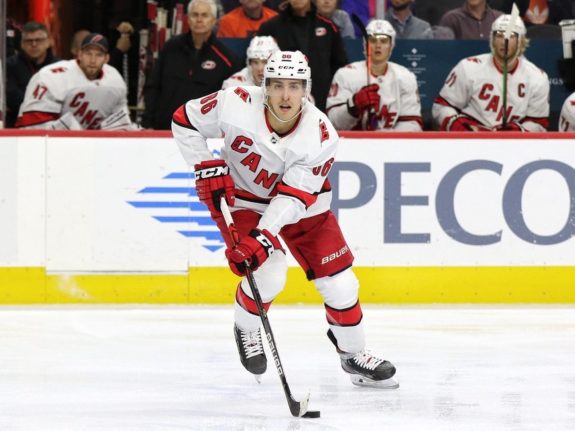 It's a good sign for the Hurricanes that he continued to exhibit his elite passing ability throughout the first half of the season. I expect him to continue this throughout the second half and wouldn't be surprised if his assists-per-60 average rises to two or better.
Confidence Rising
If Teravainen is indeed going to break out in the second half it is imperative that his confidence continues to rise on the heels of his strong finish to the first half. Confidence is a huge factor when it comes to consistent play and the Hurricanes are a great case study to prove that theory. Hurricanes' forward Martin Necas is having a career year this season after underperforming in 2021-22, and a lot of his success can be linked to the mere fact that his confidence has been through the roof this season.
While it seems like a relatively easy fix, it can be quite the process for a player to regain confidence once it's lost. Thankfully for Teravainen and Carolina, it appeared as if the Finnish forward began to regain some of his confidence during his streak of improved play down the stretch of the first half. If the Hurricanes can get a healthy and confident version of him down the stretch it will only improve their chances of making a run at the Stanley Cup.
It will be interesting to follow this storyline down the stretch to see if Teravainen can get things rolling as the Hurricanes attempt to win the Metropolitan division in back-to-back seasons.