The Vancouver Canucks are in no man's land. Zero cap space, a weak prospect pool, bloated contracts, and poor on-ice play have derailed plans to compete for the Stanley Cup. Canucks president of hockey operations Jim Rutherford and general manager (GM) Patrik Allvin have their work cut out for them this offseason to make the Canucks a contender again. To help dig themselves out of the hole they are in, the Canucks should look to trade forward Conor Garland.
Garland's Relationship With the Front Office
After being acquired on July 23, 2021, from the Arizona Coyotes along with Oliver Ekman-Larsson, Garland signed a five-year, $24.75 million ($4.95 million average annual value) extension with the Canucks. Keep in mind, the Canucks were being led by former GM Jim Benning at this time. After Rutherford and Allvin took over for Benning on Dec. 9, 2021, Garland's name has been prevalent in trade talks. Rutherford has been adamant about playing a physical brand of hockey, something that is not suited for Garland's game.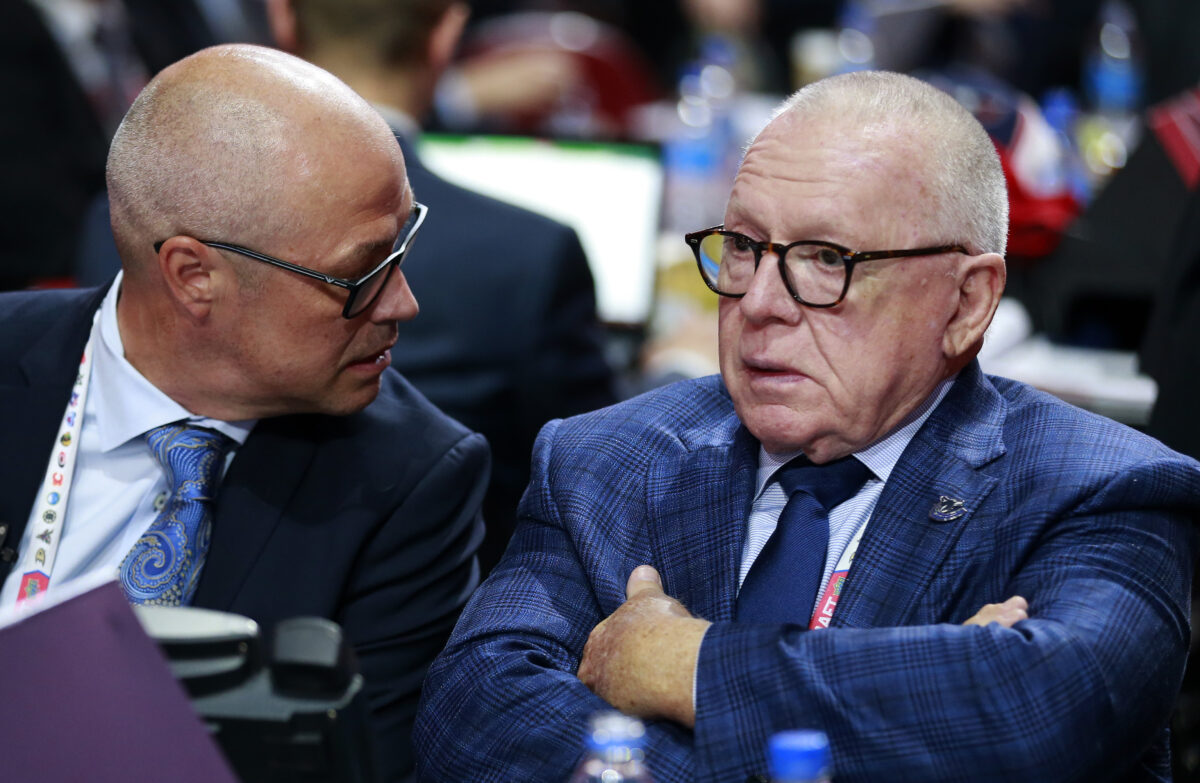 At just 5-foot-10 and 165 pounds, Garland is more of a finesse forward rather than a bruiser. Although he may be limited stature-wise, he is a pest and not one to back down from physical play. More often than not, however, he gets overpowered by stronger players – something the front office has taken note of. In December 2022, Garland addressed the rumors saying, "It did affect me the first time hearing it (last season). I was like, 'What the…I just signed here and I'm having a good year.' But now I just don't even pay attention. If I get traded, I'd be pretty upset. I mean, I really like the guys here and that would suck. But that's the business; I don't have trade protection." With trade rumors swirling again, it is best for Garland and the Canucks' management to part ways.
Salary Cap Relief
The Canucks currently have zero cap space. The majority of the blame rests on Benning but both Rutherford and Allvin are not innocent, either. Benning's signings of Tyler Myers and Tucker Poolman put the Canucks in a bad spot salary cap-wise. Add in the trade for Garland and Ekman-Larsson, a declining, overpaid defenseman, and Benning put Vancouver in "cap hell." As for Rutherford and Allvin, the J.T. Miller extension (seven-year, $56 million) – which will not begin until 2023-24 – is already aging poorly (Why Canucks' J.T. Miller hasn't been an elite contributor and what it means going forward, The Athletic, Jan. 12, 2023).
---
Latest News & Highlights
---
The Canucks are in no spot to contend for the Stanley Cup, which is the ultimate goal that teams should be thriving for. The team – as currently constructed – could possibly squeak into the playoffs next season. They have solid forwards, two young stars in Elias Pettersson and Quinn Hughes, and a goaltender in Thatcher Demko who has proven to be one of the league's best goaltenders at times. However, their defensive core is a mess outside of Hughes, newly acquired Filip Hronek, and Ethan Bear.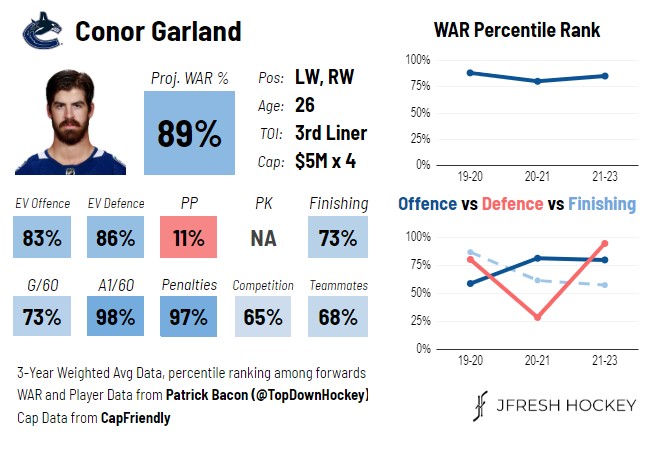 If the Canucks had a contending roster, having no cap space would be excusable. Since that roster does not exist, it would be wise to start moving off some contracts that do not fit the timeline they are on. Garland has been a steady offensive presence during his time in Vancouver, tallying 98 points (36 goals, 62 assists) in 158 games. He draws penalties at a high rate, finishing 19th in 2022-23 in total penalties GAR, and excels in the defensive zone; his 1.9 even-strength defense GAR in 2022-23 ranked fifth among Canucks skaters. At age 27, Garland is entering his prime years. His services would be much better suited for a team that can win now and not later. Should the Canucks trade him to a contending team, they would relieve some cap space as well as get a decent haul in return to brighten their future.
Draft Capital
On Jan. 16, 2023, Rutherford had this to say in a state-of-the-union address: "We're not looking toward a rebuild, I'd rather call it a retool, my preference when we take these (trade) deals is not necessarily for draft picks" (from 'Canucks: Jim Rutherford prepared for major roster surgery, but prefers retool over rebuild', The Province, 1/16/23). These comments raised tons of eyebrows across the hockey world given the situation the Canucks were in. Just a couple weeks later, Rutherford sent Bo Horvat to the New York Islanders for forward Anthony Beauvillier, a highly-rated prospect in Aatu Raty, and a conditional first-round pick; a move that had the feel of a team starting a rebuild. Instead, Rutherford flipped that first-round pick to land Hronek, a decision that once again raised many eyebrows.
Related: Canucks Can Use 11th Pick as Foundation of a Lafrenière Trade
By trading Garland the Canucks can acquire some draft capital to help the retool. Garland is a good hockey player but he will not be bringing a massive haul back to Vancouver the way Horvat did. They will likely have to attach a late-round pick to compensate for his cap hit but at least get a mid-round pick in return. For a team with a practically non-existent prospect pool, acquiring any sort of draft capital will help improve it. Having the chance to get a bloated contract off the books while acquiring pieces for the retool is an opportunity the Canucks should take. Should the Canucks keep Garland – a "win now" decision – they will be setting themselves up for more mediocrity for years to come.
Advanced stats were taken from Evolving Hockey