The Vancouver Canucks have lost seven straight games, star sniper Brock Boeser is injured for the remainder of the season, everyone else is playing pretty lackluster hockey, and there isn't really a whole lot for Canucks fans to cheer about. So, should the Canucks spice things up and bring their projected future of goaltending, Thatcher Demko into the fold for a brief stint to close out the 2017-18 season?
The notion has brought on mixed reviews with considerations being made for the well-being of the Canucks, their AHL affiliate of the Utica Comets and most importantly, for Demko; the Canucks desperately need something to keep fans happy, the Comets are gearing up for a playoff run, and Demko is in a key point of his development.
Cull on Demko : "Do what is right for Demko. 1-2 games in Vancouver, is that the right recipe. Selfishly, I would like to see him here try and get us into the playoffs." #Canucks

— Rick Dhaliwal (@DhaliwalSports) March 21, 2018
Demko Impressing in AHL
At 22 years of age, Demko is in a pivotal part of his development and it's important not to raise expectations too high and potentially blow his confidence. However, Demko is a bit of bizarre case in terms of prospects — he possesses the poise, in between the pipes, of a veteran NHL netminder.
"Just remember that you have to have fun. I think guys play their best when they're relaxed and enjoying themselves, so that's something that I'm continuing to work on. The more I do it, the better I play." – Thatcher Demko, NHL.com
In just his second AHL season, the 6-foot-4, 192-pound kid has cemented himself as the Comets' number-one goalie and, of course, already has himself being tossed into the Canucks-NHL conversation. With a skill set comparable to Nashville Predators goalie Pekka Rinne and the composure of Montreal Canadiens goalie Carey Price, you can't help but get excited about Demko's future.
With a 21-11-6 record and a .920 SV%, Demko is one of the best goalies in the AHL, and considering how experienced some of his counterparts are, that is very impressive. There isn't much question when it comes to whether or not Demko will be in the NHL one day; rather, is he ready now?
Canucks' Goalie Situation
The Canucks have an interesting situation between the pipes with the Swedish twin towers of Jacob Markstrom and Anders Nilsson — Markstrom held down the starter position while Nilsson backed him up with a very comparable skill level. It is unclear, to this point, how management intends to fit Demko into the fold.
Both goalies are remarkably similar and both had dismal losing records with poor statistics across the board. The indication seems to be that Nilsson is on his way out while Demko is being bred to take Markstrom's starting position. Nilsson is a very capable backup goalie and with one more season at $2.5 million left on his contract, he's also affordable and shouldn't be too hard to deal.
At the start of next season, Demko is almost guaranteed to be on the Canucks' roster, but he won't be the starter just yet. He will probably play a similar amount of games (possibly a bit more) than Nilsson, who laced up for 25. Playing beneath Markstrom for the better part of the 2018-19 season could really do wonders in terms of gearing him up for a full-time gig.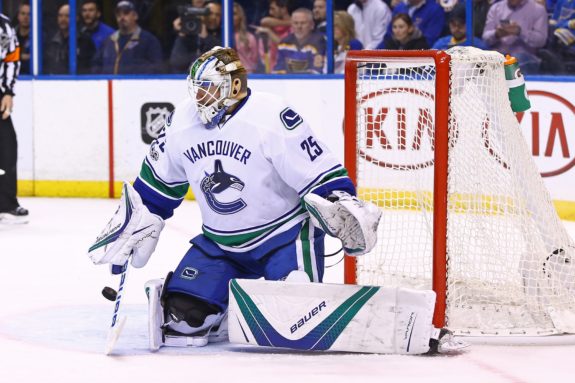 Throwing Demko into deep waters with a full-time starter's spot right off the hop presents a sink-or-swim scenario for the young man that could either work out phenomenally, like it did for Matt Murray of the Pittsburgh Penguins, or could backfire and completely shatter Demko's confidence. Based on where the Canucks are at right now, there's a strong chance that they're going to lose a lot of hockey games next season — they'll be putting a lot of pressure and responsibility on prospects, and Demko isn't one that needs that at this point of his career.
Demko Verdict
I say no, don't call him up. One or two games is not worth the Comets' playoffs or risking Demko's confidence. Let him make a run for the AHL Calder Cup this season, train hard over the summer and then come into Canucks camp firing on all cylinders with his confidence through the roof. Patience is a virtue for the Canucks right now.
Let me know what you think the Canucks should do with Demko in the comments below!