The Washington Capitals need to try and improve their blue line, as it's been their biggest weakness up until the all-star break. They don't have the money a few other teams do to become heavy buyers at the trade deadline, so looking for cheaper options may be the way to go. In this case, Luke Schenn has been a name that has come up recently in trade rumors as the Vancouver Canucks look to be heading toward becoming sellers. In this article, the potential pickup of Schenn is discussed as the March 3 trade deadline rapidly approaches.
Who Is Luke Schenn & How Would He Benefit the Capitals?
Schenn is a 33-year-old right-handed defenseman from Saskatoon, Saskatchewan, currently playing for the Canucks. He was the fifth overall selection by the Toronto Maple Leafs in the 2008 NHL Entry Draft and made his debut with the Leafs after cracking their opening roster during the 2008-09 season when he played 70 games as a rookie, scoring two goals and adding 12 assists for 14 points. Fast forward 15 seasons later, and he has 913 games under his belt with 41 goals and 146 assists for 187 points. This season, he has three goals and 15 assists for 18 points through 50 games.
Related: Capitals 2022-23 Trade Targets: Alex Debrincat
---
Latest News & Highlights
---
Schenn played his junior career with the Kelowna Rockets of the Western Hockey League (WHL) and even earned a letter on his jersey as the alternate captain of the team during his draft year in the 2007-08 season. Through three seasons with the Rockets, he played 189 games, scoring 12 goals and adding 56 assists for 68 points, as well as 325 penalty minutes. He also earned the opportunity to represent Canada at the World Junior Championship with their U18 team during the 2006-07 season, where he played six games and scored three goals, and their U20 team during the 2007-08 season, where he played seven games with no points.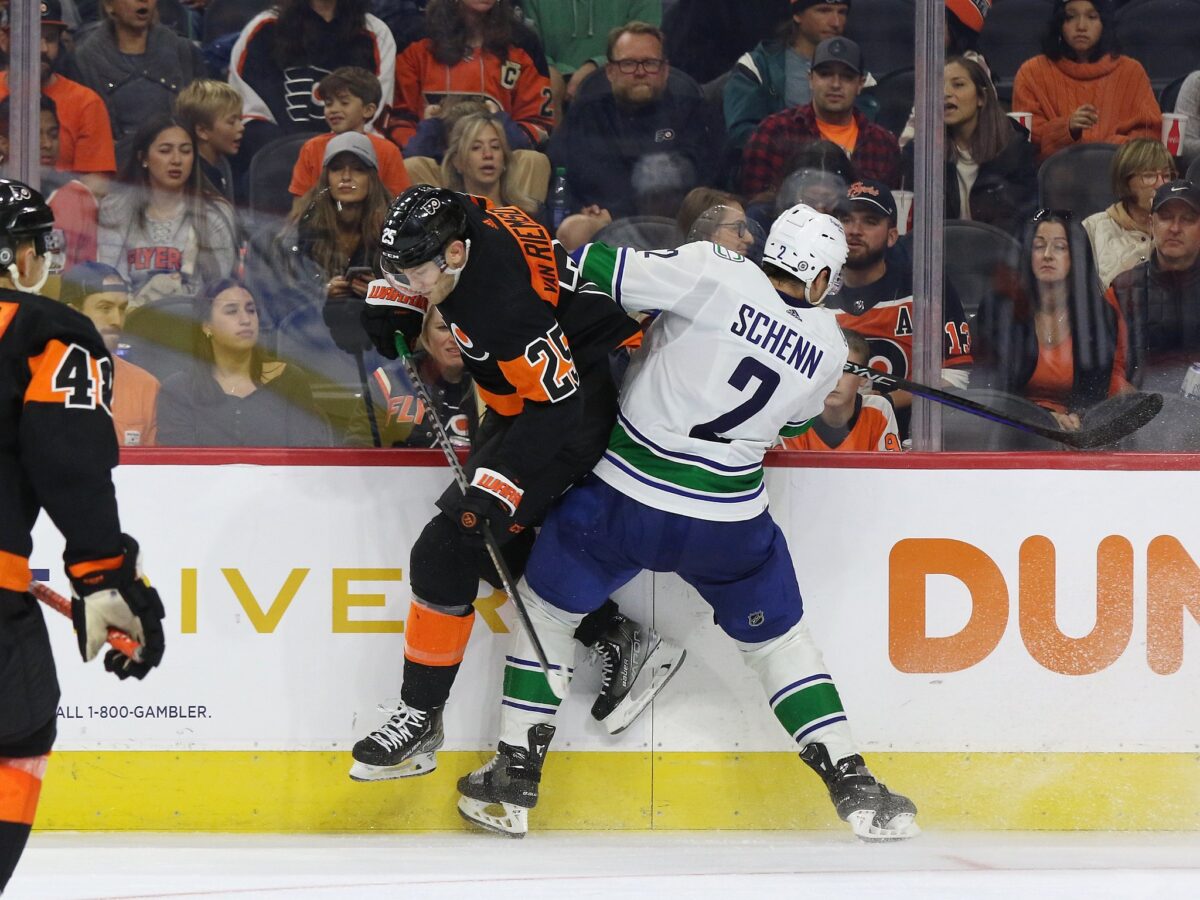 Schenn has been able to establish himself as a defensive defenseman that plays a depth role on either side of the blue line. He lacks a scoring touch that most younger defensemen have in today's game, but he makes up for it with his grittiness and physical play. With less than 50 goals through over 900 games, it's no surprise he has continued to rely on his defensive zone awareness and abilities to keep him at the NHL level. The Capitals would benefit from that defensive ability as they try to solidify a playoff spot.
What Would it Cost the Capitals?
This would be one of the cheapest acquisitions the Caps would be able to make, as Schenn is a pending unrestricted free agent (UFA) with an $850,000 cap hit. While the team would likely have to move a player back to the Canucks in return, the benefits of adding a veteran with playoff experience to the lineup would be worth it in the end. Even if they don't end up re-signing him, he becomes a solid rental for a playoff push.
---
---
I can see the Capitals parting with Trevor van Riemsdyk, who has underperformed this season and seems to be one of the weak links on the blue line. With van Riemsdyk's cap hit being $950,000, it makes the money work for both sides. He is also a pending UFA, but one I don't think the team plans on bringing back next season.
In the end, a realistic trade is a one-for-one swap, Schenn to the Capitals for van Riemsdyk. I can see the Canucks wanting a later draft pick to sweeten the deal, and that's acceptable. I just wouldn't give up a prospect in return. While this seems like a small move, Schenn has proven to be a really solid piece for contending teams in the past. And I see no reason that can't continue in Washington.