The Montreal Canadiens are approaching the trade deadline as clear sellers this season. This puts them in a similar position to last season when they shipped out several veteran players for prospects and draft picks in an effort to build for the future.
Before the 2022 trade deadline, we saw Tyler Toffoli, Ben Chiarot, Artturi Lehkonen, and Brett Kulak pack their bags and leave Montreal. In return, the Canadiens added a pair of future first-round picks, a second-round pick, a third-round pick and a couple of decent prospects like Ty Smilanic and Emil Heineman.
Trading Chiarot and Kulak was easy since they were both on expiring contracts and the team was clearly not making the 2022 playoffs. Dealing Toffoli and Lehkonen was a bit more controversial since they were both under team control for a few more years. But Canadiens general manager Kent Hughes set a high price for each and didn't pull the trigger until his asking price was met.
Hughes will surely employ the same strategy as we approach this year's trade deadline. Moving pending free agents like Sean Monahan, Jonathan Drouin, or Evgeni Dadonov is the easy part, that is if he can get anything at all for Dadonov or Drouin. But will he move any players with term? There are a few reasons he should strongly lean toward trading Josh Anderson in the next few weeks.
Josh Anderson Likely to Hit a Wall in Near Future
Josh Anderson is a unique player in the NHL. He is big at 6-foot-3 and 218 pounds, but he's also perhaps the best skater on the team. Not many players around the league have that combination of size and speed. He can be described as a power forward who uses that speed and size to get in on the forecheck and create turnovers.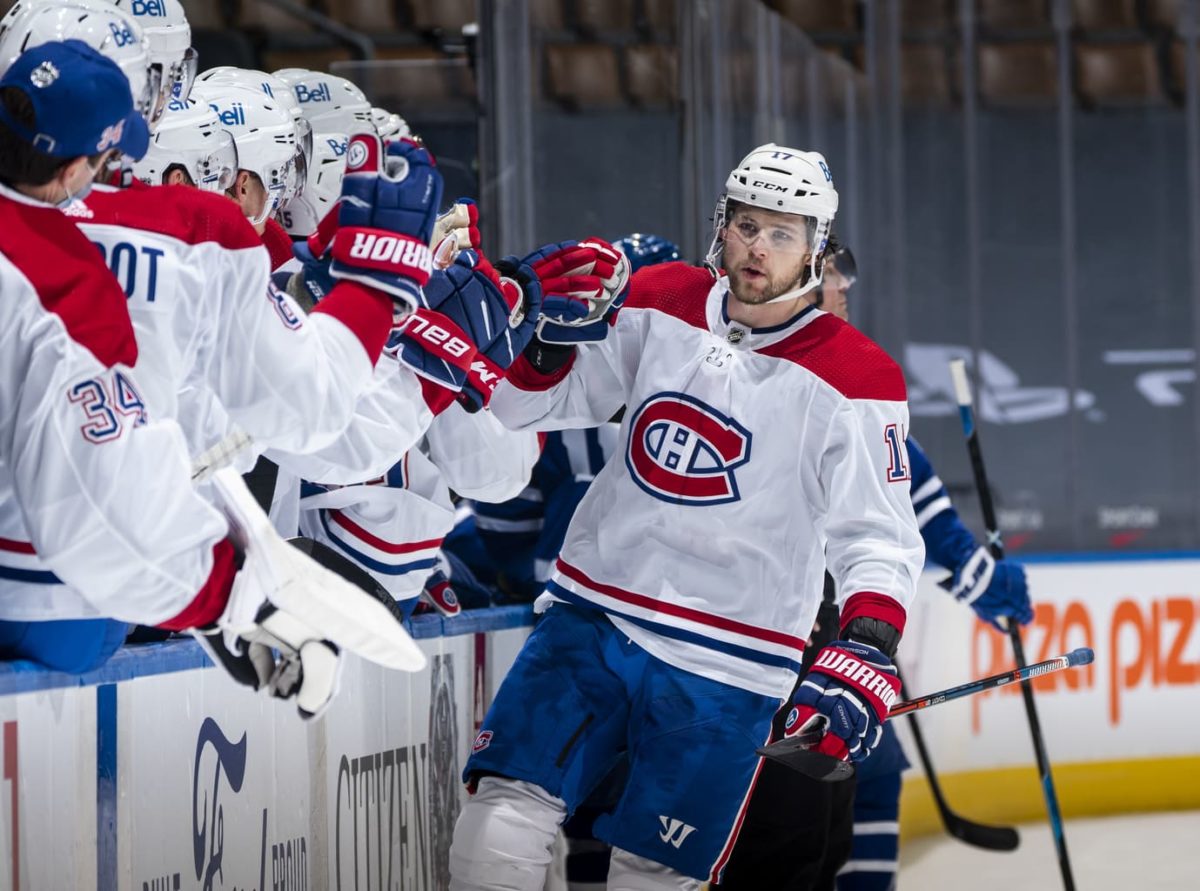 The problem with Anderson is a lack of consistency. He has the ability to stand out as a force during a game, but just as often, he can be almost invisible. When he is on, he is a difficult player to contain, but he simply doesn't play at that level every night.
Also, big wingers like himself tend to slow down offensively around the age of 30. Anderson has scored at about a 25-goal pace each season since arriving in Montreal. This season, he has scored 14 goals in 49 games which would see him score 23 over a full schedule. That is good production, but he is the furthest thing from a playmaker and has just five assists this season. So, he is playing at a 32-point pace right now.
Related: Expectations for Canadiens GM Hughes Heightened for 2023 Deadline
---
Latest News & Highlights
---
Similar type players have seen their production drop suddenly around the age of 30. Andrew Ladd scored 23 goals and 31 points at the age of 31 but dropped to 12 goals the following year; he has just 11 goals in 81 career NHL games since then. At the age of 28, power forward Milan Lucic scored 23 goals and 50 points. The very next season, he had just ten goals and 34 points and just six goals and 20 points the year after that.
These rugged wingers often get run down around the age of 30, and Anderson is currently 28. He is a better skater than Ladd or Lucic, but the style he plays has been difficult to keep beyond 30 for many players in the past. That means we could be a season or two away from a 14-goal and 24-point year for Anderson.
Josh Anderson's Contract
Shortly after arriving in Montreal, Anderson signed a seven-year contract with a cap hit of $5.5 million. This is the third season of that deal, so he is signed for four more years after this one. With other players like Monahan, Drouin, Dadonov and Paul Byron coming off the books after this season, the Canadiens are not desperate for cap space, but they could use some two summers from now.
That will be after Cole Caufield's massive extension kicks in, and the team will have to start paying a couple of their young defenders as well. In July 2024, the expectation is the Canadiens will have the opportunity to sign free agent Pierre-Luc Dubois. The Ste-Agathe-des-Monts, Quebec native has been linked to the Canadiens since before he was even drafted, and he is slated to hit the open market in about 17 months.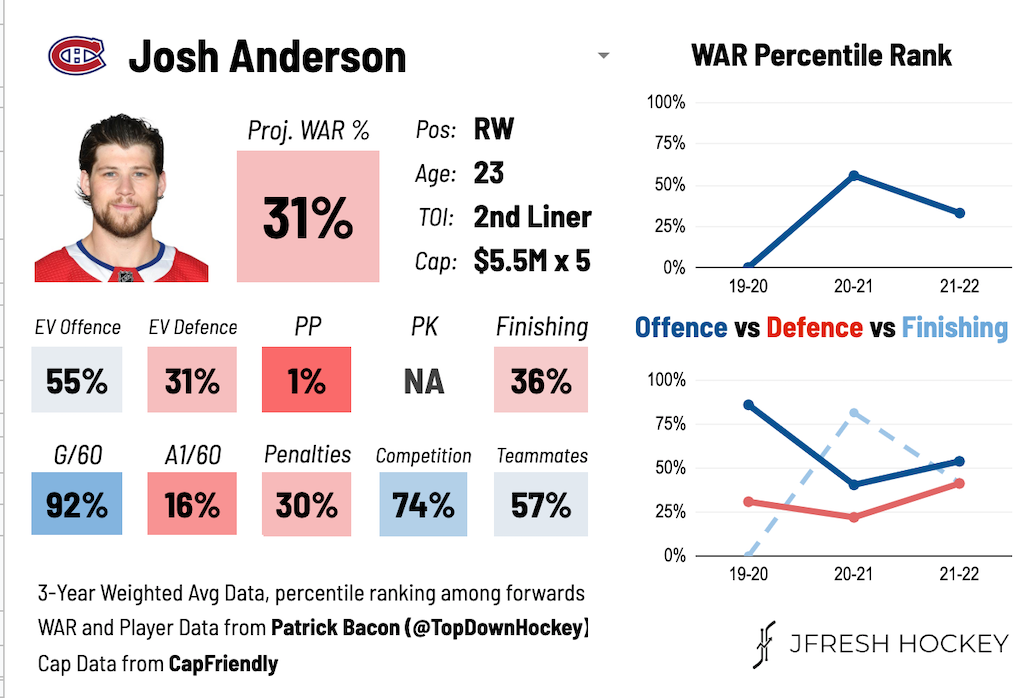 Dubois is a point-per-game centre playing for the Winnipeg Jets, and even though he may be willing to sign with the Canadiens, he won't sign for cheap and will surely make more than Anderson's $5.5 million per season. However, banking some cap space now would make it easier to ensure the team can sign Dubois, who is a much younger, better, more all-around power forward that has the ability to play centre or the wing.
Josh Anderson's Sky-High Trade Value
Hughes showed last season he was willing to strike when the iron was hot on Toffoli and Lehkonen. It would make sense to do the same with Anderson, who reportedly has incredibly high trade value around the league right now. If the Canadiens are able to pull the trigger on a trade deadline deal, expect a massive return for Anderson.
The Canadiens are still looking to build for the future. They can't expect to flip the switch in one offseason and become contenders. Can they become contenders before Anderson's contract runs out in 2027? Absolutely they could, but they have a better chance if they move him out for futures and use their extra cap space to make room for a player like Dubois.
According to NHL Insiders, there are not a lot of power-forward types on the trade block at the moment. Aside from Timo Meier, there are not any wingers available who combine size, physicality, speed and goal-scoring. Teams that do not want to pay the extravagant price for an elite winger like Meier could turn to the Canadiens and ask about Anderson. The limited supply of this type of player could lead to plenty of demand for his services and would drive up the price for the Canadiens winger.
Considering how high the price would be for Anderson, the cap space and options it would open up for the next four years, and the likelihood that the power forward will see his offence decline in the near future, the Canadiens need to pull the trigger on a Josh Anderson trade as soon as possible.
---
---