The Washington Capitals made an easy selection in the 2004 NHL Entry Draft, taking sharp-shooting Russian Alex Ovechkin first-overall. Since then, he's gone from a young, bright-eyed sniper to a reckless, unpredictable and dynamic goal scorer, as well as the face of the Capitals' franchise. With messy hair, a full beard, a missing tooth and wild eyes, Ovechkin has not only become a signature player, but one of the best of his generation.
Since joining Washington after the 2004-05 lockout, Ovechkin had helped Washington turn into a top-contending team. With him, Washington has not only won six division titles and two President's Trophies, but has also boosted Washington to record ticket sales and unbelievable revenue during one of the worst periods of the U.S. economy.
What makes Ovechkin so interesting, however, is his hockey makeup. There are so many different attributes to him, and all of them have turned him into one of the best, if not the best, players in the National Hockey League.
Ovechkin's Shot – in Any Form – is Lethal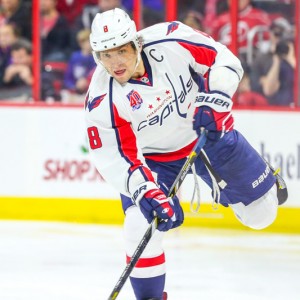 The 30-year-old possesses one of the deadliest shots in the league, and it's not just his one-timer. Sure, that is probably his best shot, as many of his goals come from "the office" (top of the left circle), but all forms of his shots are deadly. His wrister is one of the fastest in the league, as well as one of the most accurate shots.
The same can be said for his snapshots, slapshots and one-timers. Ovechkin's shot is a fast one, and though many see it coming, it's nearly impossible to stop. And unfortunately, for opposing teams, Ovechkin has led the NHL in shots for four consecutive seasons, and in fact, has led the league each year except for one, where he came in fifth with 303 shots in 2011-12.
Takeaways from this year tell an even greater tale. Ovechkin had 398 shots this past season, only hitting the post eight times. His league-leading 50 goals led him to his seventh career Maurice Rocket Richard trophy. Ovechkin has taken a total of 4,228 shots in his career. Out of his 50 goals, 29 came from wrist shots, and only 19 goals came on the man advantage.
His Recklessness is a Blessing in Disguise
Ovechkin is wild. The Russian winger has a history of wild behavior, on and off the ice. With 7.6 hits per 60 in his career, Ovechkin's hit is one that is lethal – and when he's coming up behind another player, it's a living nightmare.  Ovechkin is 6-foot-3 and 239 pounds, and he delivers a hit, it's usually a bone-crushing one that could completely level his opponent. And the best part is, many of his hits are clean, and when he throws them, he is usually flying at full-speed ahead.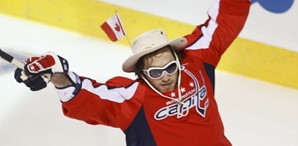 Not to mention, Ovechkin's reckless behavior on the ice matches his off-the-ice lifestyle. He owns a Mercedes (and claims to speed at 180 miles sometimes). He is a player who lives in the moment. However, this fun, live-for-today attitude led Ovechkin to a hefty fine nearly a decade ago, when he was caught on NHL video surveillance driving a utility cart with Mike Green. He nearly killed himself and his teammate when he approached a closing loading dock door.
His craziness and wackiness also got him a reprimand from Don Cherry on a 2009 Hockey night in Canada broadcast.
[quote_left author="Don Cherry, Coach's Corner, HNIC"]He was acting like an idiot, jumping around, I tried to tell him, don't do it. I'm going to tell you about this guy, he's got a free ride. He runs at guys, does this stuff. I'm predicting, somebody's gonna get him, and somebody's gonna get him good.[/quote_left]
Sure, some may see Ovechkin as a ridiculous kind of guy, and may see his way of living as dangerous, reckless and out of control. However, this is a blessing in disguise for the Capitals. This is the kind of player that you win with, and the kind of player that becomes the face of a franchise and makes the game fun. You want a guy on your roster who can have a good time, lead his teammates, have fun and celebrates when he scores. It's always fun to let loose, and balance work and play.
Not to mention, it has made him into the crazy beast that can not only score, but throw big hits, take shots and become an instant fan favorite. That wild behavior is Ovechkin, like it or not, and makes him one of the most dynamic generational players to watch right now.
Age is just a number
At 30 years old, Ovechkin is showing no signs of slowing down. He averages at least 14 shots per 60 and is constantly shooting and scoring. His shot is only getting stronger, and the more time he plays in the NHL, the harder he works to reach his maximum potential. The Captials' captain is still waiting to win a Stanley Cup, and until then, it seems that nothignw ill stop the Great Eight, especially not his veteran status.
In an E60 special on Ovechkin, he discussed Cherry's comments, commenting that it's "old people" who believe that players have to be like "robots" to be respected. When asked if he will lose his wild personality (the one Cherry looks down upon), he said, "Are you kidding me? No!" He also added that his life off the ice is a "crazy, crazy, crazy time."
Nothing can slow him down, and as he continues to skate forward with Washington, he looks through his visor with eyes full of hope and dreams set on a Stanley Cup.