Though Washington Capitals forward Jay Beagle has suited up for a number of rivalry games over his 10-year NHL career, he said the anticipation and excitement of each one never fade, not even with time.
"It's always exciting to play against these guys. It's always a good game," Beagle said. "You know that they always have their best and it's always fun to play against rivals and those are the games as a kid that you want to be a part of, and when you're playing, it's not hard to get up for these ones."
In search of their third straight win at home, the Capitals came in determined to shut down the Penguins Friday by taking away scoring chances form their top-six, as well as shutting down Pittsburgh's dominant power play, which ranks as the third-best unit in the league. In the end, it all worked out for the Capitals, who dominated the Penguins from the get-go to capture a 4-1 win over the defending Stanley Cup champions.
"It was a good game with the rivalry and what's happened the past two years. It's one of those games where everyone's rolling and everyone's up for it," Chandler Stephenson said. "They're a good team, fast… That's the two-time defending Stanley Cup champs right there, so you always have to bring your game."
Capitals' Success on Special Teams
One area where Washington thrived was on the man advantage. The Penguins took six penalties over the course of the game, which led to two Capitals power-play goals.
After the game, Nicklas Backstrom noted that the Capitals looked a lot stronger on the power play, and seemed to do more to create scoring chances.
"We got some good looks. I thought we actually played a little different tonight than in previous games," Backstrom said. "We shot the puck and moved around. Sometimes, some days, it's going to work better than others."
Not only did Washington thrive on the power play, but the penalty kill was perfect and came up big. They killed off all four of the Penguins' power-play opportunities and shut down a lot of their chances.
"Those were big kills," John Carlson said."I think maybe just the last one they had a couple good looks, but other than that, we did a really good job clearing pucks when we could."
Standout Caps Performances
Carlson was perhaps one of the biggest factors in the team's victory Friday. He led all skaters with 28:43 TOI and was vital at both ends of the rink. In addition, he scored the opening goal for Washington on the power play and set up T.J. Oshie on the man advantage later on.
"I think he's been going with this role and he's getting better and better every game," Backstrom said of Carlson.
For Carlson, however, his adjustment to more ice time, as well as his increased responsibility on defense and special teams, is business as usual and just a part of the job.
"It's fine, it's great," Carlson said. "Whenever you get called on the ice, you gotta go and do your best. So yeah, it's different, but it's fun, exciting, challenging, so yeah."
Backstrom, who was responsible for shutting down Sidney Crosby's top line while creating scoring chances, ended a seven-game scoreless streak with an assist on Stephenson's third-period tally. He made a great pass right to the front of the net, which got past everyone and gave the Capitals a two-goal advantage late in the second.
According to the Swedish center, while it was good to shake that monkey off his back, he hasn't been too concerned with his point totals and has been taking more of a team-based approach over these last few games.
"I don't really put too much pressure on myself like that," Backstrom said. "As long as we're winning, I'm fine with it. It doesn't matter who scores the most points… it obviously gives players confidence when you get on the board."
Capitalizing on Opportunity
Washington also got another goal from Stephenson, who has been outstanding in his time with the Capitals since being recalled from the Hershey Bears. He had the opportunity to skate on a top line with Backstrom and Oshie and impressed with not only his goal but his speed and ability to keep up with his star linemates.
"He's a great player," Backstrom said of Stephenson. "He's a quick skater, he works hard… I think he's just going to keep growing and growing there."
The 23-year-old now has two goals and six points through eight games with Washington so far, and though he is filling in for some of the team's injured forwards, he is making a statement, as well as a case for a longer stay and a permanent roster spot.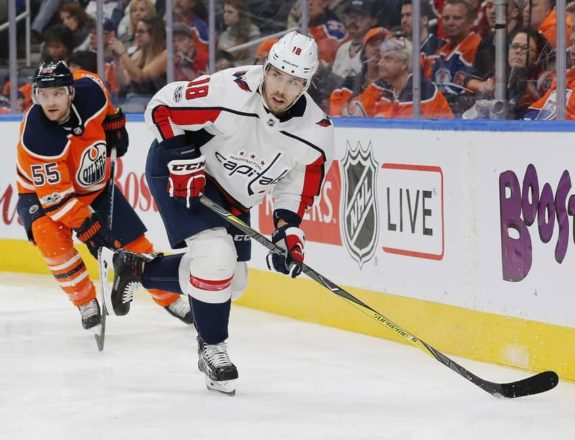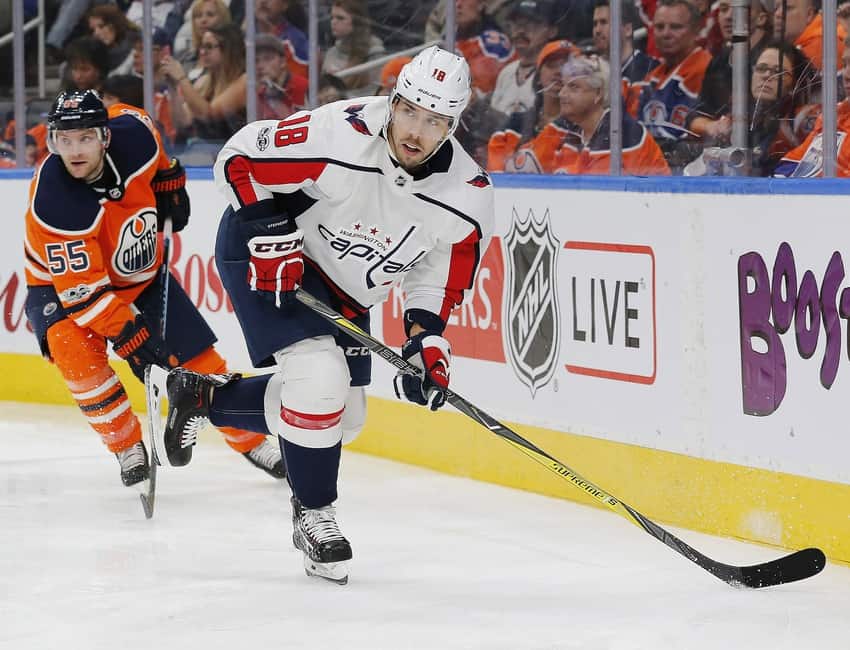 "Just trying to take the most of every opportunity I've been given," Stephenson said. "It was obviously a huge motivator and an honor to be with Nicky and Osh tonight."
Head coach Barry Trotz praised Stephenson and said that he is helping himself move closer to securing a roster spot, and also said that the competition for spots is getting intense and somewhat resembles the scenario that the team faced in training camp: there were a number of talented forwards, but only a limited number of spots. And when it comes to who wins those roster spots, the fate lies in the hands of the players.
"There's a lot of competition for jobs," Trotz said. "Whoever wants the jobs can fight for them. They'll make those decisions; [the coachings staff] won't."
Braden Holtby – Monumental Milestone
Braden Holtby was also a key factor en route to Washington's commanding victory. He stopped 26 of 27 shots on goal and made a number of strong saves which ultimately halted the Penguins' offensive arsenal which features Crosby, Evgeni Malkin and Phil Kessel.
"I mean, I think we just take it for granted sometimes," Carlson said of Holtby's performance. "I think he deserves a little more time to get talked about when he does stuff like that, well-deserved and it's no surprise on our end…  we see him every day."
Friday's game marked the 200th career NHL win for Holtby in 319 games, making the 28-year-old the second-fastest goaltender in league history to reach the 200-win mark. Ken Dryden holds that record with 200 wins in just 311 games.
"It's a cool accomplishment, I guess, but it doesn't really mean anything in the end," Holtby said. "It shows I'm getting up there in years."
In addition to Holtby's historic win, Dmitry Orlov also hit a personal milestone, suiting up for his 300th career game. In over 24 minutes of ice time, the Russian blueliner managed two shots on goal, as well as two hits and two shot blocks.
Sammi Silber covers the Capitals beat for The Hockey Writers and is an NHL contributor with Sporting News. She has also contributed to USA TODAY College, Huffington Post, FanSided and the Nation Network. Silber has written four books and recently worked on graphics for the film, The California Golden Seals Movie.