The Washington Capitals made an unexpected move at the trade deadline in a future-focused move by bringing in defenseman Rasmus Sandin in exchange for a first-round draft pick and Erik Gustafsson.
Since making his debut with the Caps, Sandin has had over a point per game and is slowly proving himself to be a future number-one defenseman for the franchise. At 23 years old he has plenty of time to keep improving his game, but he has already been a really strong replacement in the absence of John Carlson.
Sandin's Play Since Joining The Capitals
While he has only played eight games with his new team, Sandin has made a huge impact on the Capitals' blue line. He has a goal and 10 assists for 11 points which comes out to a 1.38 points-per-game average. Aside from his offensive outburst, he has been a rock in the defensive end and has quickly become the team's go-to defender in a majority of clutch situations.
Related: Capitals' Future Becoming Clearer With Orlov & Hathaway Trade
---
Latest News & Highlights
---
His play with the Toronto Maple Leafs prior to his departure was solid, but he was lower on their depth chart than many fans liked. In 52 games with the Leafs this season, he scored four goals and added 16 assists for 20 points, meaning he has a total of 31 points through 60 games between both clubs.
He was never given a true opportunity to prove himself as a top defenseman with the Maple Leafs, and it's quickly become obvious that the Capitals got a steal of a deal. They are in the middle of retooling, so the acquisition of an underutilized potential stud that can grow into a leader during his prime years was the biggest win of the deadline.
High Expectations For Sandin Met After Orlov Trade
The Capitals seemingly went into rebuild mode prior to the Sandin trade by moving out one of their best defensemen in Dmitry Orlov. When the return didn't include a defenseman, most fans were wondering who would fill the hole that Orlov had filled for years as the team's number-one blueliner when Carlson went down with injuries.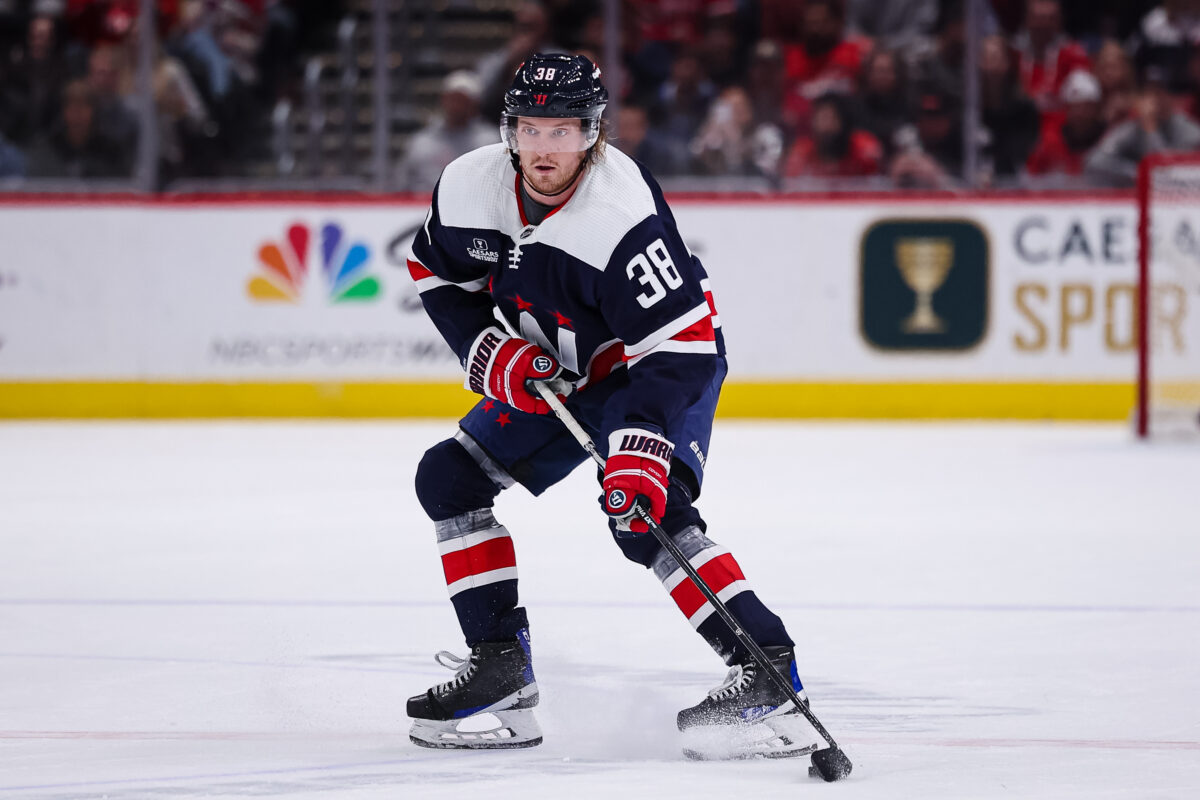 Those high expectations have been met and surpassed. Most young defensemen don't hit their stride until the age of 25 or 26, but Sandin looks like a star in the making and he's only 23. He has played with a few different partners since joining the Capitals, but he has looked strong in every scenario and has been the team's best player in the last stretch of games. He could even be the reason they squeak into a playoff spot this season.
Will Sandin's Breakout Lead To A Carlson Trade?
While unlikely, Sandin's breakout has led some fans including myself to wonder if a Carlson trade could come as a result. With the path the team is currently on, it would make sense. But while they are looking at a full retool, I don't think any trade involving their current top defenseman is imminent.
There are few teams that have the assets to try and pull off a trade for a star like Carlson. But with his $8 million cap hit, it makes it a bit tougher to make any deal work. While it's a fair contract, there aren't many teams who would be willing to bank on him at the age of 33 when it doesn't end until the conclusion of the 2025-26 season when he'd be 36, and his play will likely begin declining.
At the end of the day, Sandin has done enough to prove he can be a number one defenseman in the NHL but until Carlson is on his way out, I think he stays as the number two. Although, it's never bad to have two stars on the blue line at affordable prices when you're trying to compete.