While most of the focus surrounding the Canadian Hockey League (CHL) is on the 2023 NHL Entry Draft, NHL teams also have an opportunity to sign the best undrafted 2002-born players before their junior career comes to a close. While they have only been in the league for two seasons, the Seattle Kraken have already used this avenue to sign two players, Luke Henman (2021) and Ty Kartye (2022), to contracts before their seasons had concluded. Here is a look at three free agents the Kraken could add to their prospect pool.
Logan Morrison – Ottawa 67's
One name that is sure to draw interest from quite a few NHL teams is Ottawa 67's center, Logan Morrison. He put on a spectacular performance in the postseason with the Hamilton Bulldogs last season, posting 39 points in 19 games, not only capturing the Ontario Hockey League's (OHL) Playoff MVP but also leading Hamilton to the Memorial Cup Final. During the Memorial Cup tournament, he posted eight points in five games and won the Most Sportsmanlike Player award. His play earned him an invitation to Dallas Stars development camp later that summer, but he left without a contract despite a strong performance during the Traverse City Tournament.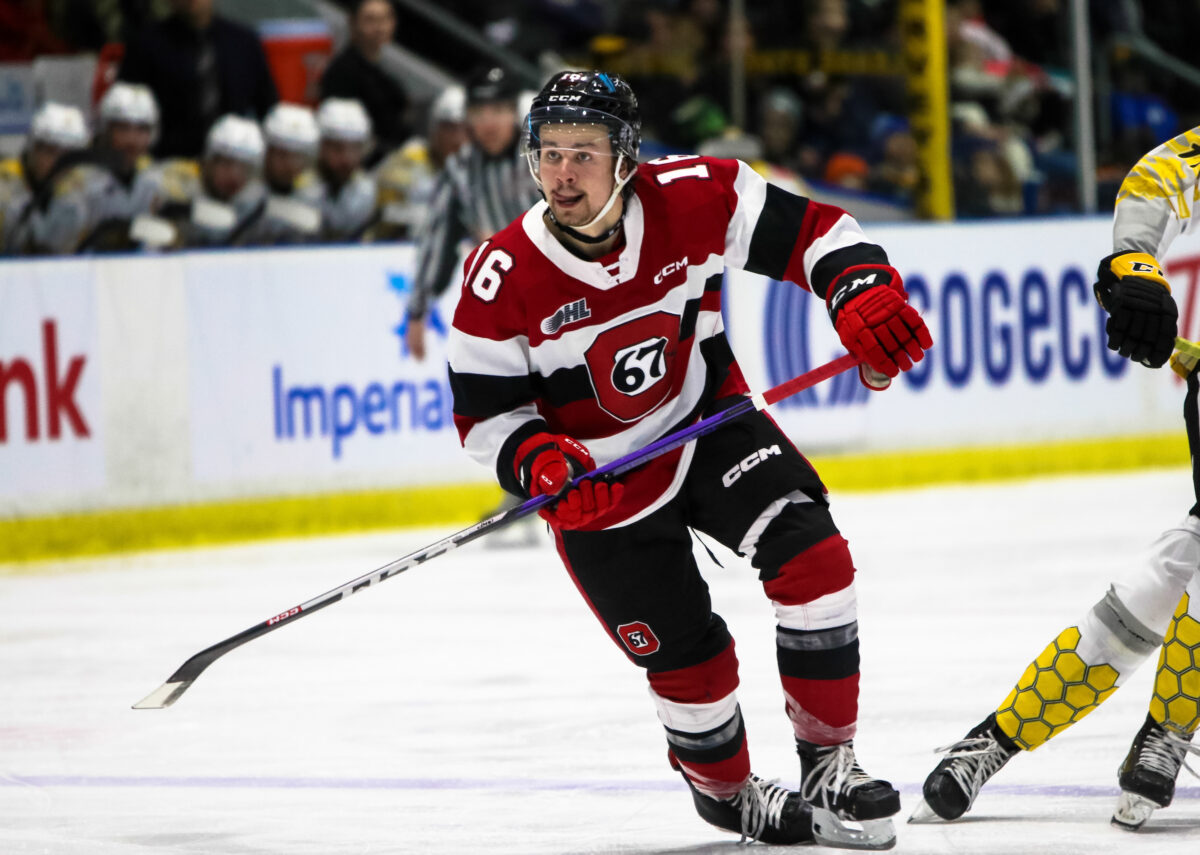 Morrison is once again filling the net and is up to 88 points in 54 games. While there is no debate that he is one of the most talented players in the OHL, the big question remains can he work on his skating and get it up to the level needed to succeed in the NHL? All the other intangibles are there, but if he can't fix his skating, it will hurt his chances of making the NHL. That being said, Seattle signing him is worth the gamble, as his ceiling is one of the highest among the available CHL free agents left on the market.
Jérémie Biakabutuka – Charlottetown Islanders
When it comes to the Kraken, one thing is clear; they love big, physical defensemen. That is why they should consider adding Jérémie Biakabutuka to their organization. The 6-foot-4, 203-pound right shot defenceman isn't afraid to lay out his opponent and would fit in perfectly with how Seattle has decided to build their blue line. This season, he has also developed his offensive side showing he can be an all-around player that is effective at both ends of the ice.
Related: Seattle Kraken Top 15 Prospects: 2023 Trade Deadline Rankings
---
Latest News & Highlights
---
This past offseason, Biakabutuka played for the Detroit Red Wings at the Traverse City Tournament but was left unsigned and returned to the Quebec Major Junior Hockey League (QMJHL). This seems to have paid off, as the improvements he has made in his game have been noticeable. He has become more confident with the puck on his stick and hasn't been afraid to show off his mobility and speed. While he still needs to work on his transition game, he is an intriguing prospect and one worth taking a shot at.
Riley Fiddler-Schultz – Calgary Hitmen
The son of former NHLer Vernon Fiddler, Riley Fiddler-Schultz, has impressed during his five-year Western Hockey League career. The Calgary Hitmen captain has developed into a solid two-way center who can not only put up impressive scoring numbers, with 30 goals for the first time in his career but is dynamite in the faceoff dot, winning 839 of his 1427 faceoffs this season or 57 percent in 61 games. He was also the recipient of the 2020 WHL Humanitarian of the Year award showing his character not just on the ice but off it as well.
After a strong 2021-22 campaign, Fiddler-Schultz was invited to Los Angeles Kings rookie camp and played in the 2022 Rookie Faceoff. He played in two of the three games and recorded a shot on goal playing mostly in a fourth-line role. Overall, he is a low-risk player that could play meaningful minutes with the Coachella Valley Firebirds as early as next season. A prospect that is always looking at ways to improve his game, he is the type of person on, and off the ice, any team would be lucky to add to their organization.
Kraken Should Take Advantage Of CHL Free Agent Market
The Kraken have shown in the past they aren't afraid to dip into the CHL free-agent market and should take full advantage once again. Who knows, they could always find the next Brendan Dillon, Mason Marchment or Yanni Gourde without having to spend a draft pick. Whether it be one of the three listed above or any of the available free agents, Seattle should jump on this opportunity quickly to not lose out on a prospect they may covet.