Statistics will count it as a save at 18:01 of the third period. But the reality is, it was way more than that.
When Washington Capitals goaltender Braden Holtby lunged to his right and thrust the backside of his goal stick paddle in front of a wide-open empty net to stop Vegas Golden Knights forward Alex Tuch's one-timer, it was a seminal moment in Caps history.
SAVE. OF. THE. YEAR! #ALLCAPS #StanleyCup pic.twitter.com/OCBBQoEPMI

— Washington Capitals (@Capitals) May 31, 2018
It meant more than preserving the Capitals' 3-2 lead. It had deeper meaning than enabling the Caps to even the series and salvaging a split in Sin City. It goes beyond what Caps coach Barry Trotz referred to as the "hockey gods" maintaining equilibrium, making up for the Ryan Reaves non-call in Game 1. "Once he made that save, I knew we were going to win the game."
"You see that kind of develop in your mind, you're thinking there's no way that bounces to them across the crease and then comes back across," Trotz told ESPN.
Related: Cup Final Game 2: Another Wild Night in Vegas
No Goal for You
When the Jumbotron in T-Mobile Arena displayed "GOAL" in its dramatic lettering, it was a buzzkill of epic proportions for fans in Vegas. It was 18,702 fans sitting smugly with 20 at the blackjack table only to have the dealer pull a five with 16 already up. The disappointment hit hard.
It was Alex Tuch as George Costanza trying to get soup from the Soup Nazi, after complaining he didn't get any bread.
When Holtby pivoted across his crease, it was the epitome of acrobatic larceny similar to that of Dominik "The Dominator" Hasek.
Some may call Holtby's 37th save of the night the save of his career. A franchise-defining save. Even one of the all-time greatest saves in the history of the Stanley Cup playoffs. Win or lose, "The Save" will forever go down in Caps lore as an instant highlight-reel classic. It deserves its own highlight reel.
The save helped preserve a victory, turning a best-of-seven series into a best-of-five. It now gives the Capitals home-ice advantage. After years of playoff heartache, the Capitals' Stanley Cup dreams are still very much alive.
Dissecting the Save
The save defied logic on multiple levels. It started with Golden Knights defenseman Shea Theodore gaining the zone coming up the left side of the ice and dumping the puck in deep. As the puck whipped around the boards, it took an awkward bounce and jumped in front of the net instead of going all the way around.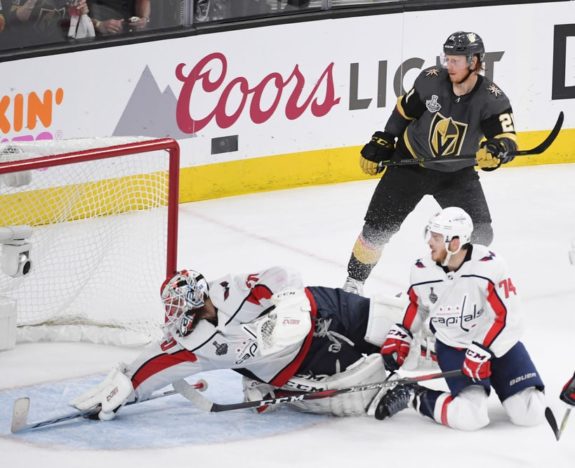 Then, after seeing the puck bounce, Holtby instinctively backed into his goal to prevent being hit by the puck, his weight forward. As soon as he saw the puck going directly to Cody Eakin, Holtby tried to square himself up for a shot from only about 15 feet out. It's possible Holtby saw Tuch skating in from his right side and clung to his crease to cut down space. It all happened so fast that it's more likely he didn't have the time to challenge Eakin.
Simultaneously with Eakin touching the puck, Holtby dropped into butterfly position, preparing for a shot. Instead of shooting, Eaking one-touched the puck cross-ice, over to his teammate. Tuch was staring at a wide-open net. Since Holtby was already down, he had no choice but to splay out his right arm with his stick. A thin twig served as the only thing in Tuch's way from tying the score 2-2.
Holtby or Holtbeast?
While Holtby's numbers were only mediocre during the season, once he returned from injury, he regained his elite form. In his last eight regular-season games, he never allowed more than three goals once.
Ever since Holtby took the crease from teammate Phillip Grubauer in Game 2 of the first round of the playoffs, he's been a man on a mission. He's in a zone, going 13-7 since with a .921 save percentage and back-to-back shutouts in the Conference Final to send the Tampa Bay Lightning home packing.
While "The Save" has drawn commentary from the entire hockey world, the person who made it was rather matter-of-factly humble about it. "That's hockey sometimes," said Holtby after the game. "A couple of breaks didn't go our way last game with penalty calls and if you keep doing the right thing that goes your way."
Related: Golden Knights Proving They Belong
The Capitals' success this season has been predicated on the 'next guy' mentality; the next guy over the boards. Every player counts. Whether it be Tom Wilson scoring or making his presence known, or Chandler Stephenson, Brooks Orpik or Matt Niskanen playing huge penalty-kill minutes.
Alex Ovechkin is all of us watching these final two minutes pic.twitter.com/dz5S73T50q

— Ian Oland (@ianoland) May 31, 2018
Orpik scored his first goal in two years. Lars Eller has played out of his mind while stepping in for teammates Nicklas Backstrom and  Evgeny Kuznetzov. Every guy is coming through to push that much harder. Wednesday night was just Holtby's time to come through when they needed him most.  "We're a group that's trying to win hockey games," said Holtby.
It was truly a miraculous save. One for the ages. Then again, maybe it was just lucky.