Signing Kevin Shattenkirk as a free agent last offseason seemed like a fairy tale for the New York Rangers at first, with the defenseman coming home to play for the team he rooted for as a kid, and taking considerably less money and contract years to do so. Then reality hit, and if 2017-18 wasn't a full-blown nightmare for him, it was at least a waking bad dream.
Shattenkirk suffered a torn meniscus during the preseason and tried, mostly unsuccessfully, to play through the injury with his game suffering in the process. The Rangers fell apart in the second half of the season en route to missing the playoffs for the first time since 2010, leading management to trade off much of the core and embark on a rebuilding program.
Though it seemed like Shattenkirk arrived at the wrong time to live out his dream, coming to Broadway at the tail end of an era of exceptional competitiveness, he still has a chance to make the fairy tale happen — even if it's been delayed.
With old friend David Quinn now behind the bench, his knee injury presumably healed after surgery and a Rangers roster that's sure to emphasize youth and development, there is an opportunity for Shattenkirk to assume much of the leadership mantle, and perhaps finally emerge as a top-tier defenseman, after a career spent largely in a supporting role despite his considerable talents.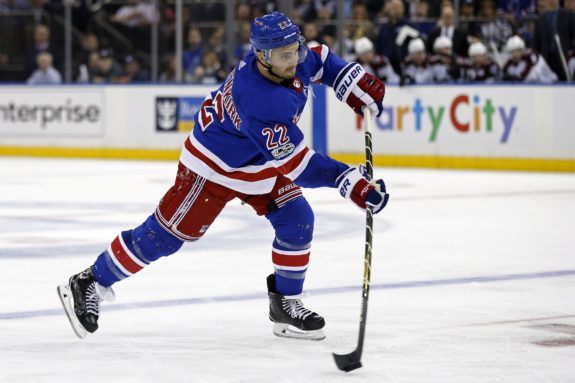 The New Rochelle native enjoyed an offseason honeymoon period, during which fans marveled at his willingness to eschew offers for considerably more money and contract years, instead accepting four years and $26.65 million from the Rangers on July 1. The early love affair with the Madison Square Garden faithful was further cemented amidst stories of him cheering on the 1994 Stanley Cup team at age five — evidence of a supposed natural fit — with Shattenkirk seemingly all but destined to play on Broadway.
Failed McDonagh Pairing was Sign of Things to Come
Then the games started and the euphoria faded quickly. The dream top-pairing, with Ryan McDonagh, which Shattenkirk had all but campaigned for during the summer, was a dud from the get-go. A lack of chemistry and many defensive lapses led former coach Alain Vigneault to quickly break up the combination, as Shattenkirk recorded a minus-6 rating through five games.
Though he stabilized his game somewhat after that, often paired with Brady Skjei, Shattenkirk just wasn't as good as advertised, too often ineffective for extended periods. His best run was a seven-game point streak from Oct. 28-Nov. 11, during which he recorded three goals and seven assists, and he showed glimpses of being the power-play force that the Rangers thought they were acquiring.
There wasn't enough of it, though. Shattenkirk struggled defensively and didn't seem to have his usual burst. His meniscus injury was revealed in January and he underwent what turned out to be season-ending surgery shortly thereafter.
"Thinking about this year, you want everything to go perfectly," Shattenkirk said then. "I think I've been trying to battle through this for a lot of reasons. When it came down to it today and when we talked about it, you have to think about yourself. I've been worried about a lot more things, trying not to disappoint a lot of people, me included in that … I also feel like what I was putting out on the ice, I wasn't giving the guys on the team the best I have."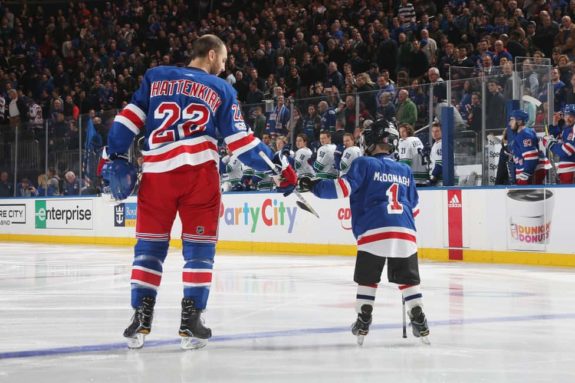 He finished with five goals and 18 assists in 46 games, posting a minus-14 rating to tie a career-worst.
Fairy tales rarely line up with reality in sports or life, but the local kid can still make good with last season in the rearview mirror. Though the dream of lifting the Stanley Cup wearing a Rangers sweater next season might be as realistic as, say, an expansion team reaching the Cup Final (OK, bad example), Shattenkirk can play a critical role as the club's rebuild commences in full in 2018-19.
A Rangers defense corps, that's sure to include two or three youngsters, can benefit greatly from veteran leadership. Anthony DeAngelo and Neal Pionk, fellow right-siders whose games somewhat mirror Shattenkirk's, are sure to look to him for guidance as they try to establish themselves as fixtures on the Rangers blue line for years to come. Watching a presumably healthy Shatty run the power play, and hopefully play responsibly in his own zone, will be vital to the nascent careers of the promising but inexperienced duo.
Quinn Could Again be Key to Shattenkirk's Career
If he's healthy and effective in his second Rangers season, Shattenkirk can also finally establish himself as someone capable of carrying the load at both ends of the ice. Part of a formidable group of defensemen during his six seasons with the St. Louis Blues that included Jay Bouwmeester, Alex Pietrangelo and Barret Jackman, Shattenkirk rarely had to handle matchups with opponents' top lines, allowing him to focus on power-play success while being deployed against teams' second-tier forwards.
He failed to dazzle in his rental stint with the Washington Capitals in 2017, recording two goals and 12 assists in 19 regular-season games and one goal, five assists and a minus-4 rating in 13 playoff contests that spring.
If the 29-year-old Shattenkirk is to emerge as more than the complementary piece he's been, it seems he could hardly be in a better position than he's facing going into next season. He knows exactly what to expect from Quinn, who as an assistant to coach Jack Parker recruited Shattenkirk to play at Boston University starting in 2007.
After two seasons together with the Terriers, the pair reunited with Lake Erie of the AHL, three years later after Shattenkirk was drafted 14th overall by the Colorado Avalanche, this time with Quinn in charge of the Monsters. He received an early lesson in Quinn's style when the coach scratched the NHL-bound defenseman for a game — an early window for Shattenkirk into a coaching philosophy that demands accountability from everyone, which Quinn employed over five seasons after returning to BU as head coach in 2013.
Quinn, hired to be a developmental coach at the NHL level, served in that role for a young Shattenkirk at BU.
"He's fair and demanding," Shattenkirk said. "He treats players with a lot of respect and he expects you to show up to work every day. He's constantly going to develop you as a player, which is what we need here. The only way to [fix things] when your team starts to slip is to practice. It's good for energy. It's good for conditioning. That's what our team needs."
Shattenkirk Motivated by 2017-18 Disappointment
If those words can be interpreted as a subtle dig at Vigneault's supposedly hands-off method, so be it. Despite playing on Stanley Cup contenders in St. Louis and Washington, Shattenkirk might be in a perfect situation to take his game to another level and become a pillar of the Rangers' rebuild, or reload, or whatever you want to call it. Quinn will likely demand more than hard work at practice; he'll try to push Shattenkirk to become a complete NHL defenseman, capable of handling consistent top-pair duties.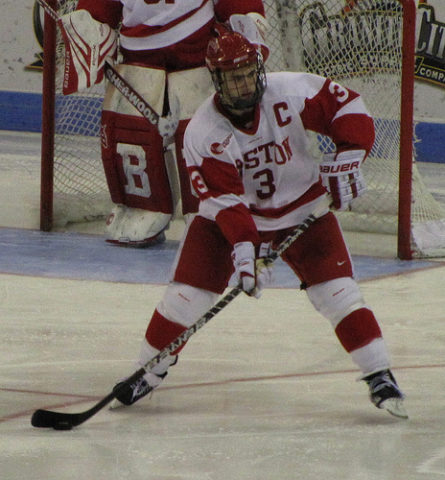 "I think my drive for this season is everything that went wrong last season, both on a team level and on an individual level; putting something out there so people can really see who I am as a player," Shattenkirk said. "And then, now having a coach who really demands a lot of me and always has, it's just another person I don't want to let down. And for me, I like that, I feed off that kind of drive."
He has a golden opportunity to drive his longtime friend's program forward, and in the process, make the local-kid-does-good fairy tale come true after all.