With the hiring of David Quinn as head coach of the New York Rangers, the stage has been set to continue with the team's rebuild. Make no mistake, Quinn is a development coach and was brought in to help rebuild the team's core in hopes of a Stanley Cup victory somewhere down the road. As the team had grown stale on former coach Alain Vigneault's voice, everyone in the Rangers' locker room will no doubt benefit from this change of vision.
Who Will Quinn Benefit Most?
The majority of Quinn's coaching experience comes in working with young players. His NCAA resume with the Boston University Terriers and his time in the AHL with the Lake Erie Monsters saw him developing young talent, many of whom would go on to begin successful careers in the NHL.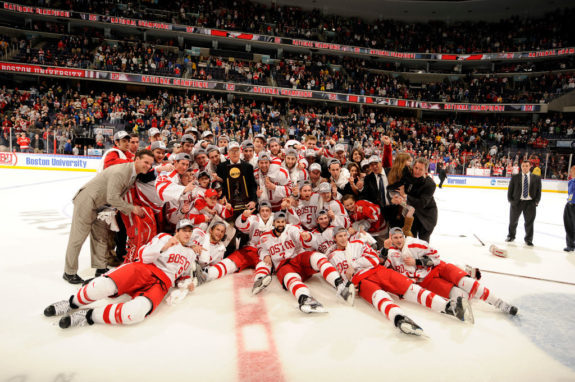 Quinn preaches a puck possession game that has become the standard of success in the NHL. This style requires all five skaters to contribute at both ends of the ice. He said as much in a letter to Rangers fans.
We're going to be a team that's built around defense, and not only in our own zone. We're going to play with the puck, and the minute we don't have it, we're going to work to get it back. Whether in our zone, their zone or the neutral zone, our job is to make things as difficult as they can be for the 20 guys in the other uniform.
While that kind of mentality will benefit everyone in a Rangers uniform, there are certain young players, often maligned by Vigneault, who stand to see their games elevated the most during the upcoming 2018-19 season and beyond.
Defenseman Tony DeAngelo
DeAngelo came to the Rangers along with the 7th overall pick in the 2017 NHL Entry Draft in the trade that sent popular center Derek Stepan and backup goalie turned started Antti Raanta to the Arizona Coyotes. It isn't often that a 22-year-old defender is seen as being on his last chance to make it in the NHL, but the Rangers are DeAngelo's third team already, as he's developed a reputation for being difficult, which included a three-game suspension while with the Coyotes for abuse of officials.
DeAngelo had made the Rangers' opening night roster out of training camp, but lasted just eight regular-season games before he was sent down to the team's AHL affiliate, the Hartford Wolf Pack. For much of his AHL season, DeAngelo underwhelmed.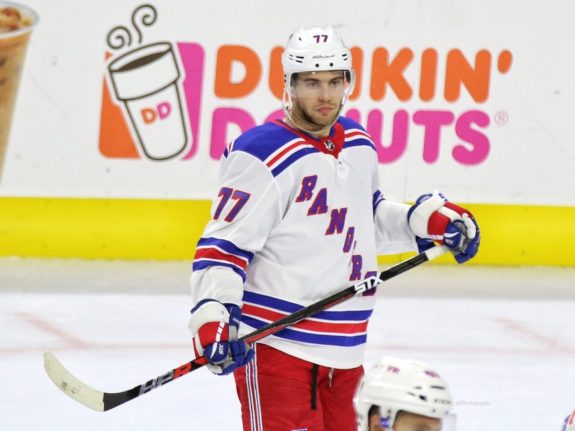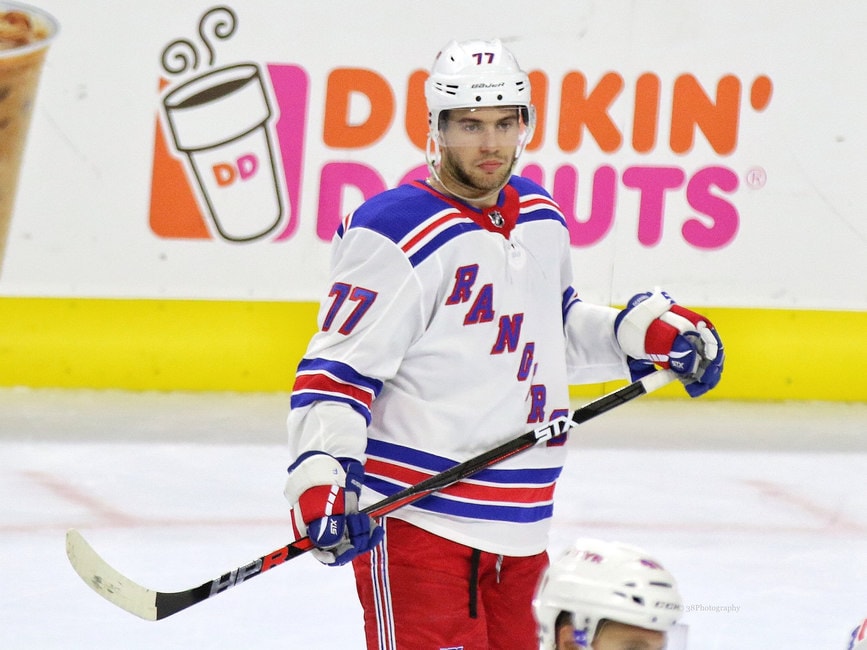 On Jan. 20, he earned a call-up to the Rangers after defenseman Kevin Shattenkirk had to have season-ending knee surgery. DeAngelo managed to stick with the club as a depth defenseman. He was one of the beneficiaries to the Rangers' 2018 trade deadline sell-off until he suffered an ankle injury on Mar. 8 that would cost him the remainder of the NHL season. In the lead-up to the trade deadline, DeAngelo saw his role elevated. This culminated in a near-26-minute outing in the game prior to his ankle injury.
While DeAngelo struggled to gain Vigneault's trust until management scrapped the season, he will have every opportunity to play in a more prominent role under Quinn. Quinn has likely seen it all in terms of player attitude, and if his no-nonsense style can rein in DeAngelo, the defender stands to prosper in a puck possession system.
DeAngelo is a creative passer and can carry the puck up ice. While his play may be risky at times, a coach willing to work with young players and not punish them for every mistake will give DeAngelo the room he needs to further develop his game.
Forward Jimmy Vesey
Vesey was a third-round draft selection of the Nashville Predators. He was acquired by the Rangers after he completed four seasons at Harvard University and opted not to sign with the Predators and instead become an unrestricted free agent.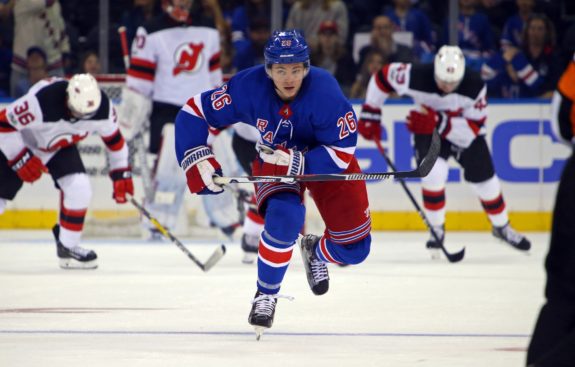 After near-identical production of 27 and then 28 points in his first two NHL seasons, Vesey had struggled to escape a bottom-six role. Over those two seasons, Vesey had shown flashes of the kind of player he might develop into. With hard-nosed play around the net and a willingness to compete in the tough areas of the ice, Vesey added a new dimension as an agitator to his game this past season.
Another quote by Quinn in his letter to Rangers fans would seem to indicate Vesey will likely be a fit for the new coach's philosophy.
I describe my coaching style as fair and demanding. We want to be in the opposition's faces and make them uncomfortable every shift. We want them to know when they see the Rangers on the schedule, it's going to be a long night.
Vesey's developed mean streak would fit that description. With an increased role with the team, his offense will have a chance to thrive. He could find himself the prototypical forward in Quinn's puck-possession system.
Forward Pavel Buchnevich
Rangers fans have been in Buchnevich's corner even before he left his KHL team to come to North America. The highly-skilled and creative forward has the makings of a future NHL star. Yet Vigneault had handled Buchnevich with kid gloves, often limiting his ice time and linemates.
The young Russian had excelled over his two NHL seasons, particularly when paired with Mika Zibanejad and Chris Kreider. The trio had been one of the most electric and productive combinations for the Rangers over the past two seasons. A series of separate injuries to all three over that span has hindered what could have become one of the top lines in the league.
Inexplicably, when the three had become healthy, Vigneault hadn't always been quick to reunite the trio or keep them together when the line went cold for short periods. Still, they often found themselves eventually reunited and when that happened, the results were often electric.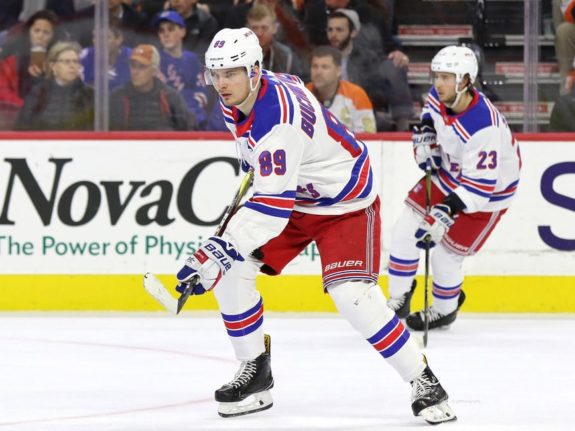 As a more patient coach with youth, Quinn is likely to be less trigger-happy in demoting Buchnevich to the team's fourth-line through the typical struggles young players experience. Those demotions seemed to hurt Buchnevich's confidence, as he indicated in an interview with Sport-Express (Google translation).
Because everything depends on my confidence. When you do not think that the error will lead to consequences in the form of a reduction in playing time, then it is much easier for me. But everything turned out differently. A couple of matches you are doing well, in the third you do not show yourself and instantly find yourself in the fourth link with a five-minute playing time. It's hard.
With the ability to play his game without the constant threat of losing ice time and role when his creativity backfires, Buchnevich should see a continuation of his growth into an NHL star.
Rangers' Future Depends on Youth
With the Rangers' rebuild set to begin its second season and the mandate from team management crystallized with the Quinn hiring, much of the team's future will depend on the coach's ability to elevate young players. While DeAngelo, Vesey, and Buchnevich are more established in their NHL careers, there are many other young players who stand to benefit from a more hands-on coach invested in developing the team's youth.
As the Rangers have acquired a number of prospects and draft picks during their rebuilding process, Quinn will be essential in leading the team back into contention.