A recent promotional endeavour by True North has illuminated Winnipeg Jets' fans heady expectations of the future.
Last Sunday, Winnipeg Jets and Manitoba Moose season-ticket holders took to the ice for "Paint the Rink." They were provided with buckets of red and blue paint and invited to use the pristine, bright-white ice of Bell MTS Place as a giant canvas to create a colourful, coast-to-coast collage.
Big THANK YOU to all of the #NHLJets and @ManitobaMoose season seat holders who came to @bellmtsplace yesterday to #PaintTheRink presented by @SherwinWilliams! pic.twitter.com/yTtBfZQW0M

— Winnipeg Jets (@NHLJets) May 28, 2018
The messages fans of all ages splattered on the very same surface their heroes skated on during the most successful season since returning from Atlanta send twofold messages: ones as clear as the sacred Jets logo at centre ice stayed.
Jets Fans Thankful for Thrilling Season, Playoffs
The first message the two-toned brushstrokes make clear is that Jets fans are thankful. They're grateful to True North — a first-class organization — for making the last nine months the best in Winnipeg hockey history and for being rewarded for their unwavering support through an oft-turbulent first six seasons.
Most sentiments were simple. "Thanks Jets." "17/18 sure was great." "We made history." "Wow. 17/18 — what a season!" "Thank you TNSE."
It's obvious the excitement of the 2018 Stanley Cup playoffs hasn't worn off just yet. The Jets' five-week run was a magical time for Winnipeg. It brought traffic to a standstill and got hearts racing at massive, raucous Whiteout Street Parties, extravaganzas organizers kept having to expand to keep up with the demand and sheer number of white-clad fans who wanted to celebrate the Jets' success as a community.
One fan wrote, "The Whiteout Lives." Another, "Fear the Whiteout."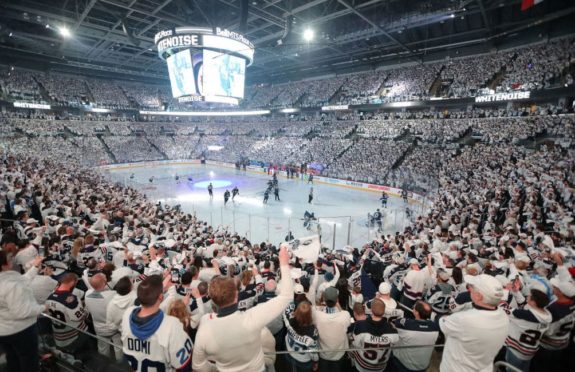 It boosted levels of civic pride to ones never seen before. Winnipeggers have a penchant for ragging on their city harder than any other urban inhabitants, but the historic 52-win season and Western Conference Final berth, as Winnipeg Free Press columnist Dan Lett wrote recently, "put a bit more wind in everyone's sails" and "eased Winnipeg's traditional appetite for civic self-flagellation."
"WPG is proud," someone scrawled in silver. "Winnipeg is Good," another wrote, riffing off Patrik Laine's viral article of the same name that praised the city.
On the ice, it brought a bevy of memorable moments that will live on in Jets' history and be remembered fondly for years to come, such as Dustin Byfuglien rag-dolling two opponents on two separate occasions and Mark Schiefele setting a new record for road goals in a single playoff series.
Jets Fans Have Highs Hopes — and High Expectations
Although Jets fans remembered the season fondly, it's obvious they feel their squad has some unfinished business to attend to — business they expect to be resolved at around this time next year.
Sketches of Stanley Cups — some ultra-detailed and some barely bearing any resemblance to hockey's top prize — abounded in every zone of Bell MTS Place, as did messages about all the "nexts."
"2019 is ours." "Winnipeg 2019 Champs." "#Questforcup2019." "Have faith. We do." "It's just begun." It's clear Jets' fans hopes, and expectations, are at an all-time high.
a major theme @ #PaintTheRink, future goals pic.twitter.com/bFDz0pkvzb

— Mikey McDontTouchYourFace (@mike_yung) May 28, 2018
It's amazing how one historic season can completely shift the expectations of a fan base. Less than a year ago, the majority of fans would have been happy with simply a playoff appearance. If you told them their team would be one of the last four standing, they'd have been over the moon.
Not now, though. They've seen the true power and potential of their team, and they want more because of it. It's Cup or bust.
Jets Fans Right to Have High Expectations
There's not much reason to believe the Jets can't contend for the Cup again next year. They've got a well-spoken, lead-by-example captain who produced more than a point per game in Blake Wheeler. They've got a bonafide number-one centre with great offensive instincts on a ridiculously friendly contract. They've got three of the NHL's most elite youngsters in Patrik Laine, Nikolaj Ehlers, and Kyle Connor, all of whom are bound to get even better.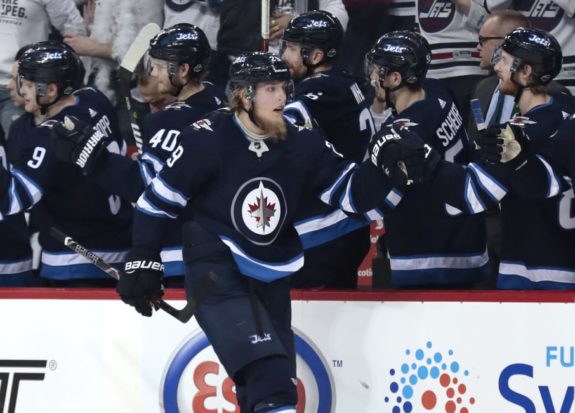 They've got the ultimate game changer, Dustin Byfuglien, and a blue line with tremendous depth that kept them afloat even through a myriad of injuries to the back end.
They've got an outstanding young goaltender who was given a one-year "put up or shut up" contract, and did the former by turning in a Vezina-calibre season.
Like any team, they still have some question marks, such as whether the injury-riddled Steve Mason is a viable backup goaltender and whether they can afford to re-sign trade deadline acquisition Paul Stastny.
Overall, Jets general manager Kevin Cheveldayoff has been an artist. He's patiently and methodically created a masterpiece, dabbing away at his canvas with the right types of paint in just the right quantities.
As Jets fans came together last Sunday to create a masterpiece of their own, their collective voice was clear. They want the Cup.