The 2018 NHL Combine is almost over.
Throughout the past week, prospects got their chance to make their best pitch to teams in the hope to make a lasting impression. One good meeting could set the course of their career.
But you're probably wondering or have wondered why we cover this event closely. It's prospects going through the motions of fitness testing. It doesn't sound that interesting.
My hope for this column is to give you an inside look at some of the things we pay attention to. The Combine might seem like an event where not much happens. That couldn't be further from the truth.
This season will be my fourth NHL Combine. I have seen and heard incredible stories and rumors. I will share with you some stories of Combine's past and give you a look at what I try to takeaway from the event. Here's some other FAQ's if you're interested.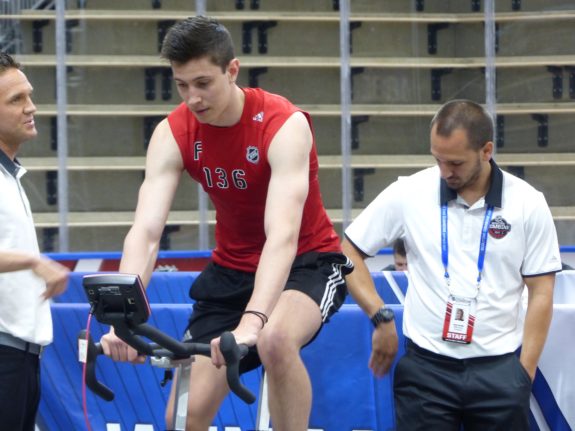 Connor McDavid & "Good Luck With That"
It was June 2015. The hockey world was fixated on every movement of Connor McDavid. He was without question going first to the Edmonton Oilers. But everyone wanted to know how he'd do with the fitness testing.
Before McDavid got to demonstrate his skills, he was made available to the media on the Friday before the testing. He conducted his usual, soft spoken, good interview. It was what he did as he walked out of the scrum that made being there worth it.
McDavid's friend Dylan Strome was next up for the scrum. As they passed each other, McDavid whispered to Strome "good luck with that." As someone who covers the Erie Otters, this was especially funny.
In Erie, unless the national media came to town, he only had to conduct interviews with the local news or print media. There would only be a couple of people in those interviews. He usually didn't have to deal with massive scrums.
So he gets to Buffalo. There had to have been some 50 media members waiting in a small space at Harborcenter. Welcome to the NHL Connor. So hearing him tell Strome "good luck with that" is something I'll never forget. It was a moment of realness that we hardly see with McDavid.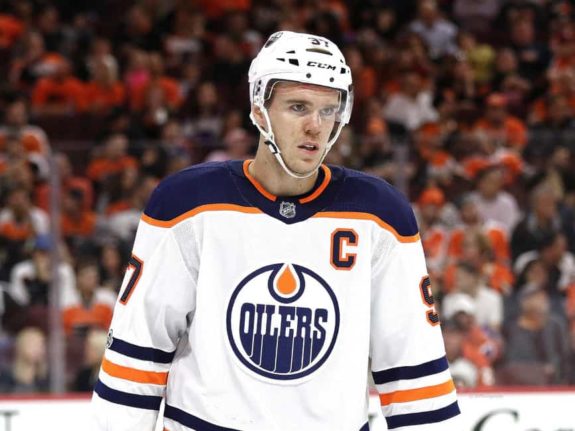 Will Bitten's "Everyone" Comment
The situation with the Flint Firebirds was well documented. The OHL had to step in after the team essentially didn't want to play for the owner after his son didn't get enough playing time. Rolf Nilson fired the entire coaching staff. Imagine being on the Firebirds while this was going on. Now imagine it was also your draft year. Welcome to Will Bitten's world.
Bitten finished his combine testing and spoke to the media. The obvious question was asked by yours truly. His answer gave everyone a good laugh.
Me: How many teams asked about your view of the situation in Flint?
Bitten with a smile: "Pretty much everyone."
This might seem insignificant. But it showed me a side of Bitten I wasn't sure he had. He made humor out of a difficult situation. Why does this matter to me? It matters because in hockey, you have ups and downs. How you handle the downs says a lot about who you are. He became my steal of the draft. Montreal drafted him and he's now signed to a contract.
Taking You Inside My Head
See, here's the deal about evaluating draft prospects. It's an inexact science. Nobody has perfected the art of projecting players 5-10 years down the line. How could you? There's way too many variables in play. We lack information.
That's the key to the Combine. One of the main reasons we cover this event is to get information. We can never get enough information especially when trying to project a player and how he'll do. Let's now look at the different parts of Combine Saturday to illustrate my point.
The Fitness Tests
I'm going to be honest with you. I miss 99% of the fitness tests. I may watch a top prospect at different points. Otherwise I am running around trying to multitask. The nice part here is that Central Scouting releases the top results on the different tests. This is the information I'm talking about.
Say I have an opinion about Brady Tkachuk's agility. If he then shows up in the top-5 of the Pro Agility test, hello. I take notice. I have to consistently revisit my opinions to see if they lineup with reality. Trust me fans. I am wrong more than I'm right. But if you can keep an open mind, it'll go a long way in getting better at this craft.
When I get home after the event, I will review the results to see who stood out. Although my draft rankings are mostly set based on a prospect's season, a superb test could move the needle slightly for me. These fitness tests help confirm my take or they show me the true reality of their physical capability.
The Post-Fitness Interviews
This is the fun part. I might get just a few minutes with these prospects but what I gain from it is more information. For example, how many teams did a prospect interview with?
Anyone ranked from 5th-30th is especially interesting to me. It gives me a sense of how much interest the league has with these players. If someone speaks to 30 teams, it more or less confirms they're in the first round conversation. If someone only speaks to 15 teams, it says the other teams didn't think they needed a meeting with them. Either they had what they needed or weren't interested. This isn't exact by any means. It's something I monitor. I'm looking for patterns. Again information reigns supreme.
Now to the questions themselves. It's the same questions over and over and over. But I'm looking for the little things. I'm looking for eye contact. I'm looking for thoughtful answers. I'm looking to see how you handle curveballs. These go a long way in helping me confirm someone's character. I won't get everything in a few minutes, but I will get a first impression.
Some examples of questions I'll ask are "If I'm a GM, why should I take you?" or "What's the best piece of advice anyone's ever given you?" or "How do you overcome life when bad things happen to you?" I try to limit my yes/no questions. I want to see the mindset of the prospect and how they react to something if they don't expect it.
These answers do help me confirm my rankings. Need an example for this season? Watch how Ryan Merkley handles this week.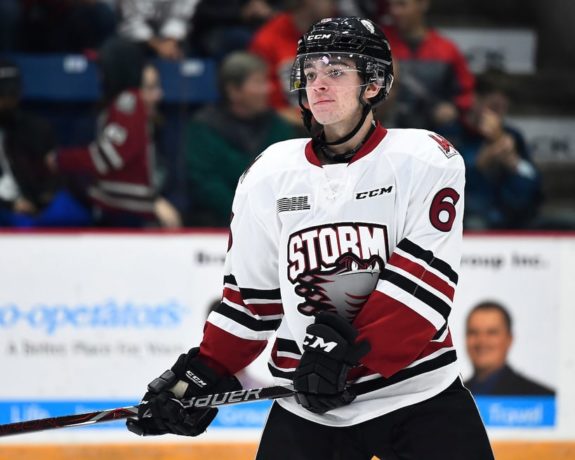 And Of Course, the Rumors and Buzz
As a fan, this is the most fascinating part. Fans everywhere love a good, juicy rumor. Who's getting traded? Which prospect will go fourth overall? Who's made a good impression?
We get to talk to others such as other media about the buzz. It was at the Combine where I got wind of the Vegas/Columbus side deal. Chatter suggested that David Clarkson's contract was going to Vegas as part of a package. It happened. Some come true. Others not so much.
Sportsnet's Sam Cosentino infamously figured out that Columbus GM Jarmo Kekalainen didn't have Jesse Puljujarvi has high as everyone else. He referenced an interview at the Combine as the reason to suspect this.
We're watching and listening to everything. We're there trying to get a handle of what the draft could bring. The trick is separating fact from fiction. We're not going to put every rumor out there. But if it's overwhelming, expect us to share what we've heard. Craig Custance has done that already this season.
So there you go. This is why we attend the Combine and cover it. There's lots going on and we learn what the future could hold at the NHL Draft. Stay with the Hockey Writers on Combine Saturday with full coverage, including the ever popular heights and weights of prospects.