It's no secret that the Detroit Red Wings need to upgrade their defense. Sparse scoring, the inability to transition the puck quickly, and porous play in the defensive zone left much to be desired this season. However, installing a stronger blue line corps is easier said than done – the Red Wings have a plethora of defensemen in the system and little room to enact change. The logjam extends beyond Hockeytown, as the Grand Rapids Griffins will have a multitude of defensemen on the roster next season as well.
Once the Stanley Cup Final wraps up, teams will begin tinkering with their rosters in preparation for next season. Ken Holland should make good on his word to get younger immediately, with the priority being to develop his key defensive prospects. But ice time will be limited given the roster composition, as will the possibility of bringing in new defensemen.
Related: Red Wings 2018 Prospect Update
Red Wings Defensive Depth Chart
Without free agents or 2018 draft picks joining the organization, here's how the Red Wings and Grand Rapids' depth charts fill out for next year:
Red Wings Defensive Depth Chart
LD
RD
Jonathan Ericsson
Trevor Daley
Danny DeKeyser
Nick Jensen
Niklas Kronwall
Joe Hicketts
Xavier Ouellet
Griffins Defensive Depth Chart
LD
RD
Robbie Russo
Filip Hronek
Dennis Cholowski
Dylan McIlrath
Brian Lashoff
Vili Saarijarvi
Libor Sulak
Dan Renouf
There's already a bunch of issues, especially in the AHL. Highly-skilled prospect Filip Hronek is still stuck in Grand Rapids despite a stellar 2017-18 campaign. After his AHL season concluded, Hronek starred for the Czech Republic at the 2018 World Championships, quarterbacking their top power-play unit alongside David Pastrnak and David Krejci. Jeff Blashill and Red Wings director of player evaluation Jiri Fischer both had high praise for the young defenseman:
He looks like he's doing a real good job of facilitating the power play. He's not afraid to shoot it. He hasn't over-held on to the puck. He's moved it quickly and he has talented guys on each flank with Pastrnak and Krejci. He's done a good job.

(Jeff Blashill from 'Dylan Larkin, Filip Hronek part of crucial Red Wings influence in Worlds quarterfinals', The Athletic Detroit – 5/16/18)
Apart from Hronek, there's also the issue of Vili Saarijarvi again being buried down the depth chart and Libor Sulak who is on the outside looking in. While Dylan McIlrath, Robbie Russo, and Brian Lashoff likely won't factor into Detroit's future, the organization sees them as quality AHL players who can help the Griffins win. If that sentiment remains the same and no one is moved, it will be hard for Sulak and Saarijarvi to make an impact and develop further.
The logjam may have factored into Detroit's decision not to sign 2016 fifth-round pick Jordan Sambrook. While the blueliner hasn't been consistent in his own end, Sambrook's offensive upside is usually something that the Red Wings covet. There just isn't room for him, though, with Dennis Cholowski, Joe Hicketts, Hronek, Saarijarvi, and Sulak higher up on the totem pole at around the same age.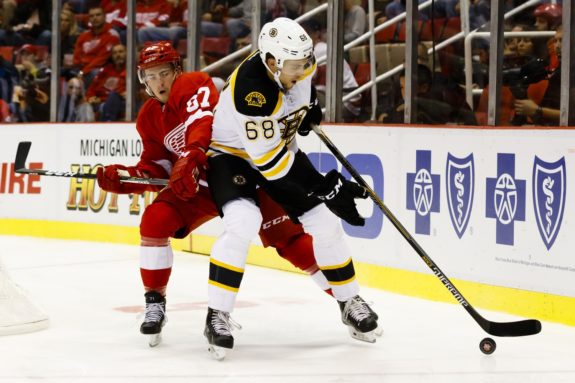 Speaking of Hicketts, he'll have the opportunity to step in for Mike Green on one of the Wings' power-play units. The diminutive blueliner had an impressive audition toward the end of the season and should start the year in Detroit.
It would be great to see Hicketts with the Red Wings full-time, but the rest of Detroit's blue line is a concern. First, the same group struggled last year. Second, it's hard to imagine another blueliner being scratched over Hicketts if another defenseman is acquired this offseason. Detroit needs to let Hicketts play on a regular basis, provided he continues his stellar showing.
Adding & Subtracting Defensemen
Upgrading the packed blue line and finding a way to bring in external help is possible.
On the trade front, the Carolina Hurricanes have made it clear that they are willing to listen to offers for most of their players, including defensemen Justin Faulk and Noah Hanifin. In addition, Jacob Trouba's name has been associated with the Red Wings before, though the Winnipeg Jets' success may have changed the earlier trade demands.
Top-pairing defenseman John Carlson may become available through free agency, but would likely be too expensive. Then, there's always the possibility of bringing back Mike Green on a short-term deal. It's also conceivable that the player—most likely a defenseman—who Detroit drafts with the sixth-overall selection in the 2018 NHL Draft could sneak their way onto either the Red Wings or Griffins next season.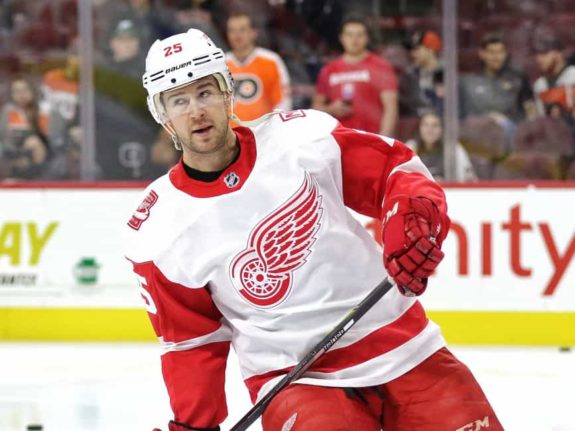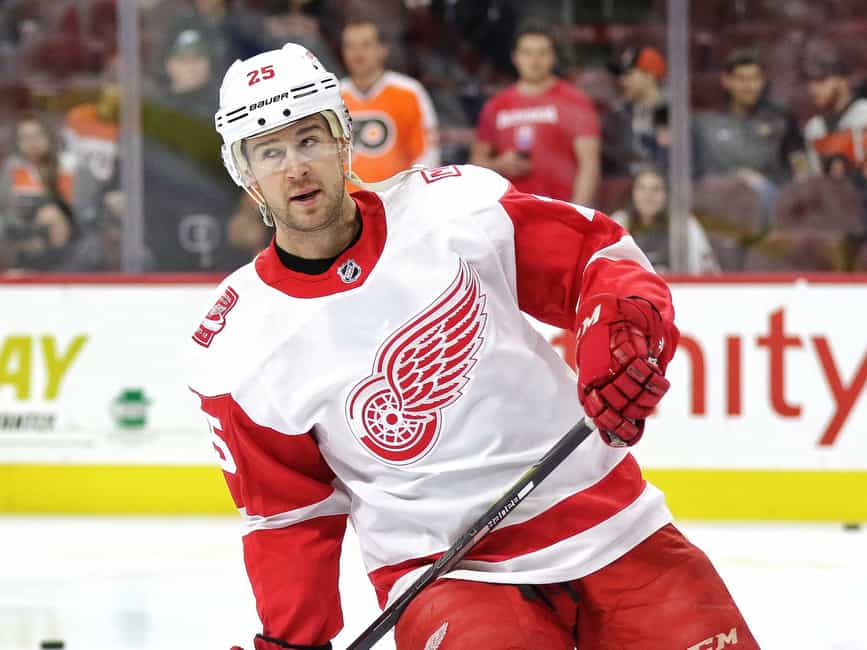 If any of these acquisition options comes to fruition, the Red Wings would likely need to subtract at least one defenseman from their depth chart, which is not ideal.
There are a couple of less-than-optimal options to manage the roster if a defenseman is brought in and none are moved. Hicketts does not need waivers to be sent to Grand Rapids, but that would not help his development. Xavier Ouellet could probably be waived and stashed with the Griffins as well. Either way, this only convolutes the Griffins' defensive depth chart further. It's difficult to distribute meaningful ice time among nine defensemen.
But if there's trade interest, the Red Wings should act on it. Moving Ouellet is a possibility after he requested a trade. Additionally, Nick Jensen's stock has risen with a strong showing at the World Championships. However, his speed fits Detroit's game better than most of the defensemen on the roster now. The other veterans are long-shots to be traded, given their contract, age, or lack of production.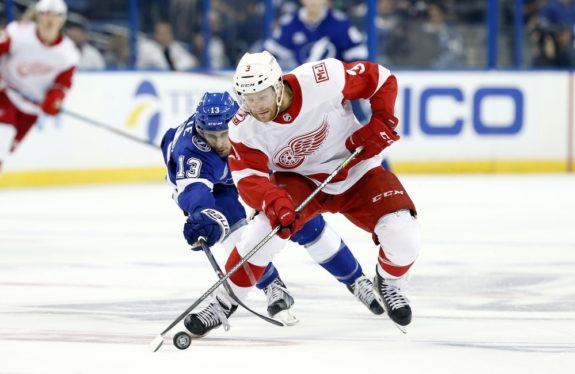 Perhaps Detroit could get a team without a first-round pick—such as the Nashville Predators or Vegas Golden Knights—to take on a big contract (Jonathan Ericsson or Danny DeKeyser) to swap second-round selections, similar to Detroit's Pavel Datsyuk deal with the Arizona Coyotes. Picking in Detroit's #33 or #36 spot would likely yield a better prospect than toward the end of the second round.
In Grand Rapids, Red Wings assistant GM Ryan Martin could dangle McIlrath, Russo, or Dan Renouf to acquire a minor league forward or goalie. This would create some wiggle room to play Cholowski, Hronek, Saarijarvi, and Sulak in more meaningful roles.
Related: The Grind Line: 5 Reasons for Red Wings Optimism
Final Word
In a perfect world, both Hicketts and Hronek would be in Detroit's top-six next season with Cholowski pushing for time out of training camp. To move the rebuild along, Holland needs to find a way to move out a veteran this offseason and possibly another closer to the 2019 NHL Trade Deadline.
Detroit's ideal game is based on speed and a relentless forecheck, something the Stanley Cup finalists, Capitals and Golden Knights, both employ successfully. The Wings need to add more skill and have the roster completely buy into the system before they can consider doing some damage in the playoffs. Giving their prospects a shot sooner rather than later will help move the time frame up a bit.
Will the Detroit Red Wings alleviate their defensive logjam this summer? Comment below with your thoughts.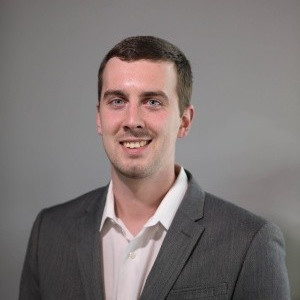 Tony Wolak is based in the Washington D.C. area and covers the Detroit Red Wings for THW. As a former junior and college hockey player, Tony has a unique perspective on Red Wings topics.