A few weeks ago, the Washington Capitals announced their initiatives surrounding Black History Month that focus on diversity and inclusion in hockey, racial equality, and the recognition of achievements by Black individuals. "In addition, the Capitals formally announced members of the organization's Black Hockey Committee, whose mission is to address ways to eradicate racism and discuss growing the game in underserved communities" The full statement can be found here.
On History.com, Black History Month is defined verbatim as "an annual celebration of achievements by African Americans and a time for recognizing their central role in U.S. history." The Capitals have had 11 Black players in their history, including two Stanley Cup Champions. Many were fan favorites during their tenures, and each one left their own mark on the franchise. Let's take a look at a few of the most influential Black players to suit up for Washington.
Mike Marson (1974-79)
Everybody knows that Willy O'Ree broke the color barrier in the NHL, but Mike Marson was a trailblazer who deserves a lot more recognition. He was the first Black player to be selected in the NHL Entry Draft when the Capitals took him with the first pick in the second round, 19th overall in 1974.
He scored 16 goals and 12 assists in a 76-game rookie season, and would go on to play six years of professional hockey in North America.
Bill Riley (1974-79)
On Dec. 26, 1974, the Caps dropped one of their NHL record 67 games, but it was a groundbreaking day in hockey history. Bill Riley, a 24-year-old Amherst, N.S. native who made the team after a tryout, dressed that night. In addition to becoming the third Black player in the NHL, it was the first time that a team dressed two Black players in the same game (along with Marson).
He remained a member of the Capitals organization until he was claimed in the 1979 Expansion Draft by the Winnipeg Jets.
Donald Brashear (2006-09)
The Capitals had built a young and skilled core in 2006, but felt the need to surround them with some toughness and protection. What better player to fill that role than Donald Brashear? He was annually one of the league leaders in penalty minutes, and was known as one of the most fearsome fighters of his generation. In the 2007-08 season, he was named an alternate captain, and helped Washington get to the playoffs for the first time in five seasons.
His opening goal in Game 1 of their first-round series versus the Philadelphia Flyers on April 11, 2008 essentially kick-started the franchise's streak of postseason appearances. Brashear ranked 15th all-time in penalty minutes when he retired after 16 seasons in 2010.
Joel Ward (2011-15)
After putting up 13 points in 12 playoff games for the Nashville Predators in 2010-11, the Capitals were lucky enough to land Joel Ward when he signed a four-year, $12 million contract with Washington that summer. They brought him in to add some secondary scoring and timely goals, specifically in the postseason, and he held up his end of the bargain, scoring a game-winner with a second left in Game 1 of the Eastern Semifinals versus the New York Rangers in 2015.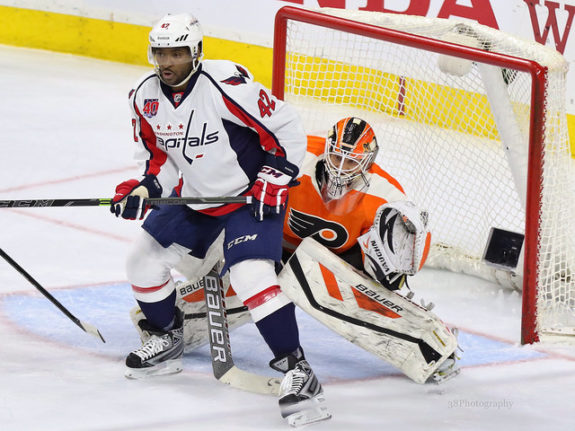 He also scored the opening goal in Game 7 against the Islanders in the first round of that same season, and, of course, scored the Game 7 overtime strike to help the seventh-seeded Caps knock off the defending champion Boston Bruins in the quarterfinals of 2012. Ward would go on to play three more seasons with the San Jose Sharks before retiring after the 2017-18 season.
Devante Smith-Pelly (2017-19)
The 42nd overall pick in the 2010 draft, Devante Smith-Pelly's NHL career got off to a rocky start. He bounced around from the AHL to the big leagues with the Anaheim, Montreal, and New Jersey organizations before the Capitals took a chance on him. The rest is history. He scored seven goals in Washington's magical championship run, three of which came in Games 3, 4, and 5 of the Stanley Cup Final. DSP's spring of 2018 will go down as one of the most clutch individual performances in NHL history, and he will never have to buy a beer in D.C. should he decide to return.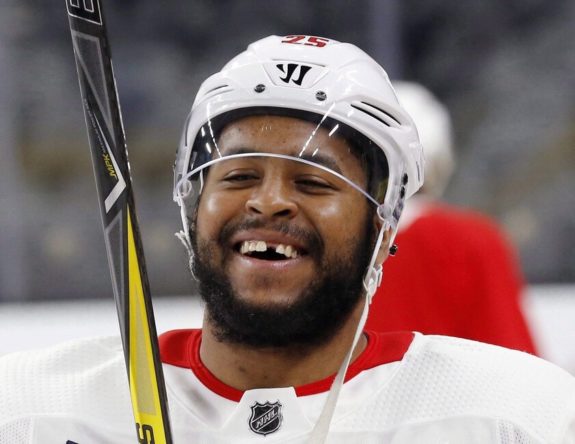 These gentlemen all had tremendous impacts on not only the Washington Capitals, but on the entire NHL. They paved the way for younger generations of Black hockey players to follow in their footsteps. They contributed their time, during and after their careers, to charity work in the D.C.-Maryland-Virginia area. With Quinton Byfield getting drafted second overall this past summer, the influence that these former Capitals and other Black NHLers had are already showing.
---
---
Howdy, I'm Aidan and I cover the Washington Capitals here at The Hockey Writers. I recently received my bachelor's degree in English with a minor in literature from Christopher Newport University, where I also played on the Division lll club hockey team. I can't get enough puck, whether it be writing about it, watching games, competing in men's league or playing NHL 21. I'm always down for some hockey talk, so feel free to leave comments and feedback on my work!