Devante Smith-Pelly (or DSP as he's known in DC) wasn't guaranteed a spot on one of the Capitals' four lines for the 2018 NHL Playoffs. His play had been inconsistent, and head coach Barry Trotz could have opted for more youth and speed.
Fortunately for the Caps, Trotz didn't decide to scratch Smith-Pelly. Instead, he showed confidence in the fourth-line winger and what he brings to the table. That confidence has paid off tremendously for Trotz and the Capitals.
The surprising play of Smith-Pelly in the playoffs has been one of the biggest storylines throughout Washington's postseason run.
Smith-Pelly an Unsung Hero
There's no question that the NHL's second season has brought out the best in Smith-Pelly this year. Used for his role as a physical player and as an asset on the penalty kill, Smith-Pelly has stepped up his game and turned into an important part of the Caps' success so far.
From scoring goals, to setting the forecheck, to presenting a physical presence on the ice, Smith-Pelly has done it all. His 76 hits delivered in the playoffs is ranked fifth and help to set the tough tone of the Caps.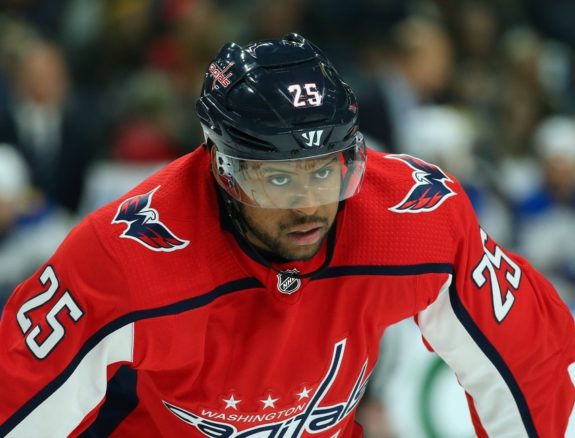 He started the postseason off strong with a goal in Game 1 of the first round against the Blue Jackets. He later potted the game-winning goal in Game 6 to eliminate Columbus. With an assist in Game 3, he finished the first round with three points.
The second-round series with Pittsburgh brought a pointless streak of six games. That drought continued through the first game of the Eastern Conference Final, but Smith-Pelly broke through with goals in Game 2 and Game 6 against the Lightning.
In four games of the Stanley Cup Final, DSP has two goals, including the game-winner in Game 4. His marker in Game 3 was essentially the dagger and put the Golden Knights away.
Through 23 total games in the 2018 playoffs, Smith-Pelly has six goals and an assist. He's already one goal away from matching his total all season. However, the postseason success may not actually be all that surprising. Prior to this year, he had played in 24 postseason games, scoring six goals and dishing out two assists.
After scoring just seven goals during the regular season, the Capitals have to be shocked at the production they've gotten from Smith-Pelly in the playoffs.
Capitals Strike Gold
When Caps general manager Brian MacLellan signed Smith-Pelly over the summer, the move didn't garner much publicity. After all, he was looked at as nothing more than a role player who would likely spend time in the AHL if not able to land a spot on Washington's fourth line.
There was little risk to Washington signing Smith-Pelly, as his two-way contract was for the league minimum. Finding cheap players was necessary for the Caps this past offseason due to signing both T.J. Oshie and Evgeny Kuznetsov to big deals.
Smith-Pelly had been in the league for five seasons, but bounced between the NHL and the AHL. He had spent time in Anaheim, Montreal, and New Jersey prior to joining the Caps.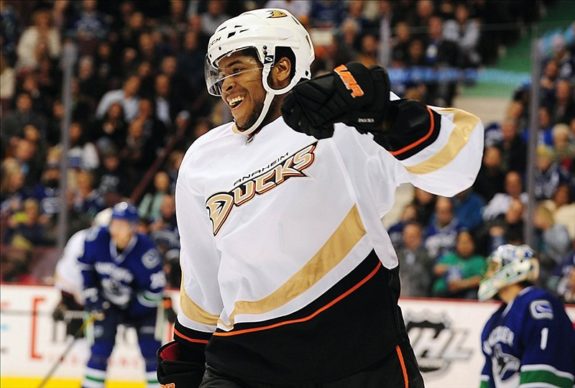 He came to Washington with 75 career points in those five seasons, and an abysmal minus-29 rating. His best season came in 2014-15 when he scored a career-high 17 points. He showed promise after being traded to New Jersey during the 2015-16 season, scoring 13 points in just 18 games. But, he then struggled the next year with the Devils, posting a minus-nine rating and registering just nine points in 53 games. Smith-Pelly was ready to move on and get a new start in Washington.
Clearly, the Caps were not signing Smith-Pelly to be a big key on offense. And while he didn't put up monster offensive numbers, he was a key role player who showed the ability to bounce between lines whenever needed. There were even points during that season that saw Smith-Pelly playing on Washington's top line with Kuznetsov and Alex Ovechkin. Smith-Pelly set a new career high this year with 75 games played and finished with 16 points, just one short of his career high.
When the Caps signed Smith-Pelly back in the summer, they could not have imagined that he would turn into a big piece of their postseason success. Considering that the move was under-the-radar and inexpensive, it's fair to say that the Capitals certainly won with Devante Smith-Pelly.
Barry is the site expert at Victory Bell Rings, covering Penn State football, hockey and basketball. He's also written about the NHL for RotoWire, Bleacher Report and FanSided. An avid hockey fan, he's been a Washington Capitals supporter for most of his life.