The pressure is on Montreal Canadiens general manager Marc Bergevin and his scouting staff. That's because, with the No. 3 pick at the upcoming NHL Entry Draft (in Dallas on June 22-23), they have a chance to right the trajectory of a ship that's been set off course.
Bergevin can help the Habs replenish their bare prospect pipeline and put them on track for a return to the playoffs next season after a 28th-place finish all in one fell swoop. Unfortunately, the two options, depending on his selection, can also be mutually exclusive. Which way will he go?
5. Andrei Svechnikov
The top-ranked North American skater (Central Scouting), right-winger Andrei Svechnikov, is by most accounts the consensus No. 2 pick and should be selected by the Carolina Hurricanes.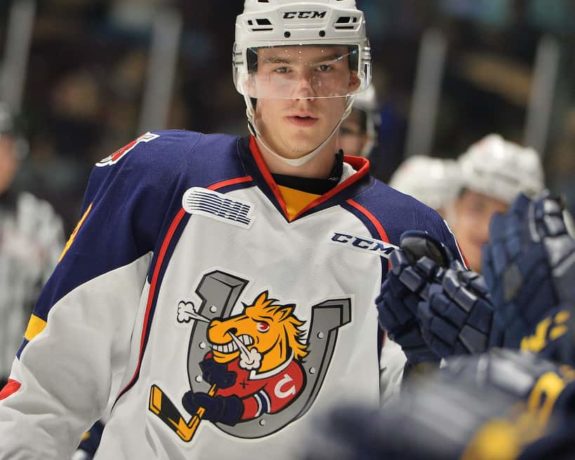 There is however a chance the Hurricanes get tempted to go off the board (slightly) and with Filip Zadina, who's shown chemistry on the international stage with their 2017 first-round pick, Martin Necas. It's a longshot, considering Svechnikov seems like the superior player. Hence the No. 5 spot on this list.
4. Quinn Hughes
At 5'10", 170 pounds, Quinn Hughes does not have ideal NHL size. It's a shame, because everything else about him oozes exactly what it is the Habs need: a left-handed, puck-moving defenseman, who can grow into a role playing beside Shea Weber.
That part's key, as he doesn't necessarily seem NHL-ready at this stage. Because the Habs, who should be rebuilding, still have Weber and Carey Price signed to massive contracts, that might be enough to scare them off. They would likely prefer to retool on the fly instead.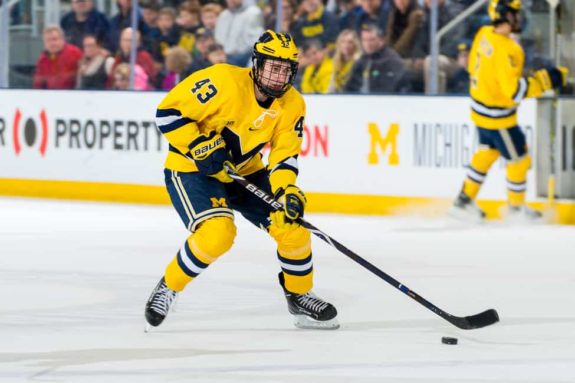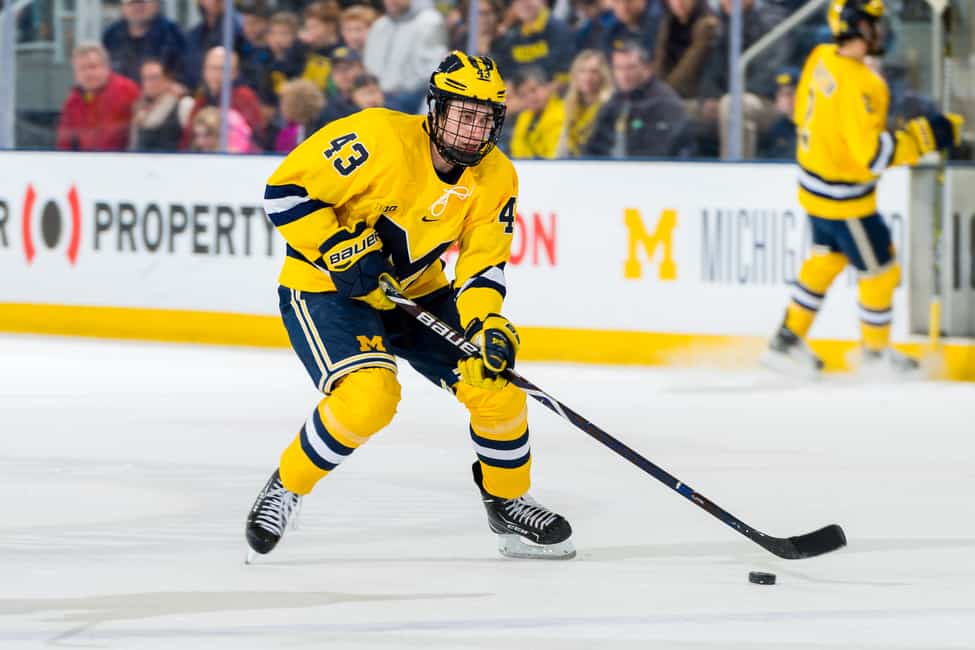 With Victor Mete having made the team out of training camp last year, they also may not feel as much of a sense of urgency to address the very real need to find a game-breaking defenseman to fill the void left by the departure of Andrei Markov.
That's despite how Hughes should vault to the top of the team's organizational depth chart on the left side, even if he's projected to only be a top-four defenseman. In and of itself, that assessment is both an argument as to why they need to do something sooner rather than later and why Hughes probably isn't the fix they need.
3. Jesperi Kotkaniemi
Jesperi Kotkaniemi is probably the top center available. The Canadiens would have to go off the board to select him though, as he's the sixth-ranked European skater entering the draft. At 6'2", 188 pounds, he's got a projectable frame and, as a two-way center, who should be able to play in all situations, he would be far from a waste of a pick… just the wrong pick.
It comes down to the classic argument of whether a team should draft based on need vs. picking the best player available. However, seeing as Kotkaniemi will still be just 17 at the time of the draft, it's likely he'll need some seasoning before jumping right in as the No. 1 center they need now.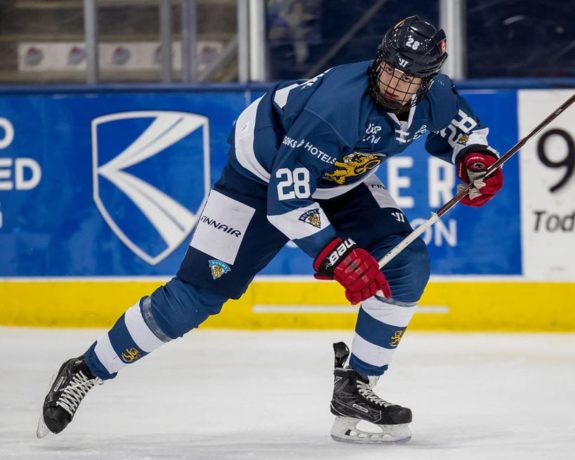 Granted, that argument wears thin after a while, because if you keep putting off drafting players at the position you need, you'll never fill it internally. Seeing as the Habs just drafted Ryan Poehling at center last summer though, the Habs shouldn't feel obligated to use the No. 3 pick to get Kotkaniemi. If they want him as badly as people think, they may trade down instead (thereby rendering this list void).
2. Filip Zadina
Assuming the dominoes fall as they should, Zadina will arguably be the most-skilled player available when the Habs make their selection at No. 3 (barring a trade). Because he's a right-winger though and Bergevin might feel the pressure to address the massive hole(s) in the line-up, the Habs might end up passing on him.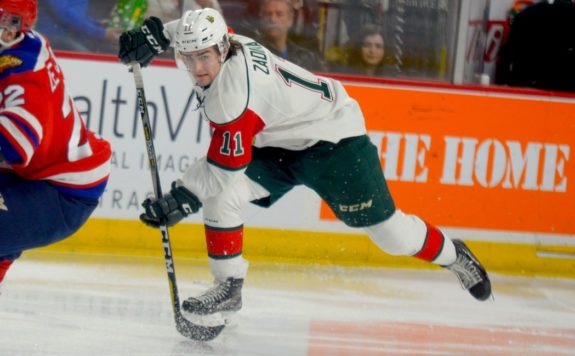 That's saying nothing of the team's lack of depth on the right side, where the Habs have got leading-scorer Brendan Gallagher, the unproven Nikita Scherbak and the oft-injured Andrew Shaw. In fact, if Bergevin were to ignore all the voices calling for him to draft a defenseman or center, he might find Zadina solves many of the team's other problems (there are a lot of problems).
As an offensively dynamic goal scorer, Zadina projects as an elite talent, even at the NHL level. As the Habs are starving for scoring, it makes sense for them to go for the best player still available who can most effectively provide them with that ever-elusive commodity of rubber on twine. That's assuming they keep the pick.
1. Brady Tkachuk
While Zadina would theoretically be the best scorer available by the time the Habs take the podium, he won't be the highest-ranked player available, according to Central Scouting. That honor goes to left-winger Brady Tkachuk, who overtook Zadina in the final rankings.
So, technically, if the Habs were to draft the best player available, they'd be taking the power forward in Tkachuk over the highly skilled winger in Zadina. The fact that Tkachuk, who is the son of Keith and brother of Matthew, is now the No. 2-ranked North American skater is the perfect excuse for Bergevin to draft him.
That's in spite of the fact Zadina is ahead of Tkachuk on most other lists. Tkachuk is also effectively a year older than everyone else in his draft year (having been born one day away from being eligible for last year's draft) and doesn't have the offensive upside of a guy like Zadina.
There's nothing wrong with selecting Tkachuk per se, but, like with Kotkaniemi, it would be best to select him later on. He should be a legitimate NHLer. He should even be a top-liner, but on a team with a plethora of talent at left-wing like the Habs, it makes little sense to use the pick on another one, regardless of his pedigree or level of grit and physicality.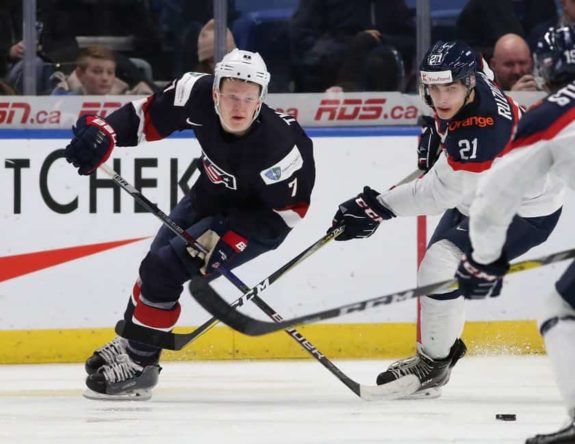 However, as Bergevin has consistently gone on record as saying he prefers his team has character, which everyone recognizes as a synonym for grit/ physicality, Tkachuk seems like the logical selection here. There's also talk he may be able to convert to center, which would at least on paper satisfy Bergevin's desire to address the pressing need down the middle… even if it doesn't work out (like it hasn't with Alex Galchenyuk, who was actually drafted as a center).
All due respect to Tkachuk, if he's Bergevin's selection it would amount to one more reason why Bergevin won't be around anyway. But, as a physical forward who wouldn't necessarily need top-six ice time to make an impact right away, Tkachuk's the shot in the arm Bergevin probably sees the Habs as needing to help right the ship. That makes Tkachuk the likeliest Habs pick at No. 3.