In today's Rumor Rundown we look at the fallout from the Garth Snow and Doug Weight firings on Long Island, what's happening with Jacob Trouba in Winnipeg and if the New Jersey Devils would actually consider bringing back Ilya Kovalchuk.
Tavares Staying or Going?
There is a mixed reaction as it pertains to John Tavares when looking at the firings of Garth Snow and Doug Weight from the Islanders organization. Some are suggesting that this is the writing on the wall teams needed to know that Tavares won't be sticking with the franchise. Others have suggested the pending unrestricted free agent is actually on board with new GM Lou Lamoriello's plan and that it might not be a coincidence that only after meeting with Tavares did Lamoriello give Snow and Weight the heave-ho.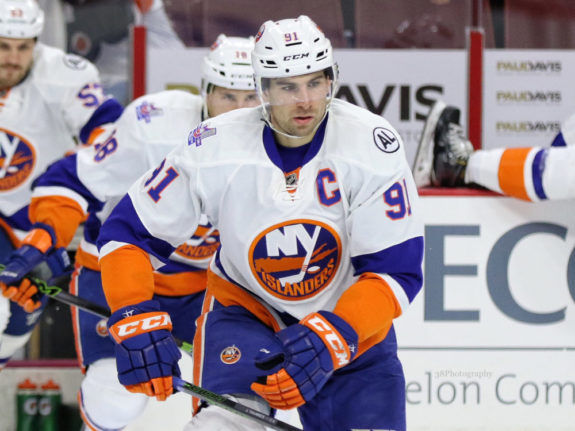 The question becomes now, does Tavares think the direction the team will head under Lamarielo is better than it would have been under Snow? And, can the new President and GM hire a coach Tavares respects as much or more than he did Weight? Potential options might be Barry Trotz (if he becomes available), Scott Stevens, Dan Bylsma, Alain Vigneault, Rick Bowness and a host of AHL guys looking for a call-up.
Damien Cox said on Sportsnet that if you go by what Tavares has said, his loyalty was to Doug Weight in particular and there seemed to be some loyalty to Garth Snow. But, if you go by logic, it would make sense to assume that Tavares would be happy working for a person with a proven track record. Still, everyone is guessing, just like people did with Steven Stamkos. The player is in control here and Tavares he sees an improved situation in Long Island, he'd be inclined to stay.
Greg Brady tweeted,"That's that for Tavares w/ the Isles. Have heard from far too many connected people that the only way JT was staying was a reaffirmed commitment to Weight as head coach. Isles will attempt to trade his rights before July 1." Jimmy Murphy added, "Tavares and Doug Weight were very close, so expect Tavares to hit the free agent market. When Lamoriello was asked about the decision and how Tavares played a role, he said, "That certainly has not and did not enter into any of the decisions that were made."
Related: NHL Rumors: O'Reilly, Hanifin, Skinner, More
Jacob Trouba Wants to Stay Long-Term
Mike McIntyre of the Winnipeg Free Press wrote that pending restricted free agent Jacob Trouba would like to work out a long-term deal with the Winnipeg Jets and the Jets have made it a priority to get a deal done. Trouba hasn't always had the best relationship with the team when it came to his contracts (he was a holdout in 2016 and requested a trade), but things are back on good footing according to Trouba's agent. Everyone involved seemed to understand it was just business. He said, "Jacob is sincere in everything that he says and I respect that. I've just got to do my job and work on behalf of my client and work with the club just to create a positive situation hopefully for both sides."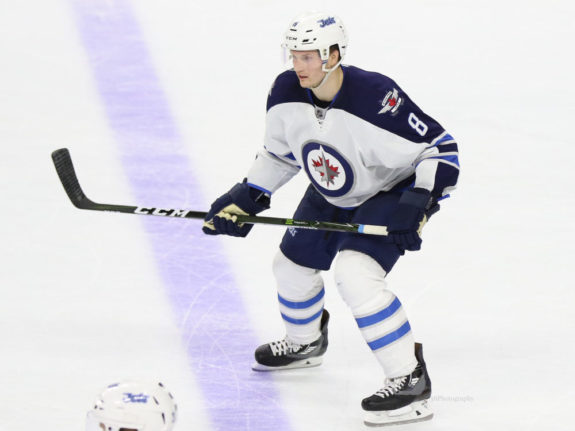 Where he would play in the Jets' depth chart is still a question. He's been moved between the left and right sides of the lineup on defense and this past year formed a strong partnership with Josh Morrisey to shut down the opposition's top lines. The Jets' GM will have his hands full as he has a number of restricted free agent contracts to attend to this offseason. This doesn't include the fact that the Jets will have to look at both Blake Wheeler and Patrik Laine in the next two seasons.
Cheveldayoff said, "When they have a group they feel comfortable with and a group of people they've grown with, they want to be a part of it. So, we'll do our best, sharpen our pencils and do as good a work as we can on the business side of it to make sure everybody feels like they're a part of it on the fairness of a contract and also build within the constraints."
Related: NHL Rumors: Kessel, Kovalchuk, Nash, More
Kovalchuk Not Coming to the Devils
NHL.COM did up a piece on the New Jersey Devils and rumors they might be interested in bringing back Ilya Kovalchuk. GM Ray Shero recently said there's been no communication between the two sides. From this writer's perspective, it's unlikely Shero would consider going that route even if Kovalchuk expressed interest. The Devils are not the same team they were last time Kovalchuk was there. It would be like oil and water mixing if Shero's plan is youth and speed.