One of the most incredible stories in NHL history is on the verge of finishing with a flop.
The Vegas Golden Knights are down 3-1 to the Washington Capitals as they return home to face possible elimination in Game 5. It's new territory for this band of misfits, who had only lost three games in three rounds of playoff hockey prior to the Stanley Cup Final.
Even in the regular season, this kind of slump wasn't common for the Western Conference champs. They haven't lost three straight games in regulation since the end of November. After that mini-blip in their schedule, they went on a 19-3-3 run. During that stretch, they never lost by more than one goal.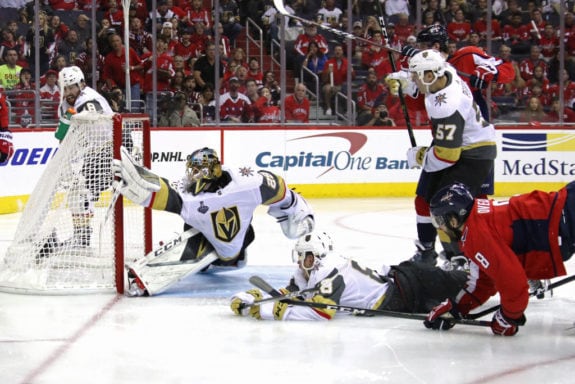 The team has been brilliant, resilient, and just a bit lucky. They entered the Stanley Cup Final with the highest-PDO  (104.1) of any playoff team, largely on the back of Marc-Andre Fleury's unbelievable performance. There was something magical about the team during their historic season, but it seems like that magic has run out.
Frustration Foiling Golden Knights
Even though the Golden Knights are down 3-1 in the series, it has been both close and exciting. If not for a couple of bad bounces, the Knights could have tied it up. Before Game 4 turned into a nightmare, the Knights rang the puck off the post five times without scoring a goal, highlighted by James Neal emphatically hitting the far post with Braden Holtby scrambling way out of position.
Vegas out-chanced the Capitals 8-3 in the first period of Game 4, yet found themselves down 3-0. It's the kind of rotten luck that had yet to engulf the Knights during the playoffs.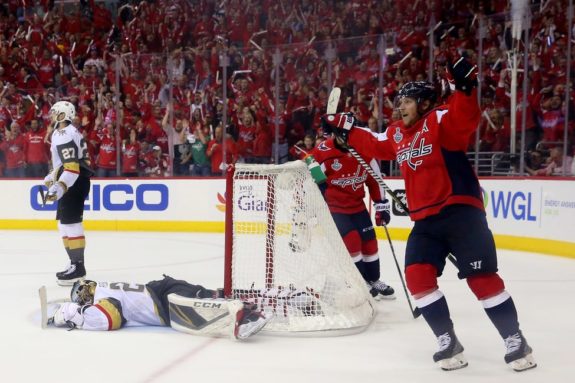 Even though they scored two goals in the third period, they didn't mount much pressure and their frustrations started to get the better of them. That was highlighted by Brayden McNabb cross-checking T.J. Oshie into the end boards after Oshie had two collisions with Colin Miller. Their lack of urgency while trailing in the third period is now a two-game trend. Even in a 2-1 game against the Capitals in Game 3, the Golden Knights were out-chanced 6-5.
Despite trailing only the Toronto Maple Leafs in even-strength scoring chances per 60 in these playoffs, Vegas has lost a bit of that moxie especially Games 3 and 4 of this series. They're winning the shot and Corsi battle by firing the puck from everywhere but they aren't garnering the same quality chances that the Caps have been able to throw at Fleury.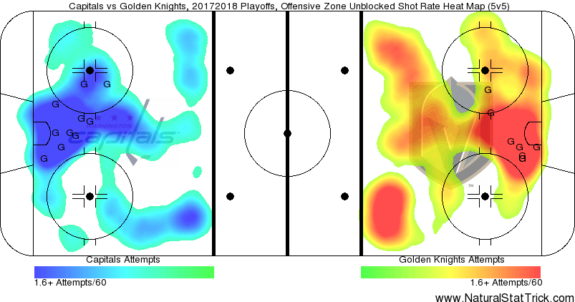 The shot chart shows that while both teams get their chances from the slot, the Capitals try to work the puck into that area while Vegas tends to shoot from everywhere in an attempt to get rebounds and second chances. In a series that was so tightly contested through two games, it's something that's set the teams apart in the last two contests.
Flower Power Wilting
The main reason why the Golden Knights are facing defeat is because Fleury has become human again. His stats in the Stanley Cup Final don't look great, with a .845 save percentage in four games, after stopping more than 95 per cent of the shots he faced at even-strength during the first three rounds.
Really, it's hard to fault Fleury on most of the goals that have gone in. Many of the Capitals goals have come from cross-ice passes, beautiful shots, or high danger shots from the slot. One area you could fault Fleury is with rebounds he's given up. Coming into the Cup Final, Fleury had stopped an unbelievable 18 goals more than the average goaltender in just 15 games. No other goalie in the playoffs was even in his ballpark.
Good morning,

Marc-Andre Fleury has prevented ~18 goals more than an average goalie would have in his spot.
That's about 14 goals better than Braden Holtby, who is third-best in the playoffs. pic.twitter.com/UAnluEFXGH

— Sean Tierney (@ChartingHockey) May 25, 2018
After three rounds, the Golden Knights had a +16 goal differential. It's not crazy to believe that with average goaltending, or even Holtby-level goaltending, Vegas wouldn't have made the Stanley Cup Final. If anything, the Knights have proven that they are a good team with underrated players on offence and defence. Head coach Gerard Gallant put his players in a position to succeed, but there was a certain amount of luck in getting them this far.
They will have to play better if they want to force a deciding Game 7 back in Vegas. They'll probably need a little bit of luck along the way as well.