A six-hour 30 for 30 series on the Vegas Golden Knights' Stanley Cup run wouldn't even give us all the answers.
Really, could anything give us a full understanding of the Golden Knights' impossible season?
Now three wins away from the Stanley Cup, Vegas is poised to complete the most perplexing story in NHL history. It might even be the most compelling story in North American sports. There's no other team in the North American major leagues that has come close to achieving what Vegas has in their first year of existence.
It's a story even Hollywood would have trouble believing. But it's not done yet. #VegasBorn #StanleyCup pic.twitter.com/7DQuxpY4MH

— NHL (@NHL) May 28, 2018
From the first drop of the puck in October, Vegas has bewildered everyone with a full and complete effort from every single player. When you watch Vegas, you become mesmerized by just how hard they work every shift. Nobody on that team quits, no matter what the score is.
This was a team that everyone expected to flop with a middling roster full of cast-offs. With the right mix of players and an up-tempo style of play, Vegas now looks near unbeatable.
The Vegas Buzz Word: Tenacious
With a team this tenacious, it's a surprise that they don't have Jack Black and Kyle Gass performing during the intermissions.
You could describe this Golden Knights team in a few different ways. What stands out with this group most though is their tenacious style of play. They're already one of the fastest teams in the NHL, and their forwards are always buzzing around the net.
Quantifying tenacity-per-60 may be out of the question, but it can be summed up as simply as this. Vegas shows no quit. No matter what the score is, no matter what the situation is, Vegas plays like it's their franchise's last game every time they're on the ice.
In the Conference Final, Vegas made a superior Winnipeg Jets team look overwhelmed. After losing Game 1 of that series, Vegas never trailed over the next four games. They came out flying against the Jets, making one of the most talented teams in the league look slow and mundane.
Even when Winnipeg pushed back, Vegas wouldn't budge an inch. They also got more consistent play top to bottom throughout the lineup. Out of the top 20 players in scoring chances for per-60 in the Conference Finals, seven were from Vegas. Only two players from Winnipeg cracked that list.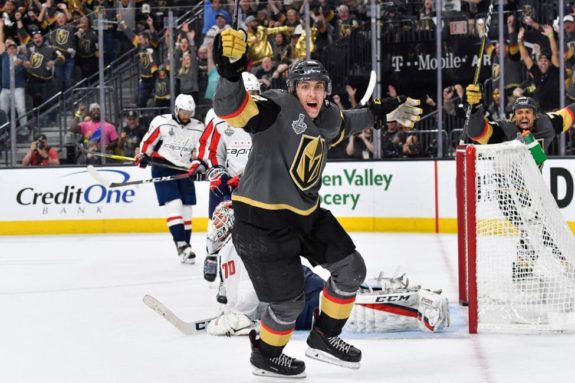 When the games mattered the most, more players from Vegas showed up. They were tenacious, hard on the forecheck, and imposed their will on a favoured Jets team. Even in Game 1 of the Stanley Cup Final, Vegas overcame every deficit and obstacle presented to them.
In short, nothing changed with this team between their first game in October and Game One of the Stanley Cup Final.
Golden Knights All Have Something to Prove
There's no concrete answer to explain Vegas's sheer tenacity and success, but there's one prevalent theory that makes sense.
The majority of Vegas's expansion draft selections were comprised of players who had something to prove. It's something that nearly every player on that roster had in common.
It starts with the top line of Reilly Smith, Jon Marchessault, and William Karlsson. All three of those players were underused and undervalued in their former organizations. Their play in Vegas was resemblant of players who had a fire lit underneath their feet.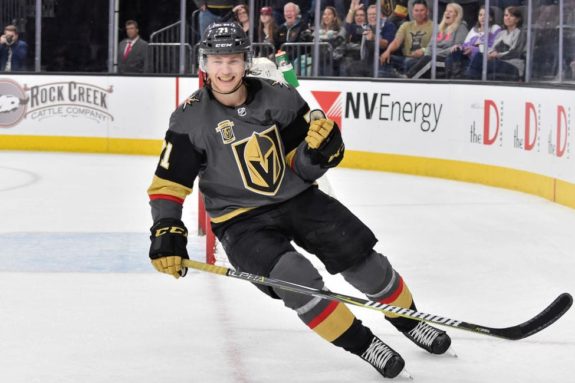 How about castoff David Perron, who's on his fifth team in four seasons? Not only has he found a home, but he set a career-high in points.
Erik Haula is another great example. In Minnesota, his ceiling was a third-line player. He destroyed that notion by posting 55 points with the Golden Knights. There's also Game 1 hero Tomas Nosek, who was buried in the Detroit Red Wings organization. How does he look now after scoring a game-winning goal in the Stanley Cup Final?
Almost all of the team's defencemen and goaltenders share a similar story. Guess what? Almost every single player on the Golden Knights had a career year statistically.
It's all culminated to create the perfect storm in Vegas. Under the beating desert sun, this collection of misfits is now poised to create history in the unlikeliest of places. At the same time, everyone watching this team make history must have the same thought creeping into their mind.
Never underestimate the power of the misfits.