Since the second half of the season began, Braden Holtby has not looked like the Vezina Trophy winner we are accustomed to seeing in goal for the Washington Capitals. Granted, we've seen flashes of the All-Star netminder that he can be, but we've also seen a decline in his stats and an increase in his personal frustration.
Statistics Not on Braden Holtby's Side
Since Jan. 2, Holtby has a dismal 3.35 GAA and at one point had a six-game losing streak, the longest of his career. In addition, Holtby has yet to record a shutout in the regular season. This is highly uncharacteristic for a goalie that has been consistently in the running for most shutouts in a season. The Lloydminster native said he wanted to use the Stadium Series game against Toronto as a reset and get back to form. He played a solid game, but did give up arguably two soft goals. The Stadium Series game didn't end up being the reset that Holtby had hoped for.
Noticing a decline in his starting goalie's play, bench boss Barry Trotz has been giving backup goalie Philipp Grubauer more playing time, perhaps just to give Holtby a rest from an incredibly high workload and also to give him a chance to be fresh for the playoffs. When asked about the rotation with Grubauer, Holtby said,
"I try to stay out of that conversation. I play when I am asked. I try be ready whenever."
A very direct and straight answer. Understandably so. It's tough enough rebounding from a slump and shrugging off the mounting pressure, but it's even harder when it's being pointed out constantly.
What seems to be the issue with the Caps number one goaltender? He has kept up with his pregame preparation, he looks confident and comfortable in the net, and is tracking the puck well. But, the pucks are still getting past him. Why?
The Capitals are experiencing a Stanley Cup hangover. Only without the Stanley Cup. After another year of being booted in the Eastern Conference semifinals, Washington was left with salary cap constraints and a youthful lineup. Defense has been a big question mark for the Capitals this season. Veteran players like Brooks Orpik, John Carlson, and Matt Niskanen have been mentoring the younger players of Washington's future.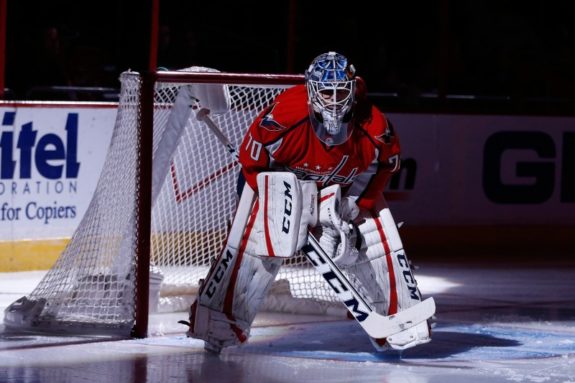 It's inevitable that mistakes are going to occur when youth is in the lineup. So, it isn't fair to place the blame solely on Braden Holtby. Washington's defense has given up an average of 32 shots per game. They aren't doing a spectacular job of clearing the loose pucks around the crease, they tend to lose man coverage, and have a tendency to begin puck-watching in their own zone. Holtby is aggressive and comes out to challenge the shooter, so when he makes the initial save, the defense must come and help.
To add insult to injury (literally) Holtby was kept out of the lineup against the Red Wings and will not play Saturday against the Canadiens due to a nagging lower-body injury. Undoubtedly, this is a precautionary move to ensure that he will be 100 percent come playoff time.
Grubauer Getting It Done
The Capitals will only have seven games remaining in the regular season after Saturday's match in Montreal. Grubauer, coming off a 1-0 shutout victory over the Detroit Red Wings, is scheduled to make his second consecutive start in Quebec.
Just because starter Braden Holtby is injured doesn't mean that Grubauer has not earned his playing time. Grubby has recorded ten victories and two shutouts since the New Year. NHL Network Analysts Kevin Weeks and Mike Rupp gave their takes on the goaltending situation in Washington:
Grubauer struggled early on this season and was open regarding his frustrations. Trotz once again tinkered with his lineups and began giving Philipp that first game of back-to-backs and home-and-home series. "He pushes Braden and Braden pushes him. He's battled, he's growing. He's physically stronger; probably mentally stronger. He's more experienced." Trotz said. Grubauer clearly has the confidence of his coaching staff. He's taking it and running with it for time being.
Who's Crease Is It Anyway?
The question is what will the Capitals do if Holtby returns from injury in the coming week? Will they give Holtby some final tune-up games before the Eastern Conference quarterfinals? Will they continue to ride Grubauer's stellar play? Or will Trotz rotate them both based on the rest of the schedule?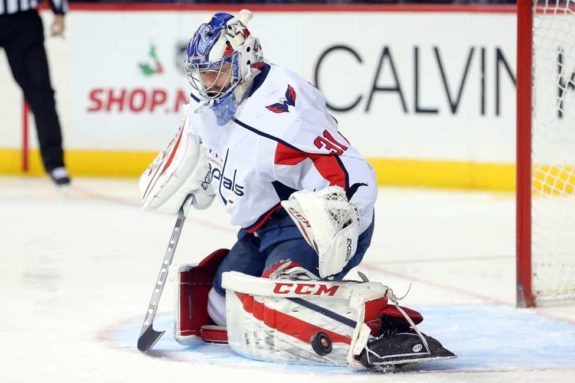 Expect to see Grubauer manning the crease for the next couple of games for the Capitals. He's feeling good, playing great, and you don't shelve a hot goalie. Further, Holtby is a franchise goalie. He is currently dealing with a small nagging lower-body injury. The Caps are sitting at the top of the Metropolitan Division. There is no need to rush an asset like Braden Holtby back to the crease. There's too great of a risk for him to sustain a worse injury. Washington needs to give him the time he needs to properly heal and give him some rest before round one.
The Capitals' next opponent is a depleted New York Rangers squad in a home-and-home series that will begin in Madison Square Garden on Monday. Grubauer should finish out the three-game road trip and Holtby should be in net on Wednesday if he's healthy.
However, don't rule out some surprises. In the wake of Braden Holtby's absence, the Caps have called up Pheonix Copley from the Hershey Bears. Trotz and general manager Brian MacLellan have been in touch regarding the salary cap. If Copley hasn't been returned to the minors, we may see him play the first game against the Rangers. This is a long shot, but it makes sense.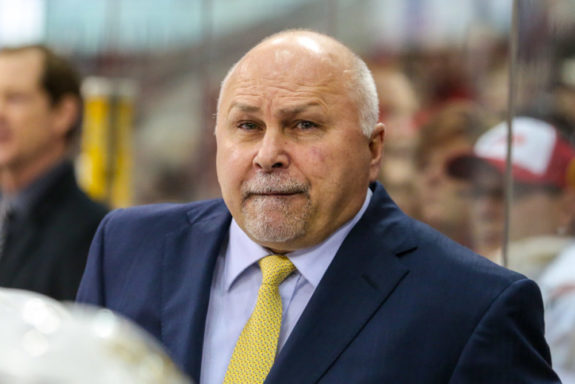 The Capitals pretty much have a playoff spot on lock, they are just jockeying for positioning. This could be the perfect opportunity to get Copley some NHL experience without a lot of risk. No matter what happens in the last two weeks of the season, it is Holtby's net for the playoffs, but Grubauer will be ready if/when called upon.