Brooks Laich, Troy Brouwer and Marcus Johansson comprise the Washington Capitals' second line. As the second line, their job is to be a consistent offensive threat; their job is to sustain whatever momentum has been gained the top 3; their job is to ensure that the Capitals don't become a one-dimensional team at even strength; their job is to create matchup problems for the opposition.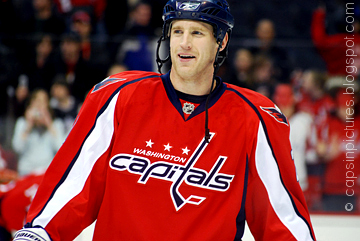 Brooks Laich, Troy Brouwer, and Marcus Johansson are terrible at their job.
The Numbers
Heading into Tuesday night's game, Laich, Brouwer and Johansson had compiled 9 goals, and 24 points. But 15 of those points belong to Johansson, and all but one of his was accrued either prior to his joining the second line on November 1st in Phildelphia, or on the power play, while not playing with his regular line mates. Similarly, four of Brouwer's five goals—as well as his lone assist—were recorded with the extra man. The remaining four goals and one assist? Those belong to the second line. And at the other end of the ice, their combined -16 rating is worst amongst all Caps' forward lines.
Meanwhile, Laich, Brouwer and Johansson spend more time on the ice than any Caps' forwards, save Alex Ovechkin and Nicklas Backstrom—they play substantially more than third liners Joel Ward, Jason Chimera, and Mikhail Grabovski, each of whom has more even strength goals than the entire second line combined. They're eating up minutes, and very few of them are positive.
Moving Forward
Unfortunately, there is no easy fix. Clearly this formula isn't working, but what changes can be made? With Ovechkin and Backstrom producing at all-star levels, there's no messing with the top line; and with Ward, Chimera and Grabovski all on pace for career years, breaking them up is also not an option.
Furthermore, is Adam Oates even willing to demote one or more of his second line forwards, all of whom is an established contributor in the NHL? And is one of the young fourth liners ready for top six minutes?
Whatever Adam Oates decides to do, whether it's messing with established chemistry, demoting a veteran, or promoting a rookie, it will inevitably be a bold move; but it will also be a necessary move. At the quarter mark of the season, this is no longer just a slow start: This is the Caps' second line, and this is not sustainable.