Rankings:
Minnesota
North Dakota
Boston College
Clarkson
Wisconsin
Cornell
Harvard
Boston University
Mercyhurst
Quinnipiac
The Round-Up
It took a late rally on the Gophers' part, but Minnesota escaped their series against St. Cloud State with their NCAA-record win streak still intact. The Gophers handled the Huskies on Friday night, winning 4-1 while outshooting them 45-20. However, St. Cloud State jumped out to a 2-0 lead on Saturday; Minnesota would tie it, but the Huskies regained a 3-2 lead and looked as if they were going to pull it off until the Gophers scored two goals with 2:02 remaining in the third to come away with the 4-3 victory. St. Cloud State did a much better job defensively against Minnesota on Saturday, but the Gophers battled through a lot of adversity in order to preserve the streak. They deserve a lot of credit for that even though they didn't completely dominate the Huskies.
Boston College had a very nice weekend as they beat Vermont and Northeastern with a pair of 6-1 wins. They played very well against the Catamounts, putting up 53 shots. The Eagles didn't really sit back in the third, even with a big lead, which is a good sign. They still scored six goals against the Huskies though their offense as a whole wasn't as strong. One really encouraging stat for Boston College from this weekend: their penalty kill was a perfect 9-for-9, and that's an area in which they've needed improvement. And while the talk around town is all about the men's team's Johnny Gaudreau, Haley Skarupa has been equally impressive this season. She currently leads the nation in scoring with 21 points in 11 games.
Clarkson beat Dartmouth 3-0 on Friday, but then suffered another tough loss to Harvard on Saturday, 2-0. They suffocated the Big Green's offense in their win, only yielding 11 shots on goal, and were solid once again against the Crimson, but unfortunately could not convert any of their own 36 shots into goals. That's becoming a real problem for the Golden Knights this year; even though they're controlling play, they need to find ways to score goals every game and they especially can't allow their opponents to capitalize on the few opportunities they give up. One thing that will help Clarkson start to score more consistently is an improved power play; it's currently at 14.29% on the season, and they were a combined 0-for-15 with the man-advantage this weekend.
Cornell had another good weekend, beating Rensselaer 3-1 and then erupting for an 8-1 victory over Union to remain unbeaten this season. Plenty of players are chipping in up front, which is great, but they're also getting very important contributions from the blue line between Hayleigh Cudmore, Cassandra Poudrier, and Alyssa Gagliardi. I think the Big Red would still like to control play more, and be a little more consistent at both ends of the rink, but overall they've shown very good focus this season and continued that in their games this weekend.
Harvard got past an underrated St. Lawrence squad with a 3-2 win, and then earned a huge 2-0 victory over Clarkson. The Crimson let up a bit after jumping out to a 3-2 lead against the Saints, who probably deserved a better fate; they'll need to avoid that in the future, especially when they face teams with deeper line-ups. However, Harvard showed good poise by taking advantage of their opportunities in both games this weekend, despite not really having the upper hand as far as possession in either game. They're still letting up a lot of shots, but Emerance Maschmeyer has been up to task so far and as long as she's in net, she'll give the Crimson a chance to win.
Boston University has been improving very nicely this season, though they still have yet to prove their worth against a top opponent. With a 5-1 win and a 4-2 win against Maine, the Terriers improved to 9-1-1 on the year. Their offense has really started to kick in of late. Sarah Lefort looks to be in good form again, and she's probably the most talented player on their roster when she's at the top of her game, so that's good news for the team. Jordan Juron and Rebecca Russo have so far transitioned well into secondary scoring roles. Though Boston University still has a lot of questions on the back-end, their penalty kill has been a big positive; it's been nothing less than excellent, with a 94.1% success rate.
Mercyhurst split with Robert Morris this weekend and, though they would've liked the sweep, the Colonials are not a bad team this year and so it wasn't an awful result. The Lakers did a good job against them on Friday, and Amanda Makela posted a 31-save shutout en route to a 2-0 win. But Robert Morris got off to a very fast start on Saturday, scoring three goals in a very good first period, and that was all they needed to secure a 3-2 win. What Mercyhurst needs more than anything is a full 60-minute effort; they've had stretches where they just can't get much going and they need to eliminate as many of those as possible.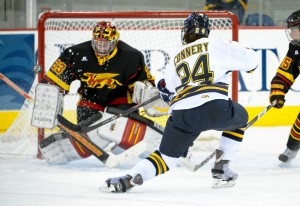 Quinnipiac dominated Brown this weekend in a 3-1 win, putting up 45 shots while the Bears could only muster up nine. They couldn't get another win against Yale, though, as they skated to a 0-0 tie with the Bulldogs. The Bobcats still fired another 44 shots in that game so the shutout is nothing to get too worked up about. Quinnipiac has so far shown that they're a balanced club, with plenty of firepower up front, a solid defensive corps, and great goaltending. As long as they can keep it up, they've got a very good chance to compete for a top spot in the conference this year.
In the News
This week's headlines from around the women's hockey world
The #Badgers will don these new jerseys out in Vail this weekend pic.twitter.com/R7xYMHEMh8

— Wisconsin Hockey (@BadgerWHockey) November 12, 2013
Three Stars of the Week
1. Emily Field, Junior, Forward, Boston College: She posted four goals and two assists for the Eagles in two games this weekend. She's got plenty of offensive potential and it's great for the Eagles that she's started to heat up.
2. Jillian Saulnier, Junior, Forward, Cornell: She also scored four goals and two assists this weekend. Her vision and the rest of her skill are still there, but she's even more dangerous this year as she's shown an improved scoring touch; Saulnier's already only one goal away from reaching her total from last season.
3. Noora Räty, Goaltender, Finland: Alright, so maybe she doesn't play college hockey anymore, but she still turned in an incredible 58-save performance against the Americans in Lake Placid on Friday, one that's very worthy of applause.
Play of the Week
The absolutely absurd passing on this Boston College power play goal.
Gabriella is now in her third season of covering NCAA and international women's hockey for The Hockey Writers. She is the founding editor of At Even Strength, a website dedicated to providing full-time coverage and analysis of women's hockey. She is currently working towards a degree in Communication at the University of North Dakota, and is also interning with UND Athletic Media Relations. She can be reached on Twitter (@gabfun) or via e-mail (gfundaro10 [at] gmail [dot] com).