For a junior hockey player, getting drafted first overall is a dream come true. When a team has the option of choosing any prospect, but decides it wants you above anyone else, that's a huge honor. But young players usually don't realize the scrutiny and pressure that comes along with that draft position, and the level of pressure has a lot to do with which city they're drafted to.
Nathan MacKinnon, this year's number one pick, currently has two goals and 11 points in 17 games. Not huge numbers, but he's playing well, and fitting into the NHL, but the hockey world isn't talking much about him. There are a number of reasons for that. Firstly, the Avalanche are playing extremely well, something that most didn't expect. They're winning games and when a team is winning there's much less reason for nit-picking. Secondly, his teammate Matt Duchene is emerging as an absolute superstar, and absorbing most of the attention. And thirdly, his coach is Patrick Roy, who carries with him quite a legacy. The biggest factor for the lack of attention on MacKinnon? Colorado, while long known to be a strong hockey market, isn't considered a hockey hotbed as much as other cities, where the NHL gets 100% of the focus all the time.
A Recent History of First Overall Picks
From the lock-out season of 2004, until now, we can rank each first overall pick in different categories.
Superstars:
Alex Ovechkin (2004)
Sidney Crosby (2005)
Patrick Kane (2007)
Steven Stamkos (2008)
They should become superstars:
John Tavares (2009)
Taylor Hall (2010)
We aren't sure yet
Ryan Nugent-Hopkins (2011)
Nathan MacKinnon (2013)
Why was he drafted first?
Erik Johnson (2006)
Which category would you place Nail Yakupov in? Probably "we aren't sure yet" because it's way too early to tell. But judging by some fan reactions, he's already in "why was he drafted first" category.
Trade Rumors
Igor Larionov says he's got a trip planned to Edmonton to discuss how Nail Yakupov is being used. Pretty unhappy.

— Craig Custance (@CraigCustance) November 11, 2013
Yakupov's agent, known for his boldness, isn't happy with his clients playing time, and stated that Yakupov would be open to a trade, that he would go anywhere as long as he could play. It's an agent's role to protect his client, so all of this news isn't surprising. But pretty much since the start of this season, Yakupov has been under fire. Why is he the one taking all the heat?
The Oilers are a terrible team. They have bad goaltending, and they seem incapable of playing team defense. The team as a whole is responsible for the defensive failures. Not one player, and not just the blueline. Some nights, it really looks like the Oilers just don't want to play defense. Yakupov now has two goals on the season, but it took him a long time to get his first. When an offensively gifted player isn't scoring, usually you'd hope he can contribute in other ways, but Yakupov found himself on the ice for two many goals against, leading to healthy scratches and limited playing time.
Yakupov is a -14, and only has four points so far. Has he taken a step back? Is the NHL game running away from him? His agent would argue that Yakupov isn't getting the opportunities to produce. The reality is, Yakupov is so young, and hasn't even played a full season in the NHL yet. Last year, in retrospect, maybe the Oilers should have returned him to Junior. There was pressure on them, though, because Yakupov stated several times he would only play in the NHL or in Europe. Now he feels that he should be given more playing time. Not the way to win fans around here.
Did the Oilers Draft the Wrong Player?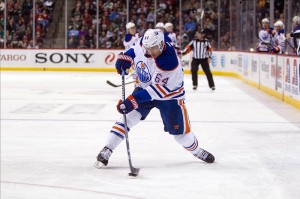 The comments coming from Yakupov and his agent aren't doing him any favors, because it plays right into the notion that Russian players would rather be in the KHL, and don't want to pay their dues in the North America. His slump confirms people's bias that Russian players are enigmatic. It might not be fair (it's not fair at all), but it's the reality of our hockey culture. Are the Oilers second guessing their choice of Yakupov? There had been some thought surrounding that draft that many people in the Oilers organization wanted to choose defenseman Ryan Murray first, but the team ultimately went with Yakupov.
Murray has the look of a stud defenseman, albeit through a very small sample size. Hindsight is always 20/20, but the good ol' Canadian boy versus the Russian enigma is starting to rear it's ugly head. But, as I said, Yakupov is doing himself no favors. Perhaps the Oilers rushed him into the NHL. It can be argued they aren't developing him properly. He isn't being insulated like so many other young players are, and his confidence is at an all-time low.
What Now?
It doesn't appear that the Oilers are prepared to give up on him and trade him away, but the whole saga is becoming a distraction to a team in the midst of a dismal season. Yakupov is frustrated, and his frustrations ended up going public. Again, Yakupov isn't the reason the team is losing, but all of the drama surrounding him has put the focus squarely on him.
The Oilers chose Yakupov. They decided that he was going to be the next piece to the puzzle. They are literally a handful of games into his NHL career. It's been a rocky road to be sure, but it's the team job to figure out how to handle this situation. Maybe if the team was 12-4, no one would care how many points a 19 year-old kid has.
Nail Yakupov is bound by many things that are out of his control, mainly his draft position and his nationality. We don't know exactly went on with him and his agent. Maybe he wanted all of this to go public to force the Oilers hand yet again. Lots of maybe, lots of speculation. The team's win/loss record is the real problem here. Yakupov is just the perfect scapegoat.
Marcy, a former hockey player, is a hockey correspondent on CTV News and TSN radio. She began her career as a Sports Journalist in 2009 and has been part of The Hockey Writers since 2010, where she is currently a senior writer and editor.