Losing to the Islanders 3-1 on Tuesday night meant that the Nashville Predators were not only on a 3-game losing streak, but that they were outscored 13-1 in those games.   While giving up 5-goal game to offensive powerhouses like the New Jersey Devils and the Winnipeg Jets are concerning in their own right, the Predators are flat out desperate for offense.  While it might take a considerable amount to pry the young, unhappy former 1st overall pick away from the Oilers, Nail Yakupov could be just the key to getting the Predators on the scoreboard nightly.
Didn't the Kostitsyns and Radulov Teach Us Anything?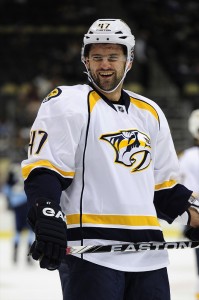 There aren't many fans (and probably many in Nashville's front office) that look back at the past few years and have trouble wrapping their heads around what exactly happened with Andrei and Sergei Kostitsyn and Russian star Alexander Radulov.  Radulov, after being drafted by the Predators in 2006, playing 2 seasons and putting 95 points, bolted for the colder pastures of Ufa and the Kontinental Hockey League, where he would spend the next 4 years.
After finishing his fourth season with Ufa, Radulov returned for a tabloid-filled adventure with the Predators, including a suspension during the second-round playoff series against the Coyotes.  After the Predators were eliminated, the Predators informed Radulov that Nashville wasn't planning on re-signing him.
When the Predators acquired Andrei Kostitsyn in 2012, to play on the same team with his brother Sergei, who the Predators traded for in 2010, they expected to see some of the offensive flair that he showed in the top-six in Montreal.  While in Nashville, rumors of Sergei's lack of ethic sprung up, resulting in Trotz scratching him.  Although Sergei would go on to 118 points in his time with the Predators, Andrei would only spend 19 regular season and 8 playoff games in a Predators jersey.
Now why would 3 players, who all have had significantly different professional experiences playing hockey in North America.  Despite considerable levels of production from Sergei Kostitsyn and Alexander Radulov in their time in Nashville, many are still concerned with the possibility of trading for any Russian player, especially one that has any reason to bolt to Russia.
The enigmatic Russian, with an eye towards the KHL, is a concept that has reared its head across the league for a few years now, but with Radulov still fresh, is a concern for many Predators fans.  While in Edmonton, Yakupov has seemed to show some of the same signs that resulted in Radulov heading to Ufa.
The reality is that Yakupov is not Radulov or the Kostitsyns.  The seed of Yakupov's displeasure with the Oilers is not playing enough and in the right situation, whereas Nail would have more than enough chances to play the star in Nashville.  Building off a young team, with a desperate need for scoring, Yakupov could come to Nashville and provide a spark for a team on offense.
What Would It Take to Acquire Yakupov?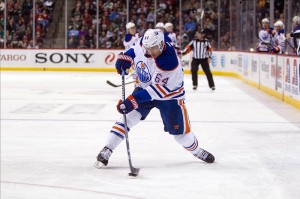 Although its always nice to consider what Yakupov could do wearing a Predators jersey, the conversation must be around what it would take to get an unhappy, former 1st overall pick away from the Oilers.  The best way to figure out a fair market value is to look at past trades of similar younger players.
The 6th worst team in the league when it comes to scoring goals is in desperate need for what Yakupov can provide and the Oilers are well-aware of that.  In 2011, the St. Louis Blues sent former No. 1 overall pick Erik Johnson, forward Jay McClement and a first-round pick to the Avalanche for winger Chris Stewart, defenseman Kevin Shattenkirk and a second-round draft choice.  While Johnson was not the same defenseman that he was projected to be when he was drafted, primarily due to injury, the price paid was relatively low.
The good news is that the Oilers and Predators should match-up well as trading partners, as the Predators strongest asset is its defensive depth, while the Oilers are heavy upfront.  The return most likely necessary to at least start the conversation with Craig MacTavish and the Oilers is a NHL defenseman, a top forward prospect, and a 1st or 2nd round pick.
So what that could look like for the Predators is either Ryan Ellis or Kevin Klein, someone like Colton Sissons, Taylor Beck, or Pontus Aberg, and a draft pick.  While Looking at what the Blues got in return from the Avalanche may seem like a lot, at the time, Shattenkirk was a relatively unproven commodity and Stewart was considered streaky.
If Yakupov is actually on the market and his agent is open to other opportunities, it would seem like the Predators and Oilers could have some mutual desire to make this happen.  The Predators would become a much stronger offensive team with a Nail Yakupov in the top-six and should have MacTavish's number on speed dial.
Outside of working in politics, Nick also loves watching hockey at all levels. In addition to writing about the Nashville Predators for The Hockey Writers, Nick also writes for Faceoff Factor about his favorite team, the Pittsburgh Penguins.