Washington Capitals center Evgeny Kuznetsov said it's been somewhat hard to process the reality of the 2017-18 campaign, a year of many milestones, strides forward and a Stanley Cup championship.
"It's pretty hard to understand what you've done, and the more days, you kind of understand what you done," Kuznetsov said.
The 26-year-old capped off a career year with a strong showing in the postseason that led Washington its first title, all while earning himself the role as the Capitals' top line center.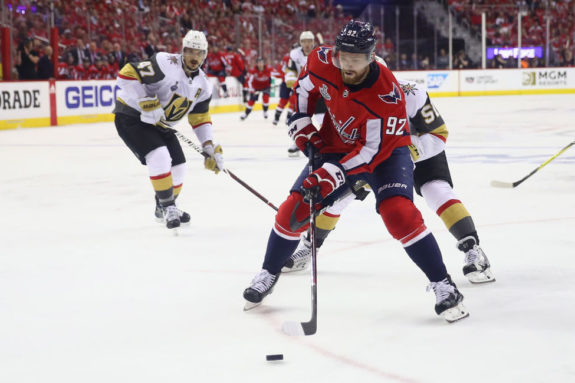 Looking back, as he gets some rest (he admitted one of the nicest parts of the Game 5 championship victory was the sleep on the plane ride home), he said ironically that he doesn't want to believe he won just yet; he wants to hold onto the postseason run just a bit longer.
"I want to stretch that time a little bit more, enjoy it a little bit more," Kuznetsov said.
Kuznetsov's Career Year & Maturity
Hailing from Russia, Kuznetsov has seen his game, as well as his life, change with his transition from the KHL to the NHL. Since his days as a highly-anticipated rookie, Kuznetsov's game has grown into that of an elite center.
In 79 games this season, he put up a career-high 27 goals and 83 points, marking an All-Star season and the best of his career. However, he truly stole the show and opened eyes in the playoffs, leading all skaters in playoff scoring with 12 goals and 32 points and being a top contender for the Conn Smythe.
"He is unbelievable skater," Jakub Vrana said. "Kuzy is the guy who can score goals, who can make great plays."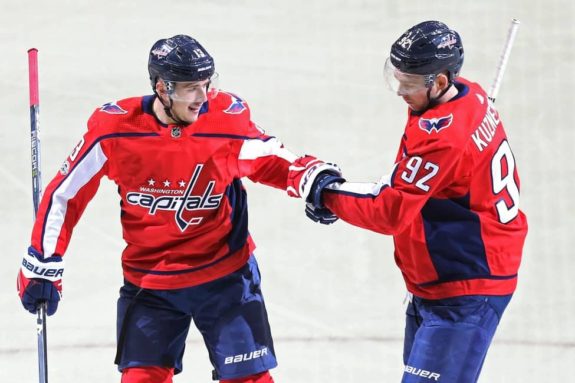 In addition to watching him grow his game, captain and linemate Alex Ovechkin noted his maturity, and how his play, skill level and expertise make him someone beyond his years.
"He still young, he only play, what 10 games, but he act like he's a 1,000 game player," Ovechkin joked.
Kuznetsov's Transition & Image
Entering the league, Kuznetsov moved to North America and had to immerse himself in a new lifestyle. He reflected on that time, acknowledging his growth and development that came with his transition on and off the ice.
"I did a lot of change in my lifestyle, the language, you have to change so many things in your life when you come over here," Kuznetsov said. "It's not easy sometimes, but when you make a couple changes, it make you better, it help you. It's not hard to change, I always like when you change a few things."
Washington's top-line center has also created an image, a brand for himself that put him on the radar this year. Not only does he show great poise with the puck and speed, his personality on and off the ice is something that powers his teammates.
"Most of the time he's joking around, but that can be a good thing to keep you relaxed," Vrana said. "He's funny like that."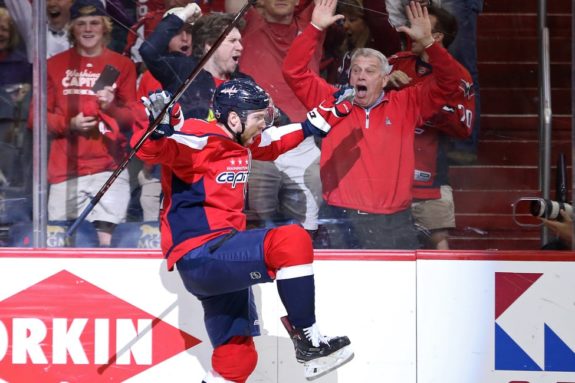 His unwavering sense of humor leads him to joke around a lot with his teammates and was on full display at the Capitals' Cup parade in D.C. Most prominently, though, his personality could be summed up by his attention-grabbing "bird" celebration, which he said his daughter loves. However, while it has captured the attention of many fans around the league, Don Cherry ridiculed the celebration and nicknamed him "the Birdman."
But even then, Kuznetsov remains unfazed, showing even more growth in his game; he takes hate with a grain of salt.
"If he's talking about you, it means he thinking about you," Kuznetsov said with a grin. "Even if it's bad stuff, it's legit. If you tell me eight years ago, I give you some emotional answer some answers you need from me, but right now, you know, I don't really care. I more care about my family what my teammates think about me… he watch a few of my goals this summer."
Over the offseason, Kuznetsov said he plans to bring the Cup back to Russia and his old hockey school. Beyond that, with the victory, he admitted it can be difficult to focus on the upcoming season, especially when there's still fatigue from playing over 100 games en route to the Cup. However, he said he's ready to rise to the occasion of higher expectations.
"You have to expect the pressure next year and the people gonna expect it more next year, and I'm that guy who always wants to get better a little bit," Kuznetsov said.