It doesn't take a hockey guru to know that Detroit fans have a fickle opinion of general manager Ken Holland. Unfortunately for Kenny, he has had to bear the brunt of the blame for the Red Wings shortcomings. To the general public, Holland represents the days of old and a dead dynasty. Now serving in his 21st year as GM, Holland has a long line of displeased fans waiting for him to stumble. Though there are a few who support the seasoned GM's development ambitions for the Wings, they are the minority among fans. Does he really deserve such censure?
Ken Holland's History with Hockey
Ken Holland's hockey history began in the 1975 NHL Entry Draft. Holland was selected by the Toronto Maple Leafs 188nd overall out of the WCHL. Standing guard between the pipes almost every game out of every season, Holland worked on his tending skills. Unfortunately for Ken, however, he played in only four NHL games over the course of his playing career. In his first game with the Hartford Whalers, he allowed a devastating seven goals against. Moving on from Hartford, Kenny packed his bags and headed back to the AHL. There he remained till the Wings picked him up in the 1983-84 season.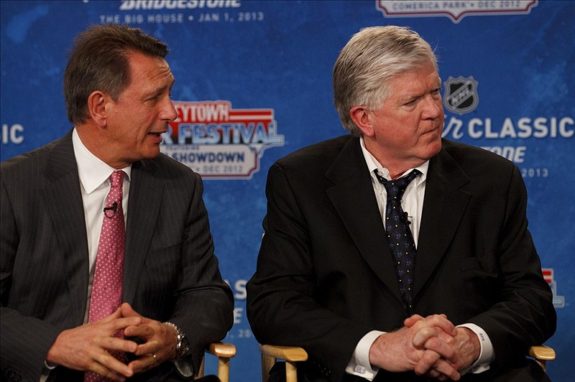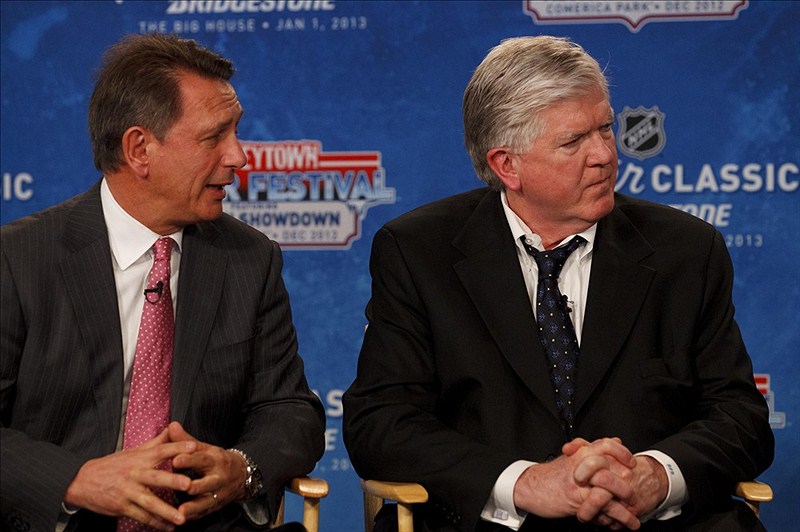 Holland spent the majority of his season with the Adirondack Red Wings, playing in 42 games. His first season with Adirondack, Kenny played 2,495 minutes, earned three shutouts and made 1,033 saves. He was moved to Detroit for just three games and was thereafter, sent back to Adirondack to finish out his playing career in 1985.
Mike Ilitch grew fond of the goaltender during his time with the Wings in the eighties. Though not a superstar between the pipes, Holland could potentially be an asset off-ice. Hired as the amateur scouting director and later as the assistant GM, Holland proved his bird-dog capabilities for sniffing out fresh talent. He was officially hired as general manager in 1997.
Through his background in scouting and negotiating prowess, Holland manned the helm for the Wings – leading them to three Stanley Cups and four Presidents Trophies. Along with a host of other records, Holland has done more than enough to prove his worth. Throughout the Wings' incredible 25-season long playoff run, fans rejoiced in the leadership that brought them their beloved Red Wings.
Detroit Fans up in Arms Over Holland
Prior to this season's draft, however, fans haven't been singing Mr. Holland's praises. A quick social media search will find any reader in the clutches of a furious fan base. A deeper trip down the rabbit trail and you will stumble upon article after article calling for his firing, accusing him of single-handedly destroying the Wings, or just being inept.
Unfortunately for Holland, the younger crowd is especially unhappy with him. Though Holland can be credited with the acquisition of the youngsters' favorites, such as Dylan Larkin, Anthony Mantha, and Andreas Athanasiou, there remains a degree of animosity.  The younger generation only knows the glory of victory, and the older generation only chooses to see the past. Those two groups comprise the majority of the general public that calls themselves Wings fans.
I remember a time when the @DetroitRedWings were a destination for top free agents. Thanks to the ineptitude of Ken Holland they don't even get a conversation

— Trace Coughlin (@TraceCoughlin) June 27, 2018
Through the discord and insult-slinging, Holland has remained confident, "I've been very, very lucky, and at the same time, I've been very good at what I do. Whatever happens, I'm OK with it. I really am at peace." Kenny has maintained his firm belief in the culture of the Wings along with a renewed focus on fresh talent. Though bogged down by a few bad contracts, Ken was still able to score some of the best picks the team has seen in years this past draft. While selecting a host of defenseman, forwards and goaltenders, Holland has also managed to guarantee at least ten picks for next season's draft as well.
The social media world went wild for the newest Red Wings additions during draft weekend, hailing Holland as the smartest GM in the league. Not more than two days later, the tirade of Holland-themed insults arose once more in light of Mike Green still being a potential blue-liner along with Filppula and Vanek possibly returning. Once more, the fan base's' good opinion of Holland was short lived.
Ken Holland Remains Effective Despite Critique
Despite the team's effectiveness waining in past seasons, Ken Holland is still an intelligent general manager.
The Ilitch family, beginning with Mike and later on with son, Chris, believed in Holland's ability to spot talent. His leadership can be credited for the acquisition of this last draft's amazing pool of talent along with draft picks in the past. Yes, it's been a rocky road for Wings fans over the last few seasons. We like winning, its fun. It isn't terribly wonderful to lose regularly. However, all hope cannot be lost when a team hits a few rough seasons. We as a team are headlined by capable leadership and players – new and old. Jamie Samuelsen of the Detroit News sums it up wonderfully by saying, "Holland was thought to be one of the best executives in sports a decade ago. Guys like that don't forget how to do the job."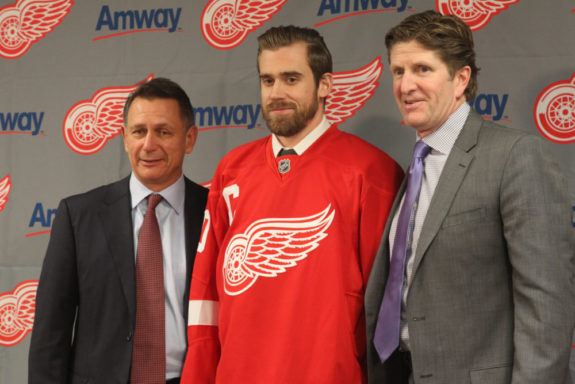 Ken Holland is focused, driven and backed by decades of success with the Red Wings. On top of his personal merits, he is surrounded by scouts and advisors that understand the league and the game worldwide – better than anyone. Though the frustrations as a fan can be trying, we collectively need to believe in the leadership and the team. As teams are rebuilding, so are their fan bases. The "fair weather" tendencies of fandoms are inevitable, however, a team cannot succeed if their fans don't believe they can.
Ken Holland has more than 20 years as a general manager under his belt, longer than the newest draft picks have been alive. Though the current struggles of the Wings are upsetting, there is hope. Holland and the Red Wings team know what they're doing – all we have to do is trust them.