Back in September, the Washington Capitals brought on free agent head coach Peter Laviolette, making him the 19th coach in the team's history.
Laviolette started his head coaching career with the New York Islanders in 2001. From then on, he coached the Carolina Hurricanes, Philadelphia Flyers, and Nashville Predators. With a career coaching record of 637-425-25, he ranks second in wins among U.S.-born coaches and 16th in NHL history.
Laviolette has proved he is an experienced coach.
In his 18 years of head coaching, he has a postseason record of 75-68. He led the Hurricanes to a Stanley Cup championship in 2006 and led both the Flyers and Predators to Cup Final appearances. Over the years, he has proved that he's a winning coach that could lead a team to the promised land. He has the experience to properly manage players, especially if they're a team with an older core.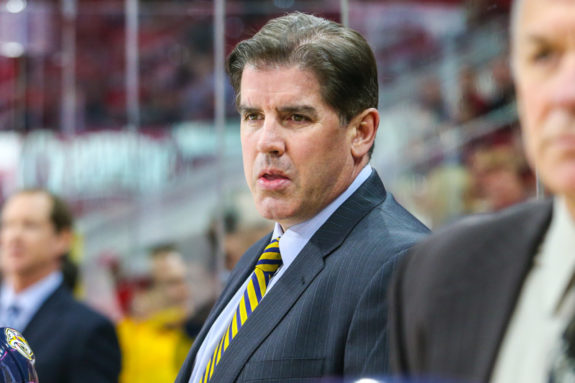 The Capitals hired someone they believe has an effective coaching style. In his stints with his last three squads, he improved the Hurricanes from a 76-point team the year before, to 112 points, and a Stanley Cup champion the year after. In Philadelphia, his team improved to 106 points after finishing with 88 points his inaugural season with the team, and led the Predators to 104 points his first year, up from 88 points the season prior.
The Time Is Now for Laviolette
Laviolette's coaching style leans more on the traditional side when compared to the new age of NHL coaching. He's a stern, passionate, coach with a win at all costs mindset. After the team fired former coach Todd Reirden due to consecutive first-round playoff exits, general manager Brian MacLellan admitted that an experienced coach who can rile up players and hold them accountable would be beneficial for the team. In the Alex Ovechkin era, Laviolette will only be the second head coach with past coaching experience.
Now is the perfect time for a coach with Laviolette's style to be running a team like the Capitals. Washington previously hired a coach similar to Laviolette in Barry Trotz. Both these seasoned coaches are experienced enough to know the necessary steps it takes to make a team elite, especially when it comes to earning respect from their veterans.
When Trotz was aboard, the team had two consecutive early exits in the playoffs. They also struggled with the coach during some parts of his tenure before winning the Cup in 2017-18. When you're coaching a younger group, respect is everything. If coaches can't earn respect in the locker room, their job ultimately becomes near impossible.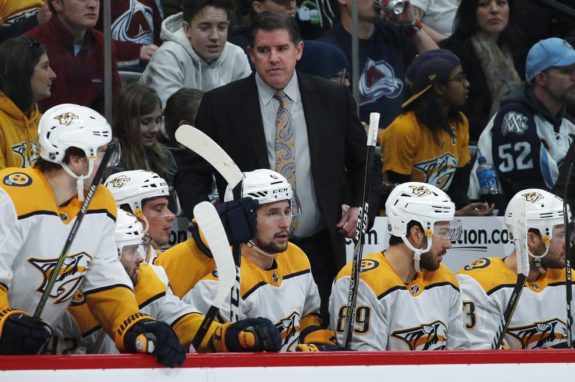 Laviolette is entering a more mature Capitals locker room. The core has already experienced a similar coaching style. Only this time, they're more mature thus more willing to experience new strategies that Laviolette can bring to the table. In 13 full seasons, his teams have ranked in the top-10 in goals seven times. The Capitals have enough firepower to easily surpass Tampa Bay for next year's top goals scored category if injuries don't hinder them.
How Will Players React to His Coaching Style?
The Capitals core is comprised of mostly veteran talent – this merger between the team and Laviolette couldn't have come at a better time. Unlike a younger team like the Ottawa Senators, Laviolette's coaching style would be too brash for younger players. He would most likely clash against inexperienced egos rather than experienced players who know what it takes to win a Cup.
He's a coach who holds his players responsible and a more seasoned cast will benefit from this. He also likes to develop young players, giving them a chance to prove themselves. The only difference is that Laviolette has a lot more playoff experience than Capitals coaches of memory and has been a better postseason performer, so his words may carry more value through the team.
With Reirden's departure segues the Laviolette era. Whether it was a lack of coaching experience or chemistry within the team, Reirden could not bring the Capitals far in the playoffs. Adding insult to injury, they lost to Trotz's defensive-minded Islanders in the bubble. Laviolette has the expertise to turn this club around to greater heights next year if all goes to plan, and that COVID-19 doesn't cause another temporary/permanent halt to the season.
Laviolette is a coach that gives chances to young players and is fair to his veterans. He performs well under pressure, and come playoff time, he has proven that his teams can make it to the Final. With an older, more experienced core under his belt, he should have no problem getting his message across when need be. The Capitals are looking to win now, and they may have found the right person to bring them there. 
---
---