If and when 2020-21 NHL training camps get underway, the most hotly competitive battle at the Winnipeg Jets' camp will be for a left-side slot on their defense corp.
Josh Morrissey is obviously their top-pairing left-shot defenseman, but after him, the depth chart is rather murky, with six players in the mix for two spots.
Let's take a brief look at each candidate and do some early prognosticating about their chances.
Derek Forbort
Forbort, signed by the Jets as a UFA in mid-October to a one-year deal worth $1 million, is a veteran of 275 career games and among the most likely to begin the season in a top-four role.
With the Los Angeles Kings, who chose him 15th overall in the 2010 NHL Entry Draft, he was a top-four mainstay, mostly skating with Drew Doughty. He was traded to the Calgary Flames at February's trade deadline and was part of the Flames' squad that dispatched the Jets in this summer's Stanley Cup Qualifying Round.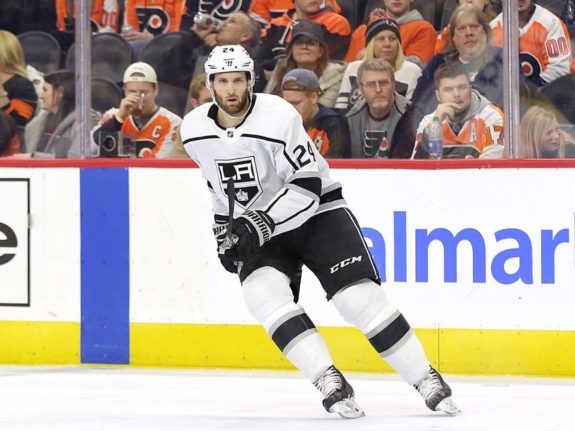 Forbort is noted as being reliable, strong on the penalty kill, a good shot blocker, and capable of logging big minutes: he's skated an average of 19:55 in his five-year NHL career.
Related: Can Derek Forbort Help the Jets' Defence?
However, whether he is a true top-four player apart from an elite talent like Doughty is debatable, and he has limited offensive upside, recording just six goals and 53 points in his career. However, he is blessed with something you can't teach: size. Standing 6-foot-4 and weighing 220-pounds, he will beef up a blue line that has been diminutive since Dustin Byfuglien, Ben Chiarot, and Tyler Myers all departed.
There's also a familiarity factor with Forbort among other Jets' d-men. Hailing from Duluth, Minnesota, Forbort is offseason training partners with right-hander Neal Pionk and top prospect Dylan Samberg, who are also members of the Jets' so-called "Minnesota Mafia."
Verdict: Not an elite or flashy top-four option, but a safe choice and perhaps the frontrunner anyway.
Nathan Beaulieu
With a new two-year deal in his pocket, Beaulieu is looking for a bounce-back campaign.
The 27-year-old has suited up for 56 games for the Jets since being acquired from the Buffalo Sabres in February, 2019. recording one goal and 12 assists for 13 points while dishing out 89 hits and blocking 56 shots.
Beaulieu's 2019-20 was a bit of a write-off as he suffered a number of injuries that limited him to 38 games and his dog was also run over and killed. However, when healthy, the 6-foot-2, 200-pounder is a sturdy and rugged player who can inject some heaviness and grit to the Jets' back end. He is a also a strong transition player who excels in the neutral zone and at moving the puck.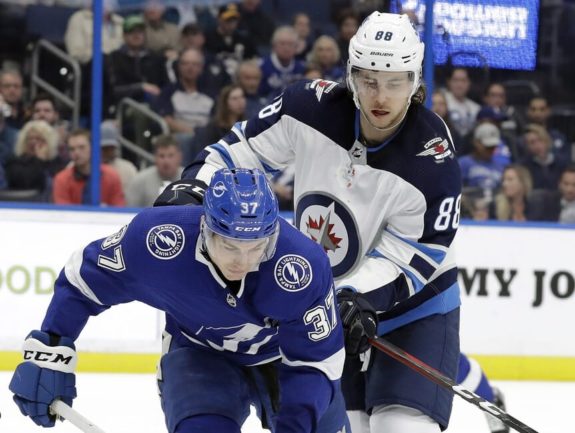 Beaulieu played a top-pairing role down the stretch in 2018-19, but that was borne of necessity, not an indicator of his true skill. Despite his assets, he has overall struggled to live up to the expectations of him as a former-first rounder, as he can struggle without the puck and is prone to giving up high-danger chances and passes to the slot.
Verdict: When used correctly, a capable third-pairing defenseman.
Ville Heinola
One of the Jets' top-two defensive prospects, the first-round 2019 pick will be given every opportunity to claim a top-four role in 2020-21.
If he's ready for prime time, it would go a long way to shoring up a blue line that was downright miserable on most nights last season and relied on Vezina-winner Connor Hellebuyck to bail them out.
The 19-year-old, playing with SM-liiga club Lukko Rauma while the NHL figures out how to roll out the season, has played 11 games there as of this writing, recording five assists and skating 18:20 per game.
That's where Heinola finished last season after turning heads by making the Jets out of training camp and playing well beyond his years in eight games, recording one goal and four assists while skating 18:04.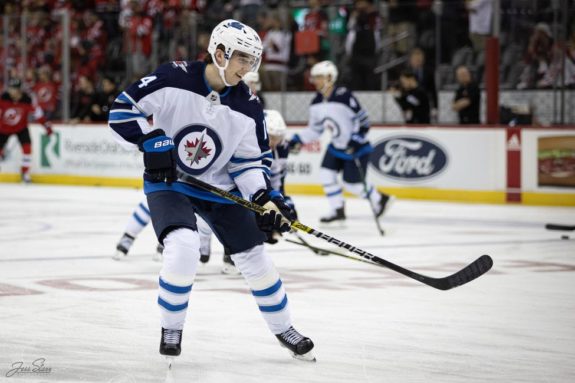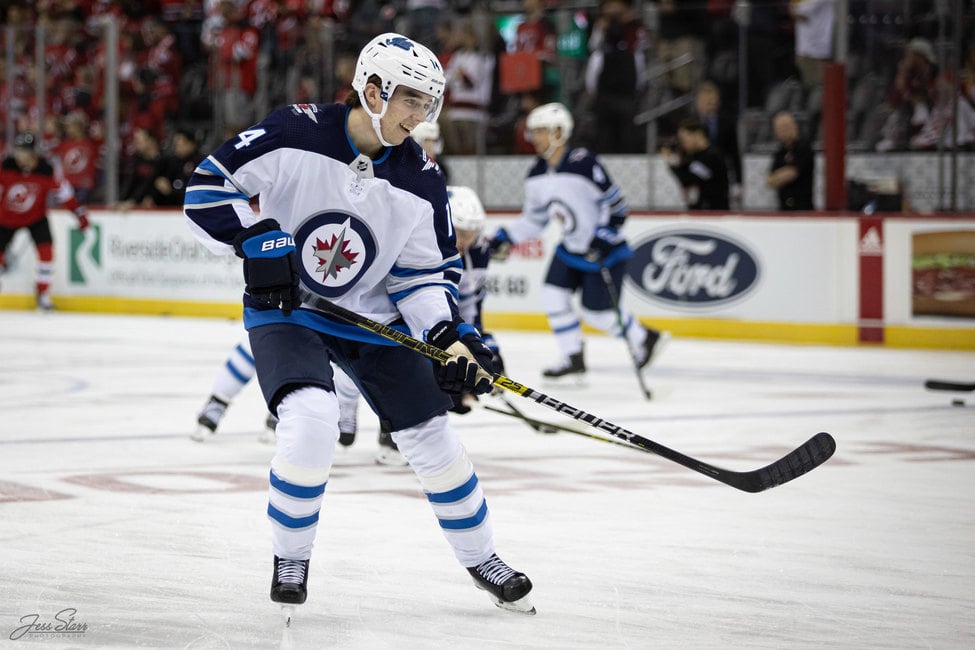 Heinola has great hockey IQ and vision, makes efficient and effective reads more often than not, and moves the puck extremely well. There's no doubt he'll be a great player, but he's still young.
Verdict: Stud defenceman with huge upside, but a risk to throw into the top-four fire.
Dylan Samberg
The other Jets top defensive prospect, Samberg is a physical, mobile, and well-rounded player who could do big things.
Standing 6-foot-4 and weighing in at 225 pounds, Samberg oozes potential. He spent the past three seasons with the University of Minnesota/Duluth Bulldogs, and in 2019-20, recorded one goal and 20 assists for 21 points in 38 games while logging big minutes. He also suited up for the U.S. at a pair of World Juniors.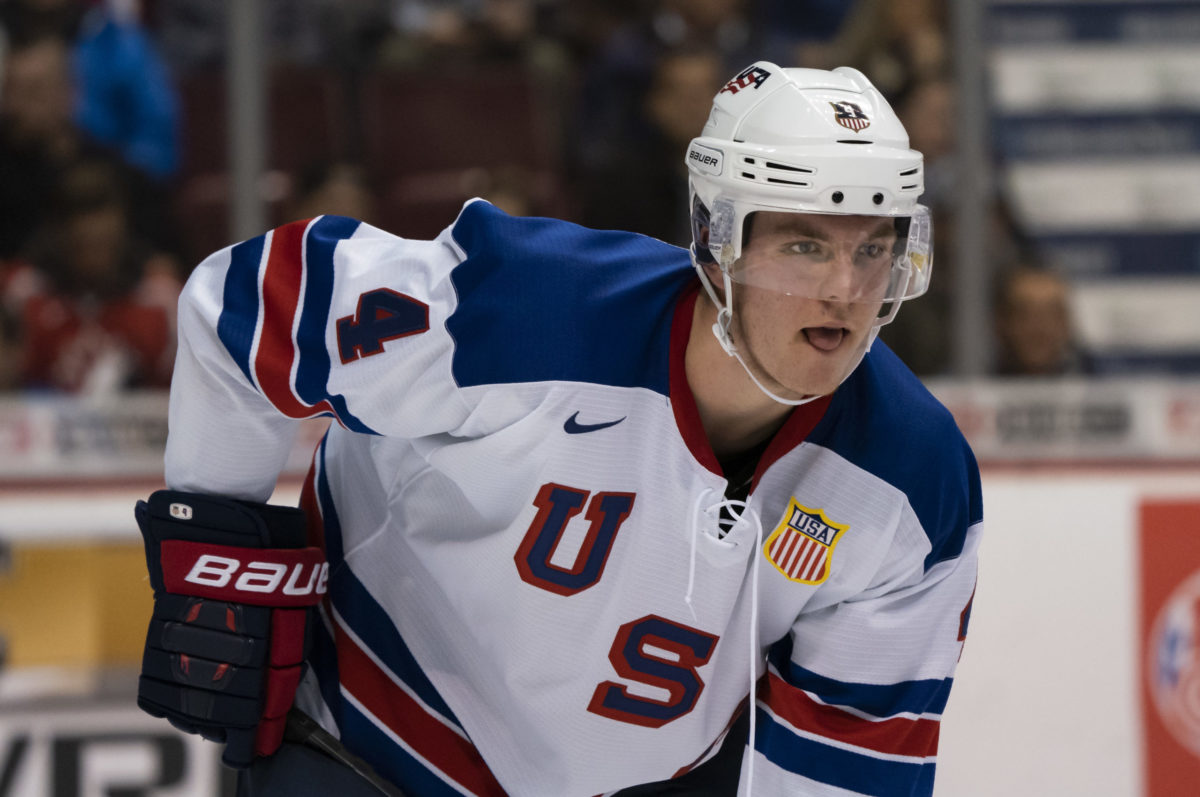 The Jets wanted the 2017 second-rounder to turn pro before last season but the now 21-year-old opted to return to the Bulldogs to pursue a third-straight NCAA Frozen Four championship. Unfortunately, their chance at a three-peat was kiboshed when the season was cancelled due to COVID-19.
Related: Winnipeg Jets Top 10 Prospects for 2020-21
Samberg inked an ELC this spring and, like Heinola, will be given every opportunity to be an NHL regular.
Verdict: A stud who oozes potential but is a risk to bet too heavily on as a rookie.
Sami Niku
Last season, a full-time spot on the Jets' blue line was Sami Niku's to lose, and he lost it.
A 2019-20 riddled with injuries limited the slick-skating Finn to 17 NHL games. Since his outstanding 2017-18 rookie campaign with the Moose — in which he recorded 18 goals and 34 assists and won the Eddie Shore Award as the AHL's top defenseman — Niku has had his share of struggles.
However, with a new two-year deal in his back pocket, the 198th-overall 2015 pick will be more determined than ever. With Heinola and Samberg rising up the ranks, Niku will have to prove that he's not only an excellent puck-mover with great offensive awareness, but also that he's durable and defensively adept enough to hack it as a full-time NHLer.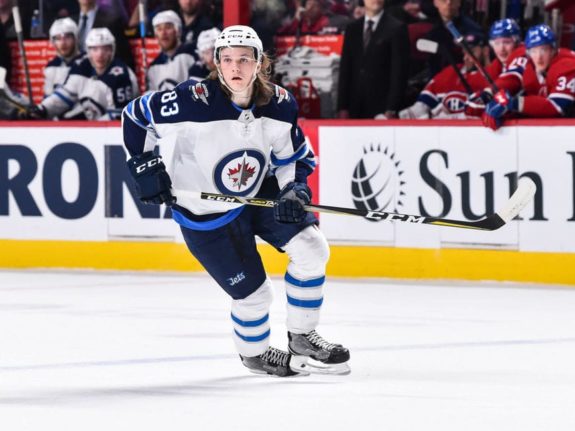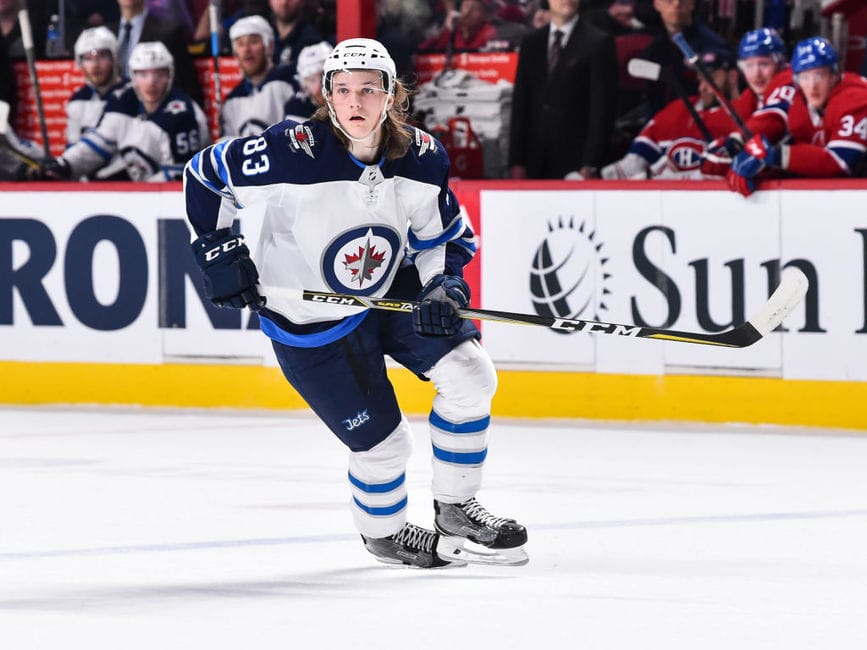 Niku actually prefers to play on the right, but he won't knock off Dylan DeMelo, Neal Pionk, or Tucker Poolman. All routes to the NHL go through the left side.
However, he's increasingly on the outside looking in; it was reported the Jets were shopping him before they ultimately decided to re-up him instead.
Verdict: Offensively gifted, potentially impactful late-round find who hasn't been able to pull it all together yet.
Luca Sbisa
Jets GM Kevin Cheveldayoff got on a bit of a spree last season of signing fringe defenseman and waiver-wire castoffs. Luca Sbisa's the only one left after re-upping on a one-year contract (Carl Dahlstrom was traded to the Vegas Golden Knights for Paul Stastny and Anthony Bitetto signed as a UFA with the New York Rangers.)
Related: Jets' Trade for Stastny is a Smart Stop-Gap Solution
The 30-year-old Sbisa was the best of the trio anyway, suiting up for 44 games and scoring two goals, registering eight assists, delivering 91 hits, and blocking 71 shots while playing generally serviceable defence.
The veteran of 548-career games played an average of 17:56 last season, but don't expect him to play nearly as prominent a role with the Jets in 2020-21. He'll only suit up when injuries arise.
Verdict: Veteran depth defenseman.
---
---