For Washington Capitals winger Devante Smith-Pelly, Saturday's game was not the first time he's seen racism in hockey, let alone racism directed toward himself.
"It's happened in hockey before," Smith-Pelly told reporters following Sunday's practice. "It's happened to people [me and my family] personally know."
Smith-Pelly is a minority in the game of hockey, one of just 21 black players in the NHL. In Saturday's 7-1 loss to the Chicago Blackhawks, the 25-year-old was serving a major penalty for fighting with Blackhawks defenseman Connor Murphy, when four fans began to chant the word "basketball" at him. Smith-Pelly reacted by approaching the fans, who were eventually ejected from the game.
"I just heard some chanting, some, I guess, racially charged chanting," Smith-Pelly said of the incident. "You can tell by my reaction I got pretty upset… it's pretty obvious what that means. It's just one word, that's all it takes."
Head coach Barry Trotz also commented on the taunts in a post-game interview, saying he was taken aback by the words directed at the Capitals' sole black player.
"There is absolutely no place in the game of hockey, or our country, for racism. I think it's disgusting," Trotz said. "There's no place for it. Athletes in this country don't deserve that. It just shows ignorance."
Teams, League React
The Capitals released a statement Sunday that said:
"The Washington Capitals are extremely disappointed by the intolerant behavior extended toward Devante Smith-Pelly by a select group of fans during Saturday night's game against the Chicago Blackhawks at United Center. The Capitals organization strives to be inclusive and has zero tolerance concerning any form of racism. Such behavior is unacceptable and has no place in hockey or society. As such, it is crucial to confront such appalling conduct, and the Capitals extend their appreciation to the Blackhawks organization and United Center security for swiftly removing the fans from the game."
NHL teams around the league are promoting and celebrating "Hockey is for Everyone" month, where the league and all 31 teams promote that any player, coach or fan can play, appreciate and be included the game of hockey, regardless of race, gender, color, origin, disability, sexual orientation or socio-economic status. The initiative also promotes a safe, positive environment throughout all hockey programs.
The Blackhawks additionally tweeted out a statement apologizing to Smith-Pelly and the Capitals' organization.
Statement on the incident at tonight's game pic.twitter.com/7o02AaLQwz

— Chicago Blackhawks (@NHLBlackhawks) February 18, 2018
Additionally, the NHL released a statement that reads:
"Last night in Chicago, individuals directed racial taunts and abuse at Washington Capitals player Devante Smith-Pelly. The National Hockey League condemns this unacceptable and reprehensible behavior. The League fully supports the actions taken by the United Center and the Blackhawks to eject the offenders and would expect the same response to any similarly unacceptable behavior at any of our arenas."

"While this incident was isolated in nature, no player, coach, official or fan should ever have to endure such abuse at one of our games. The League will take steps to have our clubs remind all stakeholders that they are entitled to enjoy a postitive environment – free from unacceptable, inappropriate, disruptive, inconsiderate or unruly behaviors or actions and may not engage in conduct deemed detrimental to that experience."
Players Look to Combat Racism in Hockey
For Smith-Pelly, this isn't the first time he's heard a racial comment from a fan. When he was younger, he said he heard someone tell him that he should play basketball instead.
He is also not the first player to face racism in the game of hockey. Anaheim Ducks winger J.T. Brown, who had raised his fist during the National Anthem earlier this season, faced a handful of racial slurs and death threats for his silent protest. Prior to the start of the 2017-18 campaign, San Jose Sharks forward Joel Ward said in a tweet that he has "experienced racism both inside and outside of the sporting world."
According to Smith-Pelly, it is hard to believe that racism still exists, especially in the game of hockey.
"It's disgusting," Smith-Pelly said. "I don't even really know. It's sad. I mean, that 2018, we're still talking about the same thing over and over. It's sad that athletes 30-40 years ago were standing in the same spot saying the same thing. You think there'd be some sort of change or progression, but we're still working toward it, I guess."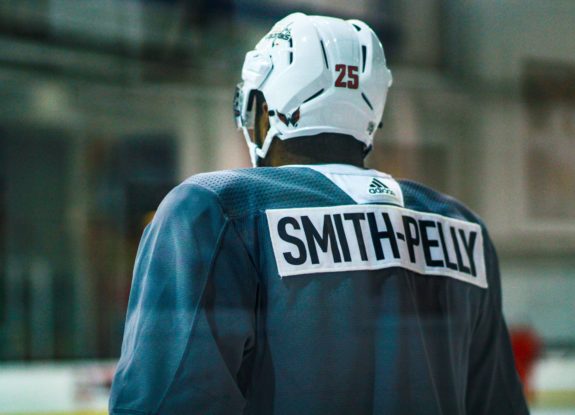 In 54 games this season, Smith-Pelly has seven goals and 16 points and has been one of Washington's top utility players and most versatile wingers, able to play on the top-six or bottom-six at pretty much any given time.
Looking to the future, Smith-Pelly said the incident helped ignite a discussion about racism in sports, and though he believes that the incident boiled down to "a few ignorant people being idiots," he wants to help further combat racism in sports so that others will not face what he did.
"We're at a time now where we can't push [racism] under the rug," Smith-Pelly told reporters. "You have to start calling people out, making sure people see other people's true colors. I'm trying to get the conversation started."