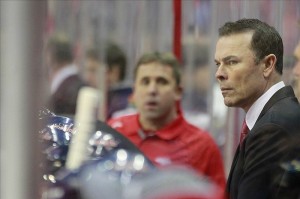 The Washington Capitals dropped a 5-2 decision to the Pittsburgh Penguins last evening in Pittsburgh, Pa. After scoring first, and maintaining that lead through just over 25 minutes into the contest at the Consol Energy Center, the Capitals reverted back to the kind of play that has stamped their residency in the basement of the National Hockey League. No emotion. No team toughness. No sense of urgency.
The Capitals landed in Pittsburgh with a 2-7-1 record on this shortened 48 game schedule. It's easy to recognize the troublesome order of those numbers.
However, it was the 9-0-1 record that the Nation's Capitals held in Pittsburgh between the old Mellon Arena and now Consol Energy Center since the 2007 season, that stood out the most. After last night's performance however, the regulation success for the Capitals in Pittsburgh, all but vanished.
"We're weak mentally right now," Caps defensemen Karl Alzner said. "Whey they scored a goal, we're not bouncing back quick enough. When momentum is against us, we're not fighting past that, whether it's with a big hit or a fight or something. We're not an emotional team right now, and that's something that has to change if you want to win."
The Capitals started the evening with Michal Neuvirth between the pipes, but after allowing two goals by the Penguins on 11 registered shots on goal, head coach Adam Oates yanked the native of the Czech Republic, replacing him with backup Braden Holtby, who didn't by any means fair any better, after allowing the remaining three goals by Pittsburgh.
"As a goalie you have to be ready," said Holtby. "It got even worse after I went in. We didn't do enough to win."
Oh where oh where is Alex the great? Well, Ovechkin did show up on the score sheet last night scoring the Capitals 2nd and final goal of the evening, coming on the power play 8:34 of the final frame. Scoring just his 3rd goal of the 2013 season, the Captain, visibly upset afterwards, spoke with the media.
"Bring the emotion right away," Ovechkin said. "We can play like that, we can start play like, we get a lead and, you know, we stop playing."
Yeah, I'd say that was the case at this point. A much more vocal Troy Brouwer though, made things perfectly clear about the miserable first 11 games on the season.
"It seems like guys think this is going to turn around without any extra effort and that's not the case," he said. "We weren't ready to play. We got hemmed in our zone for the first two shifts. Just weren't ready to play, minds weren't in it. That's been our biggest problem."
Follow me on Twitter @ DarrenCoslov