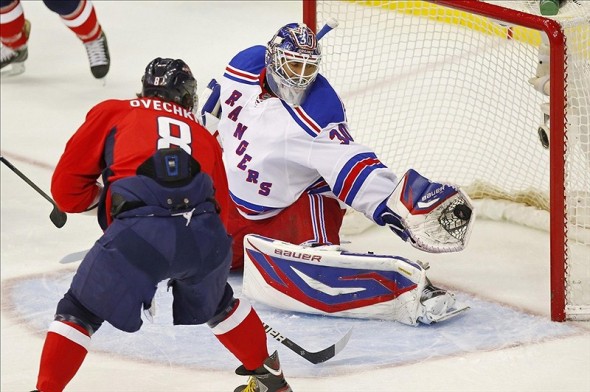 One of the greatest mysteries of the past few years in the NHL was how the Washington Capitals could experience such amazing regular season success only to collapse in new and excruciating ways in the postseason. It's really not a mystery however when you realize how weak the Southeast Division was. Playing the Florida Panthers, Tampa Bay Lightning, Carolina Hurricanes and Atlanta Thrashers/Winnipeg Jets on a consistent basis can mask many weaknesses that are exposed in the grind of the playoffs.
That is why the best thing to happen to the team is this year's realignment that created the Metropolitan, Atlantic, Central and Pacific Divisions. The Caps are now playing in the Metropolitan Division, which is essentially the old Patrick Division, plus Carolina and the Columbus Blue Jackets. No more coasting through the regular season when every other night you are facing off against the New York Rangers, New Jersey Devils, New York Islanders, Pittsburgh Penguins and Philadelphia Flyers.
The Caps are already realizing what a grind this season is going to be and how quickly they can drop to the bottom of the standings if they don't work hard for 60 minutes every game. They have lost games to tough Western Conference foes Chicago, Dallas and Colorado and division rival Carolina. Their two wins have come against Calgary and Edmonton, who are a couple of the weaker teams out west.
And yet even with their slow start, the Caps are right in the middle of the pack in the Metropolitan Division. The biggest test of the young season will come this Wednesday night at Verizon Center when the also struggling Rangers visit D.C. for the first time since they knocked the Caps out of the first round last season.
The Caps have raised the Southeast Division Champion banner five out of the past six years, including  winning the President's Trophy for best regular season record in the 2009-10 season. But the team and fans want to see playoff success. The road to the postseason will be much tougher in the Metropolitan Division, but if the Caps can make the postseason, which is still a big if, they will most certainly be more prepared than in past years while coasting through the Southeast Division.