It goes without saying: the Philadelphia Flyers are, for right now at least, a horrendous hockey team. Not much has gone right for the once-feared "Broad Street Bullies" (as tired as that nickname has become).
After an 0-3 start that featured a measly goal-per-game clip, head coach Peter Laviolette was relieved of his duties and replaced by longtime assistant and former Flyer Craig Berube. Picking up right where they left off, the Flyers have scuffled through three games with Berube, going 1-2 with just five goals to show for.
While the man they call "Chief" is implementing some changes to a system that had been outgrown, namely on the defensive side of the puck, the offensive wizardry fans have come to expect from Philadelphia has vanished. Claude Giroux has just one assist through six games, only to be outdone by Jake Voracek's two, while Brayden Schenn is the only Flyer with multiple goals (two).
The NHL regular season schedule was released on Friday. Check out our partners at TiqIQ for the best deals on Philadelphia Flyers tickets for all 2013-14 games.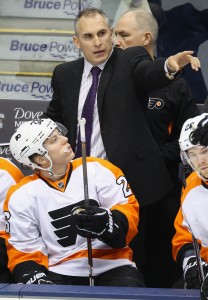 On top of the already anemic offense, the Flyers now have to deal with injuries to Scott Hartnell (upper body, out 2-4 weeks) and Vincent Lecavalier (lower body, out approximately one week). Ironically, one of the call-ups as a result of this, Tye McGinn, potted his first goal of the season in his first game on Saturday in Detroit.
McGinn is a gritty, bigger-bodied forward with the ability to contribute offensively, factors that seemingly make him a hotter NHL commodity for the Flyers than, oh let's say Jay Rosehill. But the Flyers' refusal to take to the ice without an enforcer leaves one forward slot reserved for absolutely 0% offensive productivity. This problem was even examined by The Hockey Writers' own Shawn Reznik just a week ago.
But offensive woes aside, the only positive to the Flyers' putrid 1-5 start has been, of all things, goaltending, and by only one of the two goalies in the Flyers "committee."
Is Steve Mason a Benefactor of a Second Chance?
A season ago, Steve Mason was in serious limbo. After a spectacular rookie season in 2008-2009 that earned him a Calder Trophy (33 wins, an NHL-best 10 shutouts, 2.29 GAA), the right-glover never could regain his winning ways. In parts of four seasons following his rookie campaign, he only came out a victor 63 times in Columbus and saw his job evade him to, fittingly, former Flyer Sergei Bobrovsky.
As Bobrovsky was racking up a Vezina trophy in a season for the ages, Mason found himself expendable, and as the carousel would have it, he found himself with a one-way ticket to Philadelphia, the notorious black hole for goaltenders.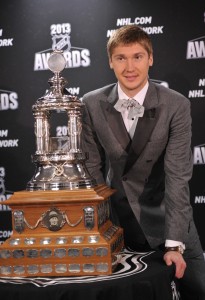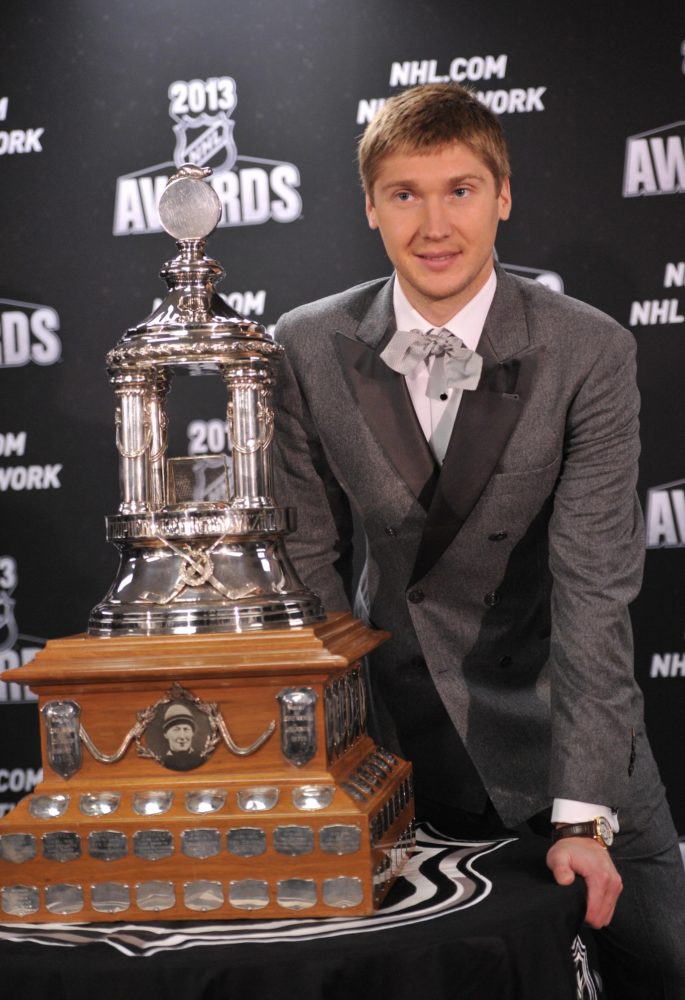 From the moment he set foot in Philadelphia, Mason made it clear he wanted to steal Ilya Bryzgalov's job the way he lost his job to Bobrovsky in Columbus, although perhaps not in that terminology.
To his credit, the much-maligned Mason has yet to show any signs of the demons of his latter years in Ohio. In ten starts since April with the Flyers, Mason may only be 5-5, but that's through little fault of his own.
In seven of those starts, Mason has allowed just one or two goals, and he has yet to allow more than three in a game as a Flyer. Frankly, if not for Mason's consistent play in the Philadelphia net, the Flyers could have lost by whopping margins on a nightly basis.
Why Mason Deserves it More than Ray Emery
In buying out Bryzgalov and signing Ray Emery in the offseason for bargain pricing, the Flyers made it clear that they wanted to turn the page in the nets.
While the season began with the appropriate thought that it would be a 50-50 split roughly between the two netminders, that thought process might need to change.
Barring an offensive renaissance, the Flyers will not be contending in a tough Metropolitan division. With a blue line that might take years to become formidable again, the Flyers should try to ride Mason on a more prolonged basis. As the much younger of the two goalies, Mason is also the more athletic one, and with a defense with as many holes as this one, whoever the unfortunate starting goalie is needs to be quick on his feet.
Emery learned this lesson the hard way in his two starts this season, giving up four goals in Montreal and four more in Detroit. After going 17-1 with the Stanley Cup champion Blackhawks a season ago, "Razor" has already eclipsed that loss total.
This is certainly not trying to be an anti-Emery point, as the defense is woeful to both netminders, but Emery has not been a regular starter since his first stint in Philadelphia in 2009, a season that ended prematurely thanks to a serious hip injury that was, in some doctors' eyes, career-ending.
With this being said, Emery provides a veteran presence in the backup role that the Flyers always like to have (see Brian Boucher and Michael Leighton). Though his sample size in Philadelphia is still incredibly small and due to level out, Mason's youth (age 25) and flashes of brilliance should harken at the very least some hope that he can rekindle his rookie form.
Mason Would Not be the First Second-Chance Success Story
While the criticisms will continue to follow Mason until he can prove his ten-game sample with Philadelphia is not a fluke, it is optimistic for Flyers fans to note he would not be the first success story in net who earned a second chance in a new city.
While he never was seen as a definitive number one goaltender, Mike Smith was highly acclaimed when he arrived in Tampa Bay in a trade from Dallas in 2007 at age 25, the very age Mason is currently.
Things did not work well for Smith with the Lightning, however. In 118 games with Tampa, Smith only came away with 43 wins, while his goals-against hovered very close to 3.00. He saw his job evaporate in 2011 by the combination of a knee injury and the emergence of aging wonder Dwayne Roloson as the Lightning reached Game 7 of the Eastern Conference Finals.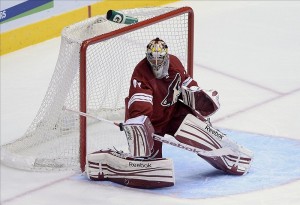 His contract expired, Smith tested free-agent waters in the summer of 2011, and the Phoenix Coyotes scooped him up soon after the Flyers lured away Bryzgalov. With just a two-year contract to prove himself as a true number one, Smith quickly silenced critics who suggested Phoenix's goaltending situation was a messy one. He won 38 starts and was a tough luck overtime or shootout loser in an additional ten. His eight shutouts, .930 save percentage and 2.21 were all career-bests.
Despite tailing off a bit in 2012-2013, Smith still tied for the NHL lead in shutouts with five, and Phoenix rewarded his efforts with a six-year contract extension this past June.
Can the Flyers Show Mason Patience?
Before Mason can prove himself over a more prolonged period, the question that keeps boiling in the pot that is Flyers management is, will they be patient with the still young goaltender?
After struggling in his first postseason, Bobrovsky was rudely fazed out over a year's time despite outplaying Bryzgalov for much of the 2011-2012 season. Backtracking further, no Flyer netminder has lasted longer than three years as a primary starter since Ron Hextall in the late 90s (and even he got traded in his young days before being re-acquired by Philadelphia).
With an aging owner in Ed Snider "trying his damndest" to bring one more Cup to Philadelphia in his life, patience is not the operative term to Flyers' brass.
Whether or not Mason amounts to a gem or a continuation of a bust, the answer still may not be answered in his time in Phialdelphia. After all, his contract expires at season's end. But if the Flyers truly want to know if they have a future "Number One," they may be better served to ride out the right-glover.
Ryan Smith is a proud graduate of Penn State University, having attained a degree in broadcast journalism. His experience in hockey is extensive, having covered PSU Men's ice hockey for USCHO.com as an Arena Reporter for its first NCAA season in 2012-2013 while also serving as Penn State Athletics' voice of women's ice hockey home games. He was also the sports director for Penn State's ComRadio, a student based radio station endorsed by the College of Communications. In that position, he broadcasted Penn State hockey since for four years. He can be followed on Twitter @RyanSmithHockey.