Well, here we are again. The Washington Capitals and the New York Rangers are in Game 7 of a Stanley Cup playoff series. In their NHL record breaking 13th straight playoff game with a one-goal final score margin, the Rangers took out the Capitals 4-3 Sunday night at the Verizon Center – despite the Capitals outplaying their opponents. Captain Alex Ovechkin immediately set the bar high for his team after the game.
"We're going to come back and win the series," Ovechkin told reporters. "We're going to play our game, and we're going to come back and we're going to play Montreal or Tampa." He clearly has high hopes for the deciding showdown at Madison Square Garden on Wednesday night.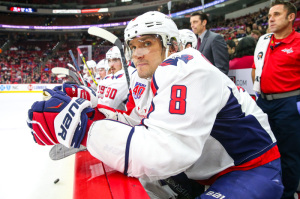 Rangers Played their Worst Game and Won
The Capitals should have won Sunday's Game 6 handily. If the Capitals play the same way they did in Game 7 as they did in Game 6, we should expect a win for Washington – but only if there aren't any lapses in concentration from anyone. To highlight how the Rangers felt about Sunday's win, their center Derek Stepan put it this way:
"I think tonight was probably our worst game in the series and we find a way to win." That's true, but it won't help the Capitals or their fans feel any better.
The Caps came into the contest Sunday at the Verizon Center having won five straight playoff games at home, but even though they led in scoring chances, hits and other stats, they fell short in the goal department.
Washington outshot the Rangers 45-28, and that included a ridiculous 28-8 total shot count in the final 40 minutes of the game. The Caps fought back from a 4-1 deficit in the third period and almost forced overtime, but Henrik Lundqvist did his usual trick of standing on his head while saving any shot that came at him from a distance of more than two yards.
Speaking of goaltenders, Braden Holtby uncharacteristically let in four goals. However, he didn't get much help from his friends Sunday. Joel Ward spoke for the majority when he stood up for his netminder:
"We definitely didn't help him," Ward told reporters on Sunday. "We left him out a little bit, which sucks because it was our turn to return the favor."
Kuznetsov Says it Like it is
Fellow forward Evgeny Kuznetsov was refreshingly blunt when asked to compare Holtby with Lundqvist.
"Our goalie's better," said the young Russian rookie. "I don't know what you want to listen from my mouth, but our goalie's better."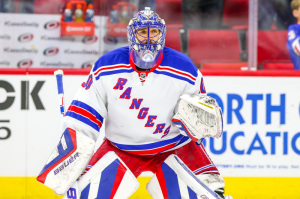 I agree with Kuzy, Holtby is marginally better than King Lundqvist in this goalie dogfight that we're witnessing. Game 7 will come down to a test of the two men between the pipes – a test of their resolve, their nerve and their personalities. When the two men shake hands on Wednesday, it might signify a changing of the guard – a new King may be crowned.
What's Next for Ovechkin and the Capitals?
So what's next for the Capitals as a team? Two full days off – in which head coach Barry Trotz must inject something new into the team if Ovechkin's bold 'we're gonna win' statement is to come true.The Caps need to figure out a way to free Ovechkin from the two or three Rangers that descend upon him as soon as he gets the puck.
Trotz tried switching around his lines Sunday and it had a major impact. Usual first-liner Ward swapped with second-liner Marcus Johansson and the change paid off as Ward scored one goal and two assists on the night. Jason Chimera benefited from the switch too, combining with Ward to record his third goal of the playoffs. Kuznetsov scored his fifth goal of the playoffs – so all three men on the revamped second line scored. A stroke of genius by Trotz? It would have been – had the whole team's synergy and communication remained intact and if the Caps had recorded one or two goals on any of their four power plays.
As it stands, the Capitals have been the better team in this series. They need to have a strong first period Wednesday, they must get out of the blocks first, get on the scoreboard early, get their Game 4 mentality and concentration back and – get a few lucky bounces.
Lundqvist hates a good old-fashioned knuckle puck. The Capitals should send around 20 his way in Game 7.
Glynn Cosker is based in the Washington D.C. area. A professional writer and blogger, Glynn brings insightful news and information on all things related to the Washington Capitals for THW. Follow Glynn @DCPuckDrop