With the Stanley Cup playoffs heating up and several teams dormant for more than a month, many clubs are now beginning to think about free agents.
While several players who will be available beginning July 1 still involved in a run for the Stanley Cup, the thought of free agency is likely far from their present thinking. For a team like to Arizona Coyotes, who finished with the second-worst record in the NHL last season, the hour is now to start thinking seriously about next season.
Because the list of free agents is essentially littered with veterans, there are a few unrestricted free agents which should catch the attention of Don Maloney, the Arizona general manager.
Still, there is some in-house business to attend. At this point, the Coyotes have one of the more attractive restricted free agents in forward Mikkel Boedker.
Completing a two-year deal at the end of last season, Boedker broke out of the gate with his hockey stick on fire. Scoring five goals in the first three games of the season, including a four point game (three goals, one assist) on Oct. 15 at home against Edmonton, Boedker ended up playing only half the season. When he injured his spleen during a game in Winnipeg on Jan. 18, Boedker pumped in 14 goals, assisted on 14 others for 28 points, but had a minus 10.
The Coyotes' medical team discovered the injury serious, and Boedker subsequently had his ruptured spleen removed. As a result, he missed the rest of the season. Now, Boedker is an unrestricted free agent, and the Coyotes have a difficult decision to reward him for the past or make a challenging offer for the future.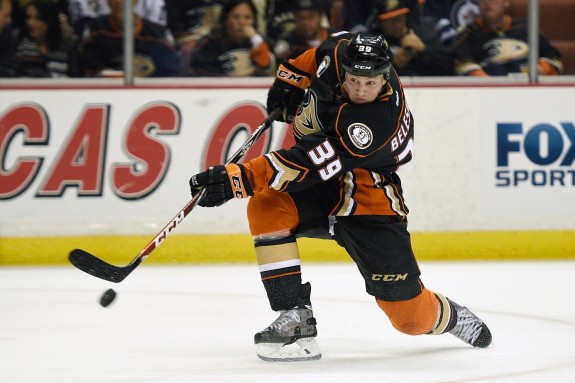 Among unrestricted free agents, don't be surprised if Maloney tries to corner Ducks' winger Matt Beleskey.
There is no doubt the Coyotes are in terrible need of scoring, and Beleskey is come off his most productive season.  His 22 goals this past season represented a career-best, and Beleskey has a knack of coming up with goals at important times. In addition, his plus 13 is attractive to a team which had the majority of their players skating all season with minus numbers.
As well, Beleskey could be an important addition in the Coyotes' quest to transition from a low-scoring team to a team which could generate more scoring chances.
If the Coyotes' management is willing to take some chances with younger talent, such as Max Domi, Christian Dvorak, Brandan Perlini and Anthony Duclair, Beleskey, at 27-years-old at the start of the 2015-16 season, could provide an important bridge and building block.
Perhaps the most attractive unrestricted free agent that would immediately help the Coyotes is Carl Soderberg, who finished second in the Bruins' team scoring behind Patrice Bergeron.
Signing Soderberg would be an issue on two fronts. First, he would likely command more money than the Coyotes would be willing to part, and the 29-year-old  said after the recent season was completed that he would like to stay in Boston.
Other unrestricted free agents out there on Maloney's radar screen could include the Kings' Justin Williams and the Caps' Joel Ward. The major issue here could be their ages. Williams is 33 and Ward is 34. Team one or both with captain Shane Doan, at 38-years-old, and any push toward a youth movement would be compromised.
Follow Mark Brown on Twitter, @journalist193
Mark Brown is a former sports editor for daily newspapers in the Philadelphia and Cincinnati markets. He was named Best Sports Columnist, honorable mention 2004 by the Associated Press Society of Ohio. He is a contributor to major daily newspapers, including the Chicago Sun Times, Philadelphia Inquirer, Honolulu Star-Bulletin, Milwaukee Journal, Arizona Republic, Nashville Tennessean and the Associated Press. He was a Featured Columnist for bleacherreport.com and covered the Arizona Coyotes.