The days of "suffering" finally seem to be in the past as Hockey Heaven's savior is soon to make his grand entrance. Dreaming of Buffalo's Future with Jack Eichel is what Sabres fans find themselves doing most days. The Hockey News has even put the Hobey Baker winner in Sabres garbs to help with the visualization. So now seems like a perfect time to take a deeper look into the crystal ball, specifically how a combination of Eichel and Evander Kane could play out on the ice.
A Glimpse at the World Championship
Say what you want about the IIHF World Championship, Sabres fans are dialed in to watch Eichel and have been pleasantly surprised with what they are seeing. Since Eichel has yet to play as a pro, this has given us a glimpse of what his game could look like come October. Therefore, let's first use these Worlds as a benchmark.
The most interesting matchup to this point has been against Russia. We already looked at a few examples of Eichel's play when analyzing why USA was off to such a quick start. There, we found examples of Eichel's skating ability and speed as well as his ability to win battles along the boards and protect the puck.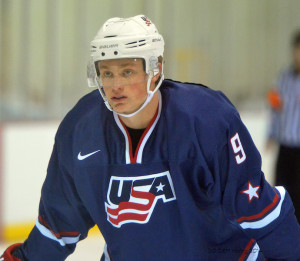 One of the most telling signs was how the Boston University forward performed against a former Conn Smythe winner in Evgeni Malkin and other NHL standouts. He was cool, calm and confident, making himself a challenge in the face-off circle and in the defensive zone, in addition to his better know offensive skills. In an interview with ESPN, Eichel shared his insight on the matchup.
What's been impressive is how fast he's been able to adapt, grow and improve as the tournament has gone on. Following the Russia game, Eichel seemed to settle into his zone and take a big leap forward against Belarus. He started commanding the play and carrying the puck more and generating more scoring chances. Below, is one of the best plays Eichel's made thus far.
Jack Eichel makes dazzling play, picks up assist. pic.twitter.com/45bmrsYuaG

— John Vogl (@BuffNewsVogl) May 7, 2015
Although most people will admire the finish, the play begins by Eichel forcing a turnover along the wall and gaining possession of the puck while straddling the blue line to stay onside. This provides a great example because it shows what Eichel can do both offensively and defensively. We can go on and on analyzing the 18-year-old forward's game, but let's move on to the fun part.
The Kane-Eichel Power Duo
Another player we have yet to see play for the Sabres is Evander Kane. He possesses many of the same skills Eichel does; Kane is
tough to play against because of his combination of size, strength and speed. He's a great skater who excels in controlling the pace of the game and gaining entry into the offensive zone to create opportunities.
Although he's a tremendous offensive talent he's not afraid to mix it up and play the body. Compared to Eichel, Kane plays a bit more of a physical game.
Kane's one of the better points per minute scorers and has a 30-goal season under his belt despite having Olli Jokinen as his best centerman. Kane is only 23 years old himself and also has room to grow. His potential alongside Eichel could be limitless once Eichel hits his prime.
The video below illustrates many of Kane's skills.
As an opposing coach, imagine trying to game plan against these two big, strong forwards who play hard on the puck. The opposition Could try clogging the neutral zone by playing a trap to mitigate their skating ability, but then they'd face the challenge of winning battles along the boards after a dump in, which would also be no easy task against these two.
The other option would be to try and keep them to the outside, but they both have the ability to skate around (or even through) defensemen and keep possession with their exceptional ability to protect the puck. Both Eichel and Kane can hold off defenders with one hand and handle the puck with the other.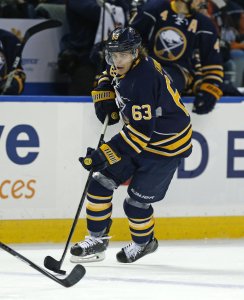 Kane and Eichel play the type of game that translates well in all facets of the game. Look for these two to also become stalwarts on the penalty kill and power play and during other key in-game moments.
If that's not enough to think about, imagine a player like Tyler Ennis playing opposite to Kane. Ennis as a smaller, shifty skater would be a great compliment. Given their size and skillset, Kane and Eichel could open up a lot of space for Ennis as they draw defenders and dig the puck out of the corners.
For the first time in years, there's reason for optimism in Buffalo and it's fun to imagine. Soon enough Kanchel could be the newest name mashup to make its rounds in hockey circles. Is it October yet?
As an American based in Amsterdam, Joe provides a unique hockey insight, bringing a global perspective to the game. Joe has several years of experience covering the game on both a domestic and international level, including being credentialed for multiple World and World Junior Championships.