There are so many people calling for Carlyle to be fired and it has been going on for so long that it's become a running joke. There are even a group of intelligent and not-off-base people who dismiss calls for coaches to be fired because a) people do it daily b) it is often the players and not the coaches who deserve blame and c) in the case of Randy Carlyle and the Leafs specifically, it can seem like a hyperbolic call for blood, given the market, the amount of press the team gets and how long it's been happening.
So I do forgive you if you accuse me of crying wolf, close the page and move on. It's not like I am not unaware that this title and this article put me squarely into allegiance with the blood thirsty mob.  It also gives me no joy to suggest risk free and from the comfort of my office, while I sip espresso and listen to Wilco, that a man should lose his job. From a human perspective, I feel bad for the guy. At the same time, however, it's not personal and the man is a millionaire, so it's not like he can't take it.
I wish Carlyle all the best, but his time as the Leafs head coach must mercifully come to an end.
The Case Against Carlyle
Carlyle's record with the Leafs is not that bad: 90-76-19. But, adjust it for the crazy fact that the NHL calculates their standings in a way that minimizes almost a quarter of a team's losses, and his record is 90-95 which is under .500 and not acceptable. Further consider that the Leafs have two years of games – at least – where they have (by any standard) been exceedingly lucky in terms of results and you have a coach whose record isn't that bad, but which is probably greatly inflated by luck: a look beyond simple wins and losses paints a staggering portrait of incompetence.
Next, you have to consider what happened this summer. The Leafs hired Brendan Shanahan to run their team and his immediate moves were to hire Kyle Dubas and a host of others in order to bring the Leafs into the Twenty-First Century in regards to stats, analytics,  player development and scouting. He also fired a host of "old school" guys like Claude Loiselle and Dave Poulin. Strangely, he decided to keep Dave Nonis and Randy Carlyle despite their not fitting into what seems to be the new philosophy in anyway, as well as firing their assistants and disparaging the entire way they had run the team. Carlyle is widely seen as a lame-duck and if you watch the panels on TSN and Sportsnet at all, you will have seen just about all of the NHL's insiders speaking as if his days are indeed numbered.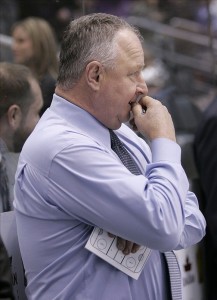 Though he got a new three-year contract in this past summer, it's easy to look at the evidence and conclude that that was a bit of a golden parachute deal designed to give the Leafs the chance to pursue Mike Babcock. Now, I don't necessarily think that is the case, but it doesn't seem to be a secret that the Leafs would prefer to get Backcock or that Carlyle is – at best – on a very short leash and has been since Shanahan arrived.  (There is also further speculation that Dave Nonis is the GM-in-name-only and that this is Shanahan's team, leading to even more speculation that both Nonis and Carlyle may end up fired before too long. Personally I think the Bozak and Clarkson deals should be fireable offenses, but let's just stick with RC for now).
There is also the past to consider: Carlyle coached this team to the worst collapse in NHL playoff history and then followed it up by being near the top of the Conference at the Olympic break last year and then losing so many games to end the season that they missed the playoffs.
Of course, you can't look at those collapses without considering the onset of Advanced Stats, under which Randy Carlyle's Leafs have become the post-boy team for the movement.  One reason is that despite the Leafs success for three-quarters of last year, the stats predicted that it was not sustainable because it was built on luck and fortunate results due to the Leafs being constantly out-shot and out-possessed. Sure enough, reality caught up to them and they missed the playoffs. What you see this year is the unfortunate repeat of that .
Here is a recent article from the end of last season from our friends at the Pension Plan Puppets. It proves that since Carlyle took over for Wilson, the Leafs' players who played for both coaches have experienced an average of nearly a 7% drop off in their individual Corsi numbers since he took over. This suggests that Carlyle's system and way of employing his players is outdated and flawed.
There is in fact a ton of data that illustrates basically the same thing: Randy Carlyle coached teams do not possess the puck enough to win hockey games unless they get outstanding goaltending, something that simply cannot be guaranteed.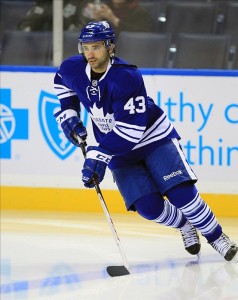 This Season:
When this season started, we were told that the Carlyle was going to change his ways, adjust his systems, focus on defense, move into the new era of hockey, focus on possession, decrease shots on goal and basically become way more progressive. We were told the addition of Spott and Horachek would help and that he'd play the fourth line more.
None of this has happened
-Kadri, despite putting up statistics that rival John Tavares and Matt Duchene, inexplicably continues to be played behind Tyler Bozak. Despite being the superior player – and arguably the Leafs' best all-round forward – Kadri gets less ice-time and less PP ice-time than the massively inferior Bozak.
– For the most part, splitting up JVR and Kessel and creating a more balanced attack has not happened.
– David Clarkson, perhaps in an attempt to prevent the embarrassment of Nonis, continues to receive ice time better suited to better players, like Holland or Panik.
– Despite the effectiveness of Franson/Gardiner and Phaneuf/Rielly defensive pairings, Carlyle refuses to employ these combinations and instead has played Gardiner predominately with the likes of Polak and Holzer, which is killing his game and just an unconscionable destroying of an asset.
– The line of Bozak, JVR, Kessel, despite scoring at an amazing rate, continues to be deployed constantly despite their being so bad at possessing the puck that they can only be a positive for the team when the goalie plays out of his mind. Just the fact that the top line is so ineffective (and apparently bullet-proof) should be enough for any sane person to call for a coaching change.
– The Leafs have allowed 34.5 shots per game this season, outside of the intentionally-trying-to-ice-a-bad-roster Buffalo Sabres, they are the worst in the NHL.
– Their Corsi For % is 27th in the NHL. This means they are almost certainly going to miss the Playoffs, but that their luck based winning will prevent them from actually improving the team significantly through the draft.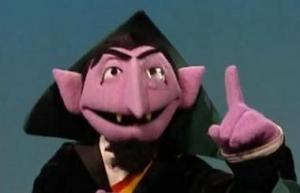 Conclusion:
Despite turning over nearly one-third of their roster over the summer, the Leafs are in no better shape this year then they were last year. The promises of the summer have gone for naught and the team is a punch-line, routinely allowing 40 shots per game. Carlyle is the one constant here and he has no answers.
He either will not adapt or he is incapable. That much is clear.
He either won't change his systems to focus more on defense and playing a more conservative game, or his players won't buy-in to such a plan. Either way, that doesn't look good on a coach.
The crazy thing is, the answer to fixing this team isn't even that hard: make better use of your players, play them with guys they excel with and then make it so that you play your best players more than your worse ones. Then you employ a much more conservative defensive system – the Leafs are fast and there are a lot of options.
In addition, obvious roster changes do need to be  made, but at this point, the jury is in: The coach needs to be fired.
I hate to be that guy, but I can't help it. The evidence is irrefutable and it's piling up.
Covering the Leafs for the Hockey Writers.