Producer and director Ross Greenburg's third episode of Epix's Road To The NHL Winter Classic had a lot to measure up to. Episode 2 covered the unexpected death of Blackhawks' assistant equipment manager, Clint Rief, and reminded us that the teams we watch every week — and follow news of like a deity we must pay homage to if we wish to live — are much more than the players we see on the ice. That there are dozens, if not hundreds, of people who live and work on and around these teams, people who are making their legacy by keeping the money in order or running toy drives, making sure the team runs in every single way possible.
In a wonderful write-up by Puck Daddy's Greg Wyshynski (in a way that reminds me of every film studies paper I wrote in college) breaks down Greenburg's vision and why it affected us so much. If you're too busy to go read a 500-word article, I'll summarize it here for you: Greenburg broke pattern. Our comfortable closing monologue meant to remind of the poetry that is hockey was replaced with a tear-filled explanation that Reif had unexpectedly passed, and the disquieting realization that our patterns are constructed, not a given.
And that they are very easily broken.
In the wake of that unsettling understanding, Greenburg's return to the set pattern was almost a relief. We could put Reif's sad, untimely passing behind us and once again lose ourselves in the fun idea of open-air competition. After all, the Blackhawks won against Toronto the night of Reif's death.
Two days later the Blackhawks lost miserably against the Winnipeg Jets and Greenburg called us back to the real loss the Blackhawks team, management and staff had experienced less than a week earlier.
After Quenneville gives a mercifully short speech in the dressing room, as the rest of the team cleans up and heads home he heads into the press room to talk to members of the media. The camera rests on his face for several long, uncomfortable seconds after one reporter asks, "This has been such an emotionally trying couple days, I mean. Does everything just kind of come together tonight too, do you think?"
It takes him long seconds to answer, and in that moment, you can't help but empathize.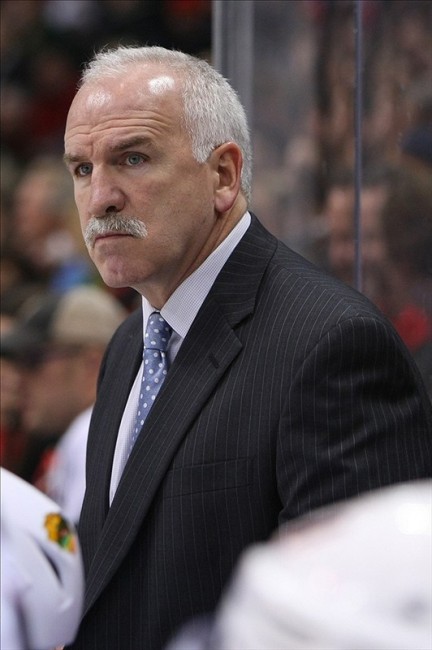 "Could have been, could be, could be. Definitely emotional games." Quenneville goes on to point the media to the games ahead, but the narrative has already been written.
Afterwards we sail through a mirroring of the Blackhawks' and the Caps' team members holiday break activities, following Joel Ward and his girlfriend, Kathleen, to New York as she plans museum trips and completes an actual crossover on-ice while Ward crows in the background and sounds delightfully proud. The camera takes us along with Nicklas Hjalmarsson to a traditional Swedish Christmas celebration and listen to him very politely disparage American meatballs. Each of the head coaches give up some of their family's privacy on Christmas Eve and Day to invite the cameras into their homes, or, in Quenneville's case, onto the slopes.
We bounce back and forth, and you realize the players, the coaches, the teams, are exactly the same. And this is exactly what Greenburg wanted you to come to understand — that the teams are looking into a mirror when they look up across the ice.
But combined with the reminders of Reif's passing, shows us that even those mirrors can be broken.
Kate Cimini is an avid hockey fan and rabid defensewoman. Her favorite team is the Whalers, and her second-favorite team is the Whalers. She also supports the Whalers. Her hockey articles can be found on sites such as Bleedin' Blue, A Winning Habit, and she rambles on social media from time to time. Follow her on Twitter for a terrible time.