The Carolina Hurricanes named co-captains Thursday, Jordan Staal and Justin Faulk. Jeff Skinner was named an alternate. Generally received by most as a positive announcement, it does bring some questioning thoughts that may linger beneath the surface for some. Certainly, it is a positive as compared to the team being without a captain as it was last season. But, I have mixed emotions as to whether or not this was the best move for the team.
Hurricanes head coach Bill Peters said during the announcement, "This, in my opinion, gives us our best opportunity to max out our potential as a team, and that's what we're focused on right now. Our team is in a position to make a push and fulfill our expectations."
[NEWS] #Canes Name 2017-18 Season Captainshttps://t.co/SdpPfFHhCQ #Redvolution

— Carolina Hurricanes (@Canes) October 5, 2017
Co-Captain Jordan Staal
I wrote in July, Hurricanes' "C" Likely to be a "J" as the naming of a captain became close to becoming a reality. While the premise of the article was that the first initial of the first name of the captain would be a "J," it was obvious that this would be the case. Jordan, Justin and Jeff were all likely candidates. Throw in the recently-squired veteran, Justin Williams, and writing that article was a no-brainer. But, naming co-captains was something I do not think anyone envisioned. Staal will wear the "C" during home games.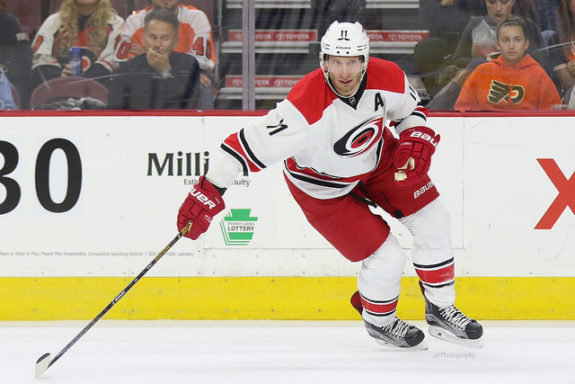 Staal is clearly a leader on the Hurricanes, bringing a Stanley Cup victory and veteran leadership to the team. I recall in December 2015, after the team played what may have been its worst game ever, Staal telling me he needed to bring the young guys along and lead by example. They had lost to the New Jersey Devils, playing with minimal effort and energy. It was awful. But, to his credit, Staal was able to light a fire in the locker room, and the Hurricanes went on to fight for a playoff spot, literally taking their season to the last couple of games before being eliminated. Here is what I wrote about Staal in July 2016 in an article titled, A "C" for Staal?
I remember asking Staal after a particularly disappointing loss at home last season what he felt needed to be done. He responded that veterans like him needed to help the younger players by setting a good example of hard work. To be honest, at that moment I thought that was a stock answer, but as the season progressed, I saw his role as that veteran presence emerge.
Then as well as now, I have no question that Staal would be a great captain for the Hurricanes. While some question his offensive numbers, he's a leader, and that can't be quantified on a stat line.
Some fans on social media have not been as confident in Staal's co-captaincy as others, with one referring to a love affair that management has with the Staals. Eric Staal was the 'Canes team captain for years, and the implication is that management named Jordan a co-captain simply because of Eric. I know GM Ron Francis and head coach Bill Peters well enough to say there is no "Staal family love-affair" driving any decisions with this team.
Staal said at the press conference announcing his being a co-captain with Faulk, "Being able to skate on the ice with the 'C' playing against Eric is going to be cool. He's excited for me, and I'm beyond excited about that. It's just going to make Opening Night even more special."
Co-Captain Justin Faulk
Faulk has been one of the best defensemen in the NHL for several years. Matt Krombach wrote at Canes Country in July 2016 that, while Staal was the obvious choice to be captain after Eric left for the New York Rangers, Faulk was also a worthy candidate. He is a three-time NHL All-Star, and without question a driving force on the team.
Faulk is a force to be reckoned with on the Hurricanes power play, and a top-line defender. He will serve as the captain during the team's road games. Though at 25 still considered a younger player, he has demonstrated maturity beyond his years during the entire time he has been with the Hurricanes. In the piece referenced previously, Hurricanes' "C" Likely to be a "J" I wrote of Faulk,
I agree that Faulk would be a good captain for the Hurricanes. Like Staal, Faulk is a natural team leader, and I believe the fans would welcome him as the captain if he were named to wear the "C." The only slight hesitation that I have regarding either Staal or Faulk is that they do not come across naturally as outspoken guys that will verbally get their points across to their teammates. Both lead by example and a strong work ethic. Perhaps that is the best kind of leadership.
If the standard is leadership by example, then Faulk fits the bill perfectly.
Co-Captains and a Great "A"
To be honest, I had written most of an article beforehand talking about what a great choice Skinner is to be the captain. Oops. I really thought that after he put the team on his back last year and nearly made the playoffs in so doing, that he was the obvious choice. This co-captains thing caught me off guard.
But, the more I think about it the more I am growing to like the idea. In a way, the team's getting two captains for the price of one, so to speak. Why not take advantage of the excellent, proven leadership of  Staal and Faulk? So, I thought it was going to be Skinner and missed it. He is going to be the "A" and that is a spot he held last season when the team went with alternates and no captain. I think he will have another explosive season, and continue to amaze fans with his talent and determination.
All in all, it should be a great season for the Hurricanes and their fans.