The Carolina Hurricanes have not had a team captain since Eric Staal departed in February 2016. As the start of last season drew near, speculation abounded that either Jordan Staal or Justin Faulk would wear the "C" for the Hurricanes. What eventually happened was a sharing of responsibilities for leadership among four alternate captains, with the "A" being worn by Faulk, Jeff Skinner, Victor Rask and Staal.
This leadership-by-committee experiment was fine for a season. But, as the 2017-18 season approaches, it is time for the 'Canes to name a true captain, affix a "C" onto that player's sweater, and move on toward hopefully making the playoffs. While speculation is not scientific or based on inside information, a look at the obvious candidates reveals that the "C" will likely land on a "J." Jeff, Jordan, Justin and Justin are the four likely frontrunners for the "C."
"J"ordan Staal
Staal is something of an enigma on this team. When he first arrived from the Pittsburgh Penguins in June 2012, Staal was a young center who'd won a Stanley Cup in 2009 with the Penguins. Being paired up with his brother Eric was thought to be something that would propel the team out of mediocrity. Then-Hurricanes general manager Jim Rutherford was optimistic to have the younger Staal, as NHL.com reported:
"Jordan is an elite two-way player who possesses a rare combination of speed, size, scoring ability and defensive responsibility," said Rutherford. "For his young age, he has a wealth of NHL experience, including winning the Stanley Cup with Pittsburgh in 2009. And he is obviously a natural fit for our team in joining our captain, his older brother Eric.
Having the Staal brothers on the same team was looked at as a good thing, but it never materialized into the success for which the fans had hoped.
In 2014, I posed the question in an article, "Hurricanes Fans, Is Jordan Staal Overrated and Overpaid?" His 10-year, $60-million contract was looming large over the question, as his performance on the ice was not seeming to indicate that a contract that large was deserved. He went from having a career-high season in goals and points his last year in Pittsburgh to not having reached that mark of 50 points in a season since.
But it was obvious in 2014 that Staal was extremely valuable to the Hurricanes after he missed over 30 games at the start of the season with a broken leg. The team struggled mightily without him. His value is not and likely will never be in being a top NHL scorer. It is his size and defensive work that makes him a key player on the team.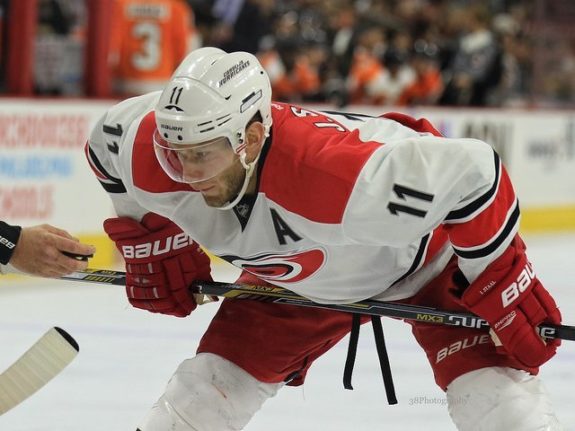 I wrote last preseason that Staal was a good candidate to be the team captain. I was impressed with the leadership he gave the young team in the second half of the 2015-16 season. He emerged as a natural leader to the younger players and almost pulled off making the playoffs. I genuinely thought he'd get the "C" last season, up until the four alternates were announced.
Staal is in an interesting place this season. Being a veteran that has been with the team awhile, and his definite leadership ability and value make him a serious candidate for captain. But, I think his window was last season, and it was not to be. I would be surprised if it happens this season.
"J"ustin Faulk
Another thought last season was that Faulk would be named captain. He's been a leader on the team and recognized as an NHL All-Star. He is the anchor of the Hurricanes' defense, for sure. In April, Nathan McDaniel wrote at isportsweb.com:
Aside from Skinner, the other clear-cut choice for captain would be Justin Faulk. Faulk has had two All-Star Game appearances and has been the most consistent player on the Hurricanes after being drafted in 2011, just a year after Skinner was drafted. He is an expert on the power play, scoring 23 power play goals in the last three seasons, and exemplifies leadership in every aspect of his game. I think Faulk is the best candidate for the job and would fill the role perfectly. He embraces the culture of Raleigh being a hockey town and is already an icon amongst the community. His unselfish and superb playmaking further support his nomination.
There is no argument here about any of what McDaniel wrote, and I agree that Faulk would be a good captain for the Hurricanes. Like Staal, Faulk is a natural team leader, and I believe the fans would welcome him as the captain if he were named to wear the "C." The only slight hesitation that I have regarding either Staal or Faulk is that they do not come across naturally as outspoken guys that will verbally get their points across to their teammates. Both lead by example and a strong work ethic. Perhaps that is the best kind of leadership.
I think it will probably be Justin Faulk, but I honestly think Jeff Skinner might be the right choice for the new captain.

— Jordan Futrell (@CheckingIn28) April 17, 2017
"J"eff Skinner
"Skinny", as Hurricanes head coach Bill Peters calls him, is another possible captain for the 'Canes. If anyone on the team can claim the "C" based on leadership by example on the ice, it's Skinner. In December last season, I wrote that Skinner was hitting on all cylinders and that his leadership was having a positive effect on his teammates:
Because of his leadership, the team is doing things it has not done in a while on a consistent basis, namely playing like they can win in every game. Of course, they are not winning every game, but Skinner is instilling in his teammates an attitude that believes they can.
While the Hurricanes did not make the playoffs, there was a clear change in attitude that, I believe, is the seed of a culture change. Losing had been part of the culture for so long, it seemed almost ingrained into the team. Under Skinner's determined, aggressive play, the culture began to change, and expecting to win is becoming the new normal for the Hurricanes.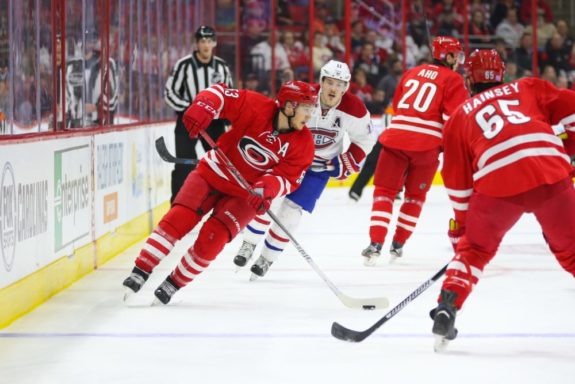 Skinner's burst of leadership did not wane throughout the season. Charles Taylor at cardiaccane.com wrote this three months ago about Skinner's leadership:
Technically, the Canes captaincy is still vacant. In spirit, that couldn't be further from the truth. Right now, Jeff Skinner is in command of this ship. It might have taken him a while to get on board with that, but now that he has, it looks like a great fit.
The talent has been there all along when thinking of Skinner, and last season he asserted himself with the will to win in a visible way. If the Hurricanes name a captain, and it turns out to be Skinner, the statement will have been made that his leadership on the ice is deserving of the "C."
"J"ustin Williams
The latest entry to the captain's party is newly-acquired Justin Williams. Armed with a resume that includes winning at the highest level three times in his career, Williams is not tuned in to a mindset or culture of losing. His Stanley Cup wins with the 'Canes in 2006 and again in 2012 and 2014 with the Los Angeles Kings give him "cred" when he speaks of winning. Williams has blown into Raleigh with enthusiasm in his wake, turning this team almost instantly into a "must-watch" group in the upcoming season.
I WILL BUY A CAPTAIN JUSTIN WILLIAMS CANES JERSEY SO FAST, PLEASE HURRICANES

— Sarah A. (@WriteSaidSarah) July 17, 2017
Interestingly, almost immediately after the Williams trade to the Hurricanes was announced, talk of him wearing the "C" began in earnest. To his credit, however, Williams is not boosting himself or the notion of him being the next team captain. Instead, he is downplaying the notion. As I pointed out in "Williams Believes Hurricanes Are Set to Surprise," when asked at a media gathering what he thought about being the captain, Williams said, "That's something I don't really want to talk about at all. Like I said, I'm coming here to be me and I really don't want to talk about that."
Williams has the experience and confidence of winning, the seasoning of a being a veteran and the humility to put the team first. There would likely be little if any objection to him being named the Hurricanes' next captain.
If it were Staal, Skinner or Faulk they should have been named last year. Does another year make them a better candidate than J Will? Nope..

— Jeff Gravley (@JGravleySPORTS) July 18, 2017
Regardless of who gets the "C" on his sweater, in all likelihood it will be a "J" sporting the symbol of team leader. Jordan, Justin, Jeff or Justin each have qualities that make them viable and capable of being recognized as the captain of the 'Canes. Rask, the fourth alternate in leadership by committee last year, has not emerged as the team leader. While still one of my favorite Hurricanes, his focus will of necessity be on getting his game back to the level that breeds confidence in his play. If he can do that, this team will be very dangerous on the offensive end. Rask is vital to the Hurricanes' success, but not through adding the responsibilities that come with being captain.
With only a few weeks before prospect tournaments and training camps throughout the NHL, look for the Hurricanes to name a captain soon. And, in my opinion, you can bank on a "J" wearing the "C" in the 2017-18 season.