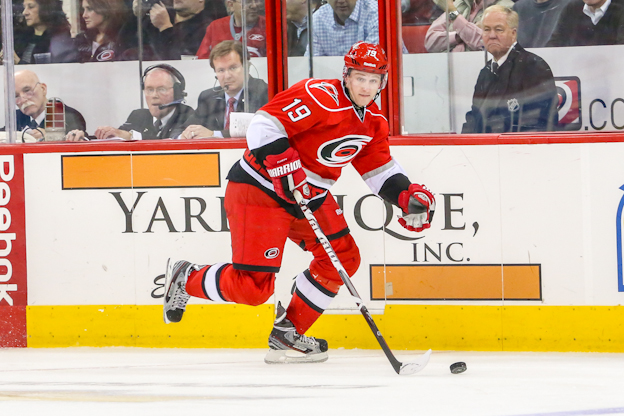 RALEIGH, N.C. — If you take a look at the NHL goal scoring leaders right now, you'll see a lot of familiar faces at the top: Steven Stamkos, John Tavares, James Neal, Eric Staal, among others.
And then there's Jiri Tlusty.
Now in his third season with the Carolina Hurricanes, Tlusty is currently playing the best hockey of his professional career. He's lit the lamp 10 times thus far in 2013, giving him more goals than Jonathan Toews, Marian Hossa, Alex Ovechkin and a number of other superstars.
Not bad for someone earning a modest $1.6 million (prorated) salary.
"He works, he plays the game the right way," coach Kirk Muller said of the left wing. "He's easy to read off of. Offensively, when Eric (Staal) and Alex (Semin) use their size and strength to contain people and hold people off with the puck, he just finds the seams and he's showing he can score at this level on a consistent basis."
[Also: A Look Back at Rod Brind'Amour]
What's even more impressive than Tlusty's 10 Gs is the rampant pace at which he's scored them since Feb. 9. The Czech Republic native was held goalless through his first nine contests of the season; but since then, he's been scoring at nearly a goal per game clip (0.909 G/G).
This includes an impressive tally 8:39 into the first period on Saturday night, which helped propel the Canes to a 6-2 victory over the Florida Panthers:
"I'm just trying to do everything I can out there," he told TheHockeyWriters.com after Saturday's win. "It's not easy, but I know my role. I'm just trying to get open and shoot."
Working His Way Back Up the Depth Chart
After two major acquisitions this summer in the forms of Jordan Staal and Semin, Tlusty was pushed down to the Canes' third line when the 2013 season began. But by generating a lot of scoring chances and playing a strong two-way game, it became difficult for Muller to keep him out of the top six.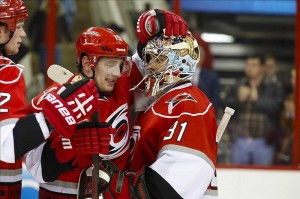 "I had to prove myself again this year, and I was ready for the challenge," he said. "I just knew I had to keep playing the right way. When I work hard, it all comes together for me."
Since being bumped up to the top forward unit, Tlusty, Eric Staal and Semin have become one of the most effective trios in the league. Together, they've provided 43.33 percent of Carolina's scoring.
"It's very fun to play with players like that," Tlusty said with a smile.
And this line isn't just scoring; they're all putting in workmanlike efforts on the defensive end of the ice, as well. All three currently sport plus-14 plus/minus ratings, good for second in the NHL (Mark Fraser of Toronto is a plus-15).
"Don't get scored on — that's our goal. That's my job," Tlusty added.
Tlusty also credits Semin's strong defensive play to much of the line's success, stating "It makes you a better player (to watch Semin play D). It makes you happy."
Clicking with the Captain
The elder Staal and Tlusty developed some good chemistry while skating together down the stretch in 2011-12, and that's certainly continued this season.
"He's such a good player," said Tlusty of his captain. "Definitely when you're playing on an offensive line your offense is going to show up more as opposed to a defensive line. Hockey is about scoring goals and it's going in for us."
"He's great to skate with," Staal said of his LW. "The way he plays, it makes my job easier."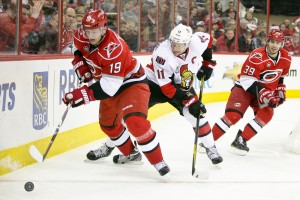 Knowing His Role
When discussing what he needs to do to succeed as a part of Carolina's most lethal line, Tlusty often cites that he needs to play within his role. But what exactly is the coaching staff asking him to do? We asked the man in charge.
"Jiri's the solid guy on that line that reads off (E. Staal and Semin)," Muller said. "When they're playing, he's always got their backs … He brings the structure to that line and gives the other two a little more flexibility to be more creative than the other guys."
Keeping His Feet Moving
One thing you'll notice when watching Tlusty work in the offensive zone is the way he moves around. One second he'll be fighting for possession behind the net, the next he'll be high in the slot. This work ethic creates a lot of scoring chances — for him and his teammates on the ice.
Said Muller: "He's out a lot of times the third man high, and he's out there digging it out, as well."
This play is a good example of his hustle: Tlusty carries the puck into the zone, takes a big hit, gets up, grinds it out in the corner and helps get the puck to Staal, who buries it.
"I go down low when I need to, and I have to make sure there's always a high guy — a third guy high — and give some good space for the defensemen to step up and make some plays," he said. "I read the play from the other guys out there."
*   *   *
With the second of a home-and-home set against the Panthers on Sunday, Tlusty and the Canes will look to further extend their lead in the Southeast Division.
"We are all enjoying hockey right now," he said. "And that's what it's all about."
—
Andrew Hirsh is a credentialed NHL writer based in North Carolina. You can follow him on Twitter @andrewhirsh or email him at ahirsh3@gmail.com.